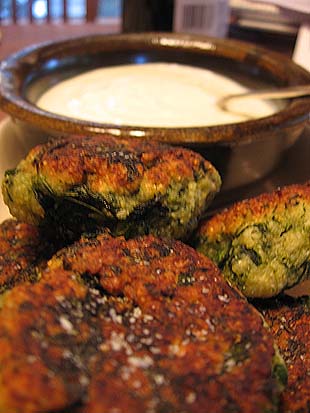 Lazy! Lazy! Lazy! And to think I have a whole other week off starting next Monday! Hooray! Okay. Enough of the gloating and the flaunting my time off. Let's talk about fritters — mixed greens fritters to be exact. This recipe came from the cookbook, Modern Greek by Andy Harris, which is full of all manner of Mediterranean snacks and dishes.
We tried these a week or so ago when I discovered that I had all of the ingredients to make them. They looked good and I wanted to try them of course, but sometimes you just need to make a recipe because you can. And I could.
The verdict is that they were interesting. Not interesting in a bad way or anything, just really interesting — sort of like green, spinachy falafel. They were very crunchy and had a good flavor. We ate all of ours with some garlicky yogurt and snacked the night away.
Wild Greens Fritters (Hortokeftedes)
1 2/3 cups AP flour
1/3 cup polenta (corn meal would probably work too)
1/4 cup milk
1 egg, beaten (the original called for 2 yolks — I used 1 whole egg instead)
8 ounces mixed leaves such as dandelion, sorrel, watercress, mustard, arugula, spinach, or wild fennel (I used spinach and arugula)
2 cloves garlic,minced
3 tbsp fresh herbs such as parsley, mint and chervil (I used parsley, chives, basil and mint)
Salt & freshly ground pepper
3 tbsp olive oil (or more, depending on your preference)
Garlicky yogurt for dipping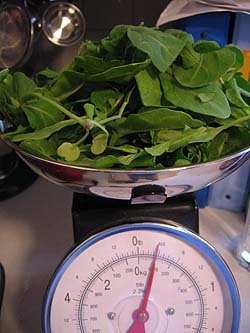 Weigh out your greens if you have a scale. If not, do the best you can with your measuring implement of choice. Mix the four, polenta, milk and egg together in large bowl. Cover it and let it rest for 30 minutes — it's sleepy, apparently. Meanwhile, cook the greens and garlic in some boiling water for 10 minutes and then shock in ice water. Drain well. Add the greens and garlic to the flour mixture and add a little salt (1/2 tsp or so) and some pepper. Form into little round fritters.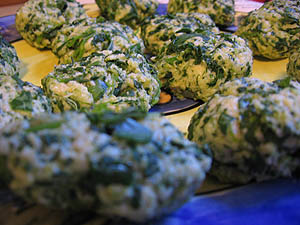 Heat the olive oil in a skillet over medium-high heat. You can also add up to a 1/2 inch of oil in the pan and actually pan fry the fritters. Cook several fritters at a time, for about 5 minutes per side. I just remembered, I covered the fritters while they cooked for the last minute or so on each side). They should be nice and golden brown. If fritters get too dark, turn the heat down. (Duh — you probably don't need me to mention that, do you?)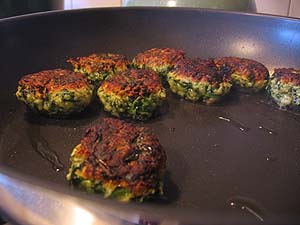 Using a spatula, transfer the fritters to a wire rack or a paper towel lined platter. Continue cooking the rest of the fritters. When they are all done, sprinkle the fritters with a little sea salt (or kosher salt) and serve with the yogurt.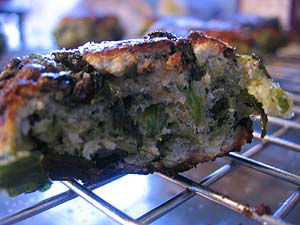 You can eat these as is, with the dipping yogurt, or make a falafel-type sandwich with some pita or flat bread.
Okay, I'm out of here until Monday! Have a nice weekend!