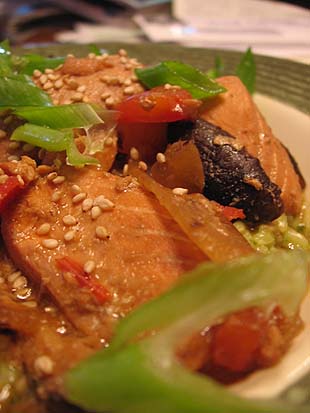 Wow. I am worn out. I spent all day yesterday rearranging the living room furniture. You see, I am starting a new job in two weeks and have some time off in between work. Yay! I love that. That's my favorite part about a new job — the time before you start the new place but after you've stopped going to the old place.
But, moving a couch, chair, four bookshelves, an ottoman bigger than my car, another chair (a rocking chair that is in need of repair — all the way down to the basement) and a coffee table will make your back and legs hurt the next day, as I've discovered. Guess I will just have to hang around the house today and finish watching Sleeper Cell and, you know, take it easy.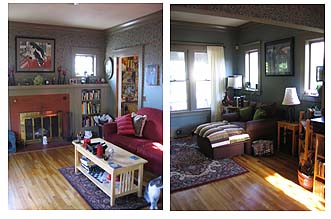 The new look of the living room.
Anyway, I suppose I should talk about cooking. This is a dish we had last weekend. I found it online, perusing, hmmm, I don't even know what now. This was on the Numi Tea Web site, in the Cooking with Tea section. It's salmon marinated and cooked in green tea, soy sauce and sherry. I added some vegetables and some spinach-coconut rice and we had a great meal. The green tea, sherry and soy made a very tasty sauce. Nothing overpowered anything else — I couldn't really pick out the tea, sherry or the soy separately. They kind of melded together in a pleasing new taste.
Green Tea Salmon
This will feed 3-4 people, so if there's 2 of you, they'll be leftovers for lunch!
1 lb salmon fillet
3 tbsp soy sauce
3 tbsp sherry
2 bags Green Tea of your choice — I did actually use a Numi tea — Monkey King Green Jasmine Tea
1/2 cup water
1/2 tsp cornstarch
3 tbsp sesame seeds
8 shitake mushrooms, destemmed and sliced
1 small onion, diced
1 clove garlic, minced
1 tomato, diced
1 tbsp canola or vegetable oil
Garnish: sliced green onions and sesame seeds
Add the oil to a skillet over medium heat and add the onions, garlic and mushrooms and saute until they are soft and starting to get a little color. Remove from the pan and set aside.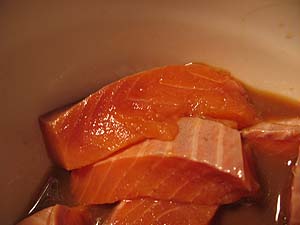 Slice salmon into strips and marinate in the soy and sherry for 10 minutes. Transfer to the pan, (add a little more oil if it you are not using a non-stick pan). Simmer the salmon and the marinate over moderate heat until the sauce is mostly absorbed — about 6-8 minutes. If there's some sauce left after 8 minutes, just go ahead and continue — it's not a big deal.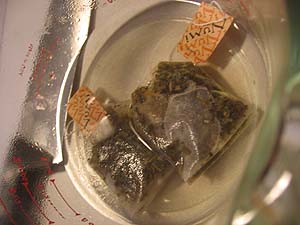 In mug, pour boiling water over the tea bags and steep for five minutes. Squeeze out tea bags and stir the cornstarch into the tea. Pour tea mixture over salmon and cook another 5 minutes or until sauce slightly thickens. Add the mushrooms and onion back in, as well as the diced tomato. Combine gently and you're done!
Here is the rice accompaniment I came up with. It turned out really well and I would definitely make this again for this or any number fish or chicken dishes that require some rice.
Green Coconut Brown Rice
1 can light coconut milk
water
1 cup loosely packed spinach
1 1/2 cups brown rice
salt
1/2 inch piece of ginger, minced
2 cloves garlic, minced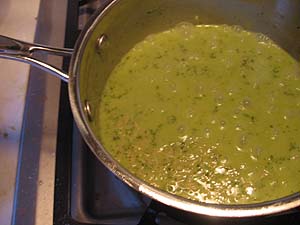 Add the coconut milk and spinach to a blender or food processor. You can also use an immersion blender. Blend until well combined and the coconut milk is light green. Pour into a large measuring cup and add water until you have 3 cups of liquid. Add to a pot with the garlic and ginger and bring to a boil with a little salt.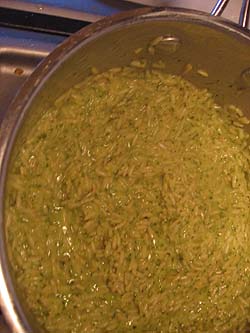 Add the rice, stir and turn the heat to low. Add the lid and cook until the rice is done — 35-40 minutes. Taste. Add more salt if needed. Serve with the salmon and sprinkle with sesame seeds and green onions to garnish.