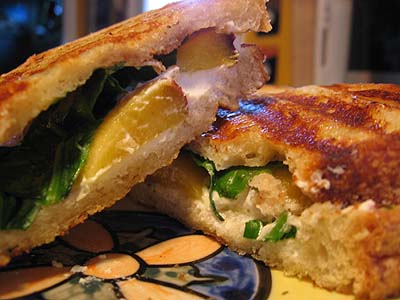 Hey, look, finally — a new post! This was a recent light dinner where I basically surveyed the kitchen and came up with a dinner based on what I found. A nectarine (pilfered from jwa's breakfast fruit stash), some goat cheese, spinach, dried tarragon and some balsamic vinegar. Oh and also some sourdough bread. The result was a very summery and tasty grilled sandwich.
Nectarine, Goat Cheese & Spinach Panini
4 – 6 tbsp goat cheese
1 nectarine, washed and sliced
1 cup loosely packed, fresh spinach
1/4 tsp dried tarragon
salt & pepper
1/2 tsp balsamic vinegar
4 slices sourdough bread
olive oil
Other equipment: a grill pan and something heavy (a cast iron skillet, a foil wrapped brick, etc…)
First, start by spreading about 2-3 tablespoons of goat cheese on two of the slices of bread. Divide the dried tarragon between the two by sprinkling it on top of the cheese.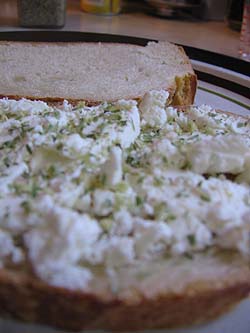 Next comes the nectarines. Arrange half of the slices on each sandwich bottom. Then, top with spinach.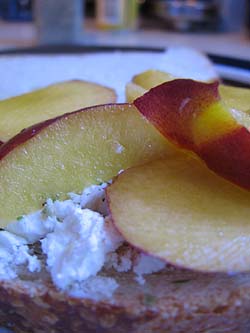 Drizzle a little balsamic vinegar on the covering of spinach and give each a little salt and pepper. Heat up your gill plan and brush one side of each sandwich with a little olive oil.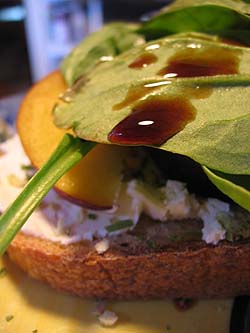 Place each down and top with your heavy item (a cast iron pan with a can on top, for instance) and let grill 2-3 minutes per side over medium heat. Before flipping it, brush the other side with olive oil.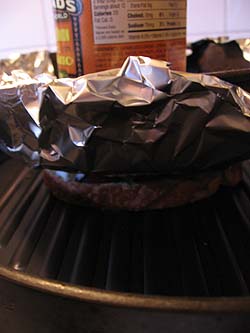 You should get a nice golden color and good grill marks. Let sit for a minute or two before slicing in half.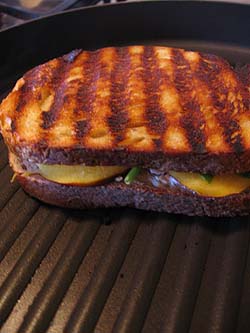 Cut and serve warm. A green salad or some grapes go really well with this sandwich.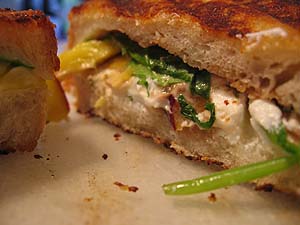 ***
We had a good time in Port Townsend. I love going there. So relaxing and watery. Our room had a small kitchen and one night I made us a meal of goat cheese, marjoram and orange stuffed chicken with a orange juice and chick pea sauce. It turned out well — and I didn't even have a meat thermometer! I'll be posting on that very soon…