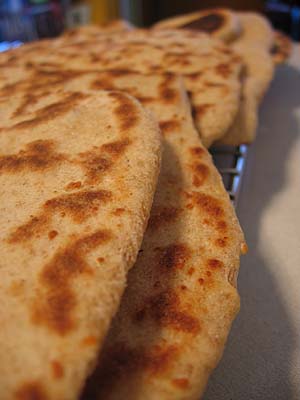 I am scared of breadmaking (and a bread machine doesn't count). If I come across a recipe that involves a yeast packet, I typically run the other way, screaming. But, I decided to be brave when I came across this Parmesan Skillet Flatbread in the June/July Eating Well. For, I am scared of breadmaking but I love cheese. Such a dilemma. The cheese won — it usually does.
In the hot pan, the bread bubbled right up (yay! it worked!) and the kitchen smelled like toasted, nutty Parmesan cheese. I also got some nice air pockets in the bread that jwa and I both just loved. Give this is a try — it is such a great snack or meal accompaniment. And since you cook it on the stovetop, it's not too heat-intensive for your kitchen in the hot Summer months!
Toasted Parmesan Flatbread in a Skillet
1 cup lukewarm water
1 tbsp + 1 tsp extra virgin olive oil
1 pckg active dry yeast
1 tsp sugar
1 1/2 – 2 cups All-Purpose flour
1 cup whole wheat flour
3/4 cup finely grated Parmesan cheese
1 1/4 tsp salt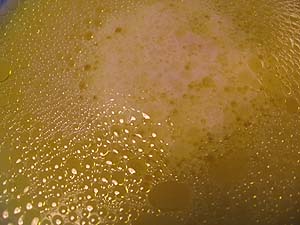 Start by whisking the water, 1 tablespoon of oil, sugar and yeast in a large bowl. Let sit about 5 minutes, until it starts to get a little foamy.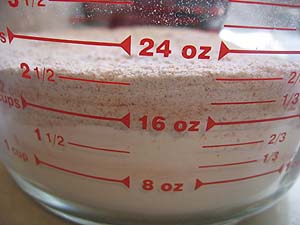 While the yeast is sitting, assemble your dry ingredients by combining in a large measuring cup or bowl. This is the 1 1/2 cups AP flour, the wheat flour, the Parmesan and the salt.
After the yeast has sat, add the dry ingredients to the yeast mixture and stir to combine. If it is a little to sticky to work with, add a little of the remaining 1/2 cup of the flour. Turn the dough out onto a lightly floured board and knead for about 5 minutes.
Add the remaining teaspoon of oil to a large bowl and add the dough (shape into a ball first) and coat with the oil. Cover with plastic wrap and let sit in a warm place (not a problem in the Summer!) for about one to one and a half hours.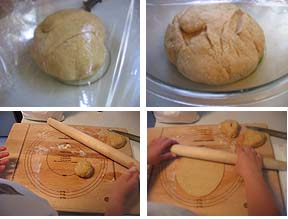 Punch down the dough and divide into six equal balls. Roll out each ball on your floured work surface until it's about seven inches in diameter.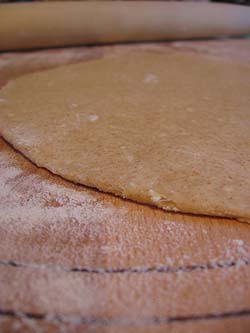 Preheat a skillet over medium-high heat until it is very hot. Place a dough circle on the heated pan and cook until it starts to bubble up, about 45 seconds to one minute per side.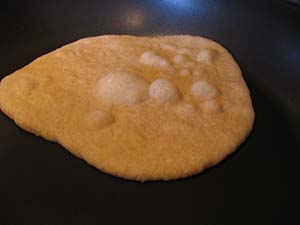 Transfer to a plate or a wire rack and repeat with the remaining dough. You might have to adjust the heat a bit if the bread starts to brown to much. I turned mine down a couple of times.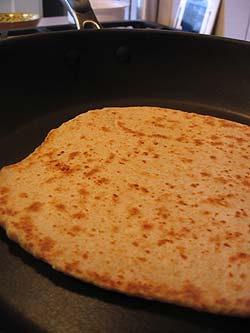 I was just amazed at how wonderful these turned out. I let mine sit about 5 minutes before grabbing a hunk off one of the rounds and giving it a try. The cheese toasts a bit on the outside and it's so good! I also really liked the wheat flour in this.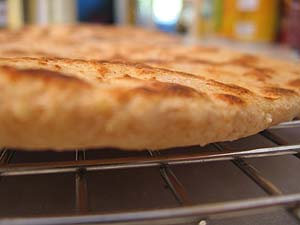 I made some of the lima bean dip and we gobbled that up with the bread. This would also go great with hummus, baba ganouj, any kind of Greek meal or lamb chops.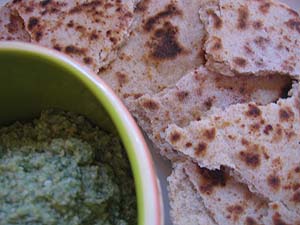 I've made this bread twice already in the last two weeks. Saturday, we had the most recent batch with red wine, oregano and honey grilled lamb chops (recipe coming this week) and some cucumber-dill salad.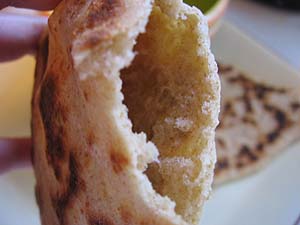 ***
If you feel like it, don't forget Je Mange la Ville's Amazing & Celebratory Cake-athon July 14th (Bastille Day!) for the one year anniversary! I'll post mine on Friday and recap any submissions I get Monday, July 17th. So, if you'd like to participate, send me the url of your cake-like post by Sunday, July 16th.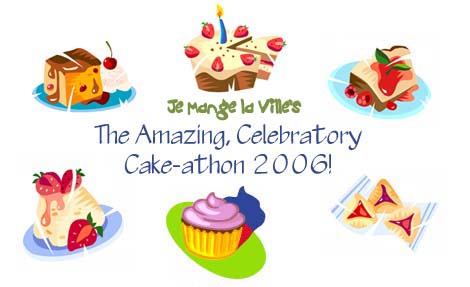 Remember, ice cream cakes and other frozen pies or tarts count too!