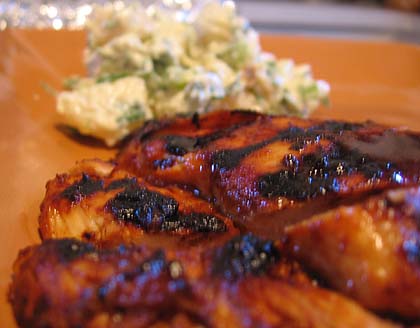 The quintessential Summer meal, for me, is grilled chicken and potato salad. Oh, wait, not just potato salad — The. Best. Potato. Salad. Ever. There are a few secrets, which I will divulge below. I also made the Barefoot Contessa's Barbecue Sauce which is fun and kind of secret-like to make, in that you buy all kinds of little jars of things (that you never would have thought to add together before) and dump them all into a pot and simmer them, to come up with a completely new sauce.
Corn on the cob would round this meal out very nicely. Add some super cold beer and watch the barbecue fun never end.
First up, Ina Garten's Barbecue Sauce
1 large onion, diced
3-4 cloves minced garlic
1/2 cup vegetable oil
10 oz tomato paste
1 cup cider vinegar
1 cup honey
1/2 cup Worcestershire sauce
3/4 cup Dijon mustard (it was 1 cup but I found it pretty mustardy — I would drop it down to 1/2 – 3/4 of a cup)
1/2 cup soy sauce
1 cup hoisin sauce
2 tablespoons chili powder
1 tablespoon ground cumin
1/2 tablespoon crushed red pepper flakes
1 orange
Add the vegetable oil to a pot and saute the onions in a large pot over low to medium heat for about 10 minutes or until soft. Now here's the fun part. Add all the jarred ingredients and the spices. For kicks (and because I had an orange lying about), I added a little orange zest (from about 1/2 the orange) and the juice of 1 orange.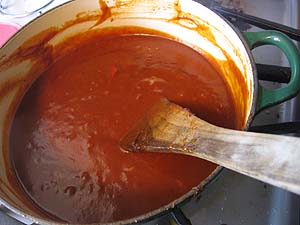 Simmer it all uncovered on low heat for 30 minutes. Let cool completely in the refrigerator before using some of the sauce to marinate chicken or other meat. Also, it makes a lot so don't be afraid to make a half recipe.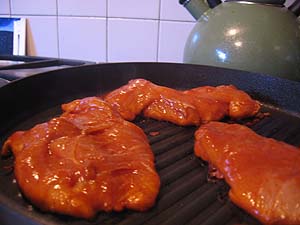 I used about two cups of the sauce to marinate three chicken breasts for a few hours. Then, I let my grill pan work its grilling magic — of course, this can also be doe outside on the grill. I gave each side about 8-10 minutes and removed the breasts when they were about 163-165 degrees. Before serving, I let them rest, covered with foil, for about 5-10 minutes. Serve the breasts with extra (non-marinate) barbecue sauce for dippin'.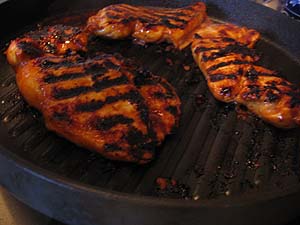 Awesome, Creamy Herbed Potato Salad
4-6 normal-sized Yukon gold potatoes (or a whole bunch of baby Yukon golds, which is what I used)
1/2 a sweet onion
1-2 celery stalks, diced
2-4 tbsp white vinegar
1/2 cup to 1 cup Mayonnaise (low-fat works well)
Any combination of the following herbs (a big handful total): parsley, rosemary, tarragon, chives, dill (I used parsley, chives and rosemary)
1 tbsp Dijon mustard
2-3 cloves garlic (depending on the size)
salt & pepper
Boil the unpeeled potatoes until fork tender (15-30 minutes, depending on size). While they are cooking, grate the onion in a big bowl (you should get a lot of onion juice in the bowl too) and set aside.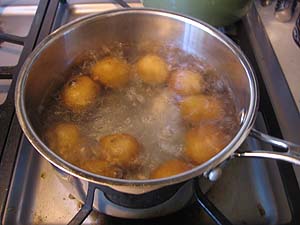 When the potatoes are done, drain and let them cool slightly so that you can handle them (but they should still be a little hot). Using a kitchen towel, rub the potatoes to remove the skins. Dice into small, bite-sized chunks, tossing them into the bowl with the grated onion. Sprinkle the potatoes and onion with the vinegar while still hot. Use enough to get all the potatoes liberally coated but not enough so that you have a large pool of vinegar in the bottom of the bowl. I also sprinkle everything with a little salt and pepper at this point too.
Mix the mayonnaise (if you are using 4 potatoes, start with about a 1/2 a cup, if you are using 6, go for the full cup), the garlic, mustard and the chopped herbs. Mix in with the potatoes. Add more mayo if needed to get a nice, creamy consistency. Taste and add more salt and pepper if needed. Refrigerate until cool and ready to serve. This should feed about 3-4 people. Double it at will.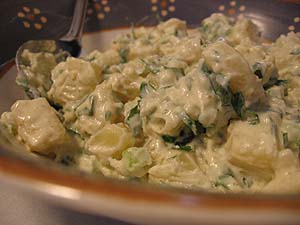 Before this recipe, my potato salad was pretty boring and unflavorful. Neither jwa nor I liked it very much, so I didn't make it very often. But this? This was awesome.
Secrets I've Disovered to Amazing Potato Salad:
1. not peeling the potatoes before boiling — helps them not get too water-logged
2. grated onion — onion juice = extra oniony flavor goodness
3. vinegar over the hot potatoes — the BIG secret to the best potato salad
4. fresh herbs — more flavor and more visually appealing (the green is pretty!)