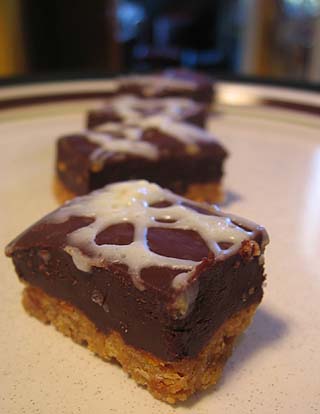 Now these were a last minute addition to a pot luck that I needed to attend for work. The crust is made up of toasted, ground walnuts and graham cracker (with a little orange zest) and the filling part is all dark chocolate ganache. Mmm! I finished it off by drizzling some white chocolate on the top all Jackson Pollock-like.
Little Chocolatey Orange Walnut Squares
Crust:
4 tbsp unsalted butter, melted and cooled
2/3 cup toasted walnuts
1 cup graham crackers, broken into pieces
1/4 cup sugar
1 tbsp orange zest
Filling:
1 cup whipping cream + 1 tbsp more
12 ounces dark, bittersweet chocolate, chips or finely chopped (I used Ghirardelli 70% bittersweet chocolate chips)
1 tbsp grated orange zest
1/4 cup white chocolate chips
Preheat the oven to 350 degrees. Spray a 8-inch square baking dish with cooking spray. Line with parchment (or aluminum foil), leaving a 2-inch overhang on two sides. I just folded by aluminum foil down around the edges of the dish.
In a food processor, finely grind the walnuts and graham cracker pieces, sugar and zest. If you don't have a food processor, you could place the nuts and graham crackers in a zip lock bag and pound with a rolling pin. Blend butter into graham cracker mixture and press into the bottom of the prepared baking dish. Go up the sides about 1/2 inch. Bake until lightly browned, 8-12 minutes. Cool crust about a half an hour.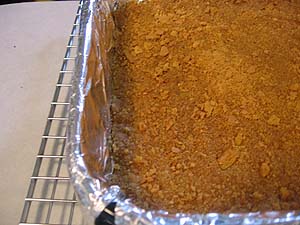 When the crust is cool, start on the filling. Heat the 1 cup of cream in a pot until it is at a simmer. Turn off the heat and stir in the dark chocolate and orange zest. You can also have the chocolate and orange zest already in a bowl and pour the hot cream over that — mixing it all together. I typically just use the pot I heated the cream in as it saves a bowl from being dirty and I am lay. Continue to stir until the chocolate is completely melted. Pour into the crust and refrigerate until it is all set, a couple of hours to overnight.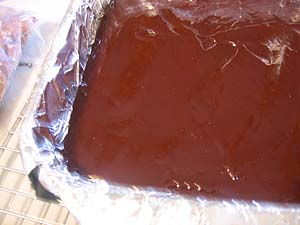 When you can lift the chocolate and crust out of the dish it should be good to go.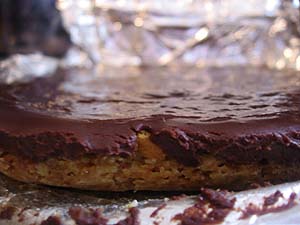 Wait…there's more
I decided that the squares need a little something more. Something a little fun. After some rummaging around the cabinet I came up with a bag of white chocolate chips. Excellent! At this point, I took the lazy route and melted the white chocolate chips and the 1 tablespoon of cream in the microwave. I used 30 second increments and stirred well after each blast of microwave power. When it was mostly melted but still a little lumpy, I stirred and stirred until there were no lumps. I then drizzled it onto the squares (with a spoon) for a little decoration.
Next, return to the fridge for about an hour, giving the white chocolate a little time to firm up. Cut into 16 squares (then cut those in half so that you have 32) and serve. They are very rich. What? Okay, fine, have two then.