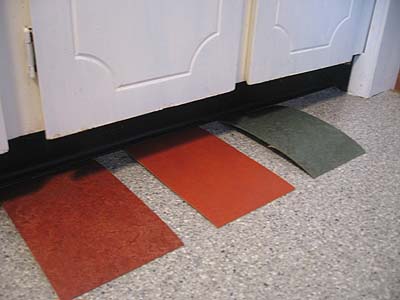 Since I spend so much time cooking and making messes in the kitchen, it's an environment that is very important to me. Since we've moved into the house, I've painted the walls, the cabinets, gotten new hardware for the cabinets and we've replaced the old refrigerator.
Now, we are starting to investigate new kitchen floor options. I think I have it narrowed down to the material a least — now we just need a color. But first, let me talk about how much I dislike the current floor. It's gray and dingy and coming apart at the seams. Literally. I've tripped over the seam many times and even ripped some of the flooring off the…well…floor. The old floor is gross and shows all kinds of kitchen mishaps and spills. And it's dangerous! One day I will be carrying a beautiful plate of tuna or something similarly tasty and I will trip and the tuna will go sailing across the dining room, like only a plate of seared tuna with a soy-ginger dipping sauce can…
Okay, with that out of my system, I'll now move on and profess my love for Marmoleum — what will hopefully become the new floor. It's pretty, comes in great colors, easy to walk on, natural, biodegradable and endorsed by hippies. What more could one want in a flooring material?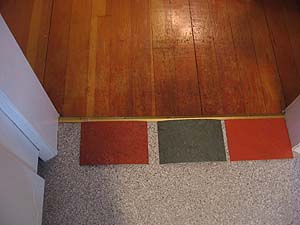 Here are our first round of choices: Indian Summer (the darker orange), Red Copper (the lighter orange) and Eucalyptus (green). We also picked Henna, but that sample didn't come in yet. That's a very dark orange.
I am currently torn between the two oranges shown above, where as jwa likes the Red Copper best. Although, both will hide pasta sauce spills quite nicely, so I am happy either way. Joking! I clean the floor! Yeah! Ha!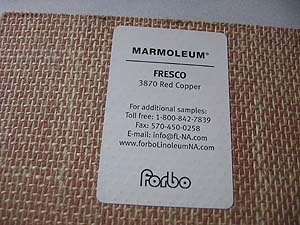 My only concern with Red Copper, is that it may contrast (or not contrast at all) weirdly against the oak floor in the dining room. I like the bolder marbling effect in Indian Summer, but the lighter orange does look great against the white cabinets. They pop! Pop, I say.
Currently, the walls are a color called "squash" and the cabinets are bright white. jwa is going to pick up a Henna marmoleum sample (right?) from a different store today, but I think that may be too dark. We'll see.
So, any ideas on the three floor color choices so far? Are we all leaning towards Red Copper? Or will Indian Summer make a comeback? And the green — meh?