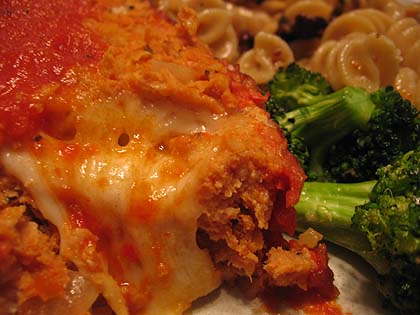 Now that I no longer have a theme for this week or any plan at all, really, I can go back to just posting about meals with no rhyme or reason. Yesterday — frozen yogurt and today — turkey meatloaf! Awesome.
This is a meatloaf based on a recipe that I originally saw on Good Deal with Dave Lieberman and decided that I just had to make it, which is weird, because I am not a huuuge meatloaf fan (neither is jwa). Although, this apple-rosemary one was very good. But this, turkey-mozzarella concoction was damn tasty. It started out as a regular turkey meatloaf but I hid little mozzarella balls within its meaty interior and covered it the red pepper sauce featured on the show.
The meatloaf turned out super moist and flavorful. It actually exceeded my expectations. Give it a try!
Turkey Meatloaf with Red Pepper Sauce & Hidden Mozzarella Treasures
1.5 pounds ground turkey
1 egg
3 ounces tomato paste (1/2 of 1 small can, reserving rest for the sauce)
1 teaspoon salt
1/8 to 1/4 teaspoon cayenne pepper
1/2 cup plain bread crumbs
1 small onion, finely chopped
2 cloves garlic, pressed
1/2 tsp fennel seeds
1/2 tsp dried oregano
4 fresh mozzarella balls
2-3 tbsp Parmesan cheese, grated
Red Pepper Sauce:
3 ounces tomato paste (from reserved 1/2 can)
2 cloves garlic, peeled
1 medium red pepper, seeded, cored, and roughly chopped
1 cup chicken broth
1 small shallot
salt & pepper to taste
Meatloaf:
Preheat oven to 350 degrees F. Combine all meatloaf ingredients, except the mozzarella and Parmesan, in a large mixing bowl. Use your hands, it's okay. Really.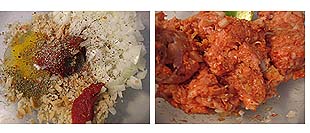 Place half the meat in a loaf pan. Place four fresh mozzarella balls down in the meat.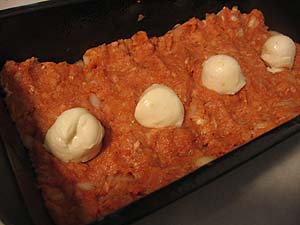 Cover with the remaining ground turkey mixture. Use your fingers to make a reservoir around the edges for the sauce to pool.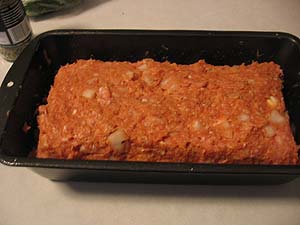 Red Pepper Sauce:
Place all the sauce ingredients in a blender or food processor and puree until smooth. Use the sauce to cover the meatloaf.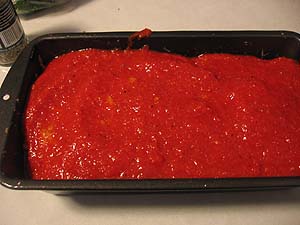 Sprinkle the top with a few more fennel seeds and a couple of tablespoons of grated Parmesan cheese. Cover the pan with aluminum foil, being careful to not have it touching the top of the meat loaf. Bake for 40 minutes, then uncover and bake 35-40 additional minutes.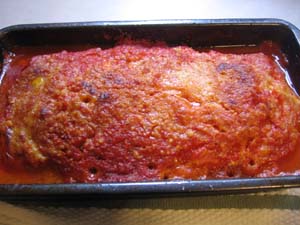 Let rest for 15 minutes before cutting and serving.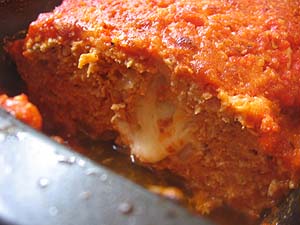 Since this wasn't a traditional-type meat loaf, I opted to serve this with some cooked wheat pasta tossed with olive oil, sea salt, fresh basil, olives, garlic and red pepper flakes and roasted broccoli on the side.