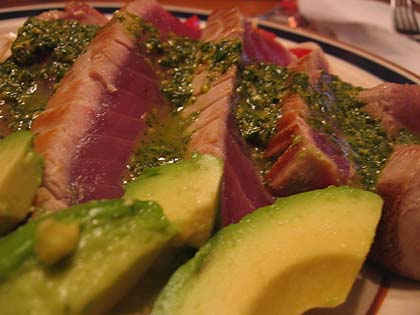 First off, let me say that the piece of tuna I got the other day at Zupan's was so beautiful I almost wept. It was this big, perfect, ruby block of fresh fish that made everything seem right in the world, if only for a brief, shining moment.
*sigh*
Okay. Typically, I use a combination of soy sauce, garlic, ginger, rice wine vinegar and red pepper flakes as a seared tuna dipping sauce. It's very good and has become quite a staple at our house. But the other night, I tried a new sauce that I think is now my favorite. It's from Tyler Florence but I love it anyway.
One other thing I really like about this recipe (besides the cilantro, garlic, lime and soy sauce…and tuna!), is the way avocado seems to go perfectly with fatty fish, like salmon or tuna. It's so, so good! Oh and I think this sauce would be great with salmon or chicken too.
Seared Tuna with Cilantro, Lime, Soy & Avocado
2 big handfuls fresh cilantro
1/2 jalapeno
1 tsp fresh ginger, peeled
2 garlic cloves (or 1 really large clove)
2 limes, juiced
2 tbsp soy sauce
Pinch of sugar
Salt and freshly ground black pepper
5 tbsp extra virgin olive oil
12 oz (or a little more) sushi-quality ahi tuna (12 oz+ will feed 2 people — figure 6-8 ounces per person)
1 ripe avocado, peeled, pitted and sliced
Combine the cilantro, jalapeno, ginger, garlic, lime, soy and sugar in a food processor. Pulse until everything is very small. Turn the processor on and stream in 2-3 tablespoons of the olive oil. Taste. Yeah, it's awesome. Set aside. The original recipe just called for everything chopped but I really liked the outcome with just throwing it all into the processor.
Heat a pan over medium-high heat and let it heat up. season the tuna with salt and pepper. Add 2 tablespoons of olive oil to the pan and place tuna seasoned side down. Sear for 1 – 2 minutes per side (depending on your tuna's thickness).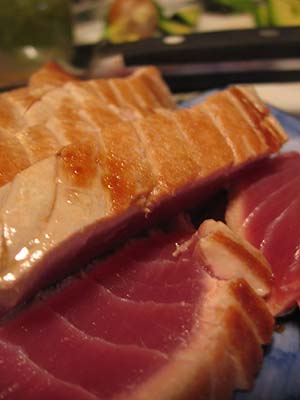 Let the tuna rest for about a minute, while you get plates and everything together. Slice into pieces and serve with the cilantro sauce, sliced avocado and perhaps some soba noodles tossed with sea salt, sesame oil, cherry tomatoes and red pepper flakes.