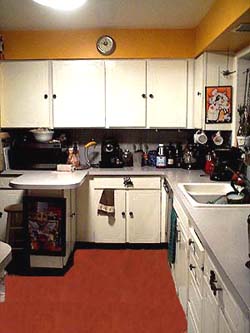 Indian Summer
Thank you, Photoshop
Last night, I took our three contenders, Indian Summer, Red Copper and Henna (jwa got the sample finally), laid them out, took pictures and made somewhat-crappy-yet-still-helpful photoshop images showing each floor choice color.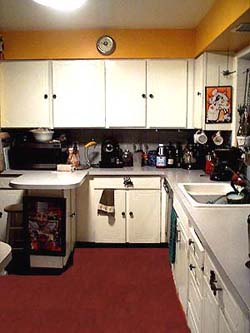 Henna
The whole look that we are going for is relatively bright and cheery with warm tones. We want it to be inviting — to wake us up in the morning and welcome us home at night. Is that too much to ask? Oh, and hide pasta sauce spills! Still kidding!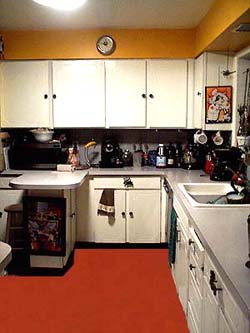 Red Copper
I think Indian Summer is our favorite. I love Henna, but it seems a little dark. Red Copper seems a little bright. Indian Summer might be just right. I also think the Indian Summer is a balanced tone with the walls, where again, the Copper is a bit bright and the Henna is a bit dark.
And, I did consider briefly putting in patterns or using more than one color but jwa really didn't like that idea — and he's paying for it so I guess he gets a vote. I still think patterns would be cool but I'm going to be extremely happy with a new floor — and an orange one at that! Plus, the more cuts they need to do (for patterns and designs and even around corners and stuff), the more expensive it is. And marmoleum, as awesome as it is, isn't super cheap…
Speaking of which, next comes getting the estimate, which is never as much fun as picking out the color….
Next week: IMBB/SHF, Chicken stuffed with pistachios and mushrooms, oh, I think WCC is coming up, and perhaps an orange cake.