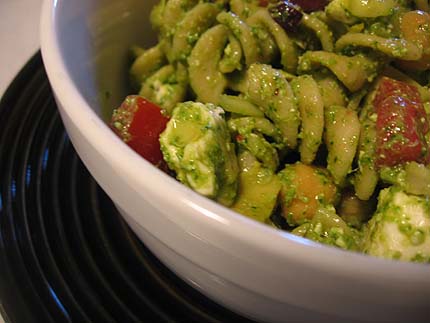 If it were sunny and warm again, I would be wanting a light, cool, pasta salad for dinner. That is, if it wasn't 60 degrees, cold, grey and rainy. But that's okay — I actually prefer cooler weather. I also don't mind a pasta salad for dinner when it's not Summery out. Besides, a pasta salad that isn't cold is really just a bowl of hot pasta. Yeah. So there.
Spinach Pasta Salad
2 cups spinach leaves
1 small handful basil leaves
1/2 cup olive oil
salt & pepper
2 garlic cloves
1/2 cup parmesan cheese
1/2 can garbanzo beans, drained and rinsed
1/2 cup feta cheese
dash red pepper flakes
1 package cooked pasta — fusili works well, so does rigatoni
10-12 chopped kalamata olives
1 can artichoke hearts in water, drained well and quartered
2 tomatoes chopped
1 yellow bell pepper diced
Add washed spinach and basil leaves to your food processor along with the garlic and parmesan. Pulse until broken up and stream in the olive oil and it's a nice pesto-like consistency. Salt & pepper to taste. Transfer to a large bowl.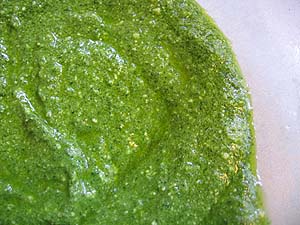 Combine the spinach pesto with the olives, tomato, artichokes, beans, red pepper flakes, feta and bell pepper.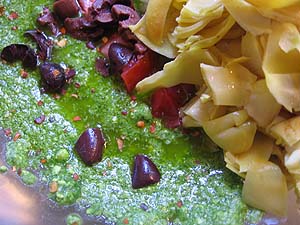 Add the warm, cooked pasta and toss to combine it all. Cool down in the refrigerator or serve warm immediately, with flatbread and a glass of red wine.