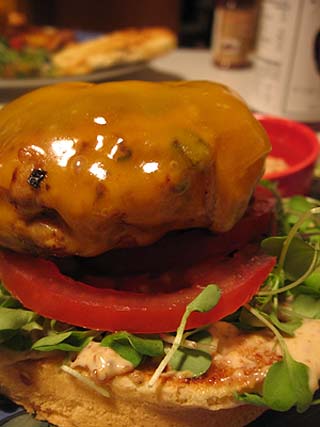 Pickled onions. Tillamook Cheddar. Toasted onion bun. Crispy, golden oven fries. Now, this was a meal. I sometimes like to add different combinations of ingredients and make interesting turkey burgers. These puppies had sautéed onions, spinach and smoked paprika. They were excellent.
Yukon gold potato wedges were roasted with some extra-virgin olive oil, kosher salt and Trail Dust seasoning and magically turned into a crunchy-on-the-outside, creamy-on-the-inside accompaniment for this epic burger. Make your own, won't you?
Spicy Greens Turkey Burger
1 small onion, diced
1 handful spinach leaves, chopped roughly
1 tsp olive oil + a bit more for brushing
1 tbsp smoked paprika
1 lb ground turkey
salt & pepper
Onion buns, toasted
Microgreens — or any favorite lettuce
Sliced tomato
Mayonnaise
Mustard
Ketchup
4 slices Cheddar cheese — or any cheese you are in the mood for — there's no bad cheese for this — all cheese is delicious. (mmmmmm…cheese….)
Saute the onion in the oil until soft, 2-3 minutes. Add the paprika and continue to stir until it becomes very fragrant and the onions darken. Add the spinach and toss, until spinach wilts. Remove from heat and let cool.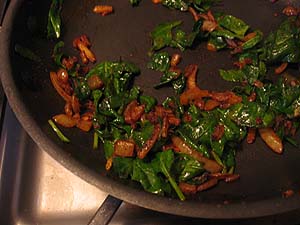 When onions are room temperature, combine with ground turkey. Form into four equal burgers. Heat a grill pan and lightly brush the tops of the burgers with olive oil. Salt and pepper each one and place oil-side down on the hot grill pan.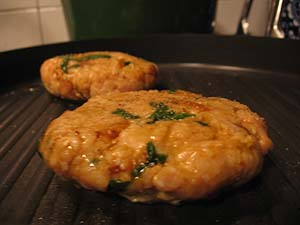 Meanwhile, get your toasted buns ready. Slather with a little mayo and mustard of your choice, then lay down the lettuce of your choice. I am really liking microgreens lately. They are so little and cute! After the greens, top with a huge tomato slice.
Give the burgers about 5-6 minutes (or more) per side, depending on the thickness of your burgers. You're shooting for about 165 degrees after the cheese meltage. I typically place the cheese on the second side when the temperature reaches 160-162. Then, I lid the pan, let the cheese melt for a minute or so and by the time that occurs — I figure the burger's at 165 and ready to go.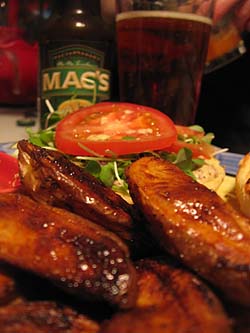 You will now want to get your plate ready with your oven fries and pickled onions. Oh and a beer. Perhaps a nice MacTarnahan's ale. Or, whatever your beverage of choice may be. Place your burger atop the bun and enjoy. Add ketchup if desired. Oh, try to drip the burger juices down onto the fries. There you go — excellent.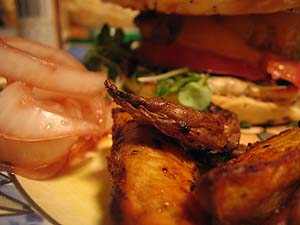 Simple, Crispy Oven Fries
3-4 Yukon gold potatoes, cut into 8 wedges, each potato (Slice in half lengthwise, then quarter that into wedges)
1 tbsp olive oil
1 tsp salt
Optional: 1/2 tsp Trail Dust or other seasoning mix of your choice
Preheat oven to 425. Toss potato wedges with olive oil, salt and seasoning. Spread out onto a cookie sheet and cook until crisp and golden, 20-25 minutes. Serve with the burger.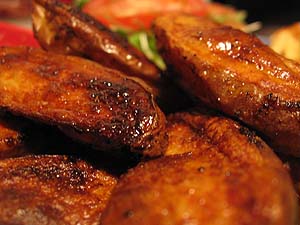 Pickled Onions
This recipe is from Eating Well Magazine
1 small onion, halved and sliced into thin rings (red or a sweet, white onion will work)
1 cup red wine vinegar
2 allspice berries
2 tbsp brown sugar
1/2 tsp salt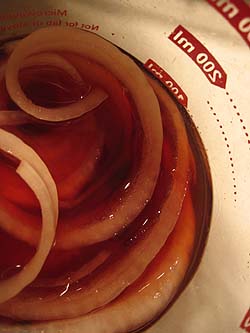 Combine the vinegar, sugar, salt, and berries in a microwave safe measuring cup or small bowl. Microwave on high for 2-3 minutes or until boiling. Add the onions and toss to coat.
Put it all together for one hell of a tasty dinner.
Oh and yeah, if you haven't guessed, it's cold again now.