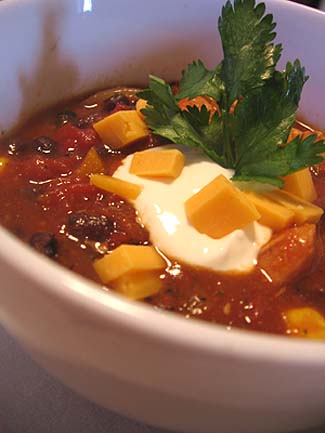 Last week, I caught The Big Chili episode of Good Eats and I remembered again why I love Alton Brown so much. I laughed so hard in so many spots in this episode — and the chili looked pretty good too. It's the best kind of Good Eats episode as well, with characters, costumes, accents and a plot! Whee!
From the episode, while buying ingredients at the store:

Grumpy Gus the Cowboy (played by AB): Well, there it is, Rusty. It's the secret ingredient of lazy chili chefs everywhere. Now you could go spending an hour slicing and dicing various vegetation. But I say why not just crack open the lid on your favorite hot salsa? This here is my favorite. It's made in New York City, so you know it's good.

Rusty: Imported!

Grumpy Gus: That's right, imported.
Ha! But hey, that's a great idea. Salsa in chili. The original recipe is here — check it out and try it sometime. Instead of making that exact recipe, though, I opted to just use just a few of AB's ideas in my chili because, well, I kind of like to fancify my chili with beans, various vegetation and things of that nature. Sorry, Alton.
I used chicken breast instead of stew meat (so it took less time and I didn't need a pressure cooker). I also added some canned tomatoes, I diced an onion, and added the aforementioned beans. But no tofu. Yee-haw.
Big Chicken Chili
1 lb chicken breasts, cut into bite-sized cubes
1 tbsp + 1 tsp vegetable, peanut or canola oil
1 tsp salt
1 tbsp chili powder
1 tsp cumin
1 white onion, diced
1 yellow bell pepper, diced
1/2 bottle ale (I used a Newcastle we had in the fridge)
1 tbsp tomato paste
1 chipotle pepper with 1 tsp adobo sauce
10-15 crushed tortilla chips
1 16 oz can fire-roasted tomatoes
1/2 cup salsa — any kind you like (I used my Charred Tomato Salsa Borracho, because I had some leftover — buy hey, store-bought works fine!)
1/2 cup frozen corn
1 can black beans, drained and rinsed
Garnishes: Cilantro, sour cream, cheddar cheese, chopped tomato, avocado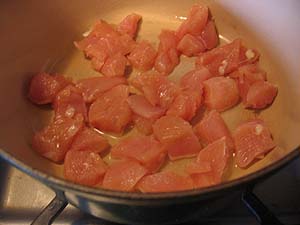 Add the tablespoon of oil to a heavy soup pot and brown the chicken (in batches if needed). Remove from the pot and set aside. Add the other teaspoon of oil and add the onions, bell pepper, chili powder and cumin. Sauté until the vegetables are soft and the spices are fragrant — about 3-4 minutes.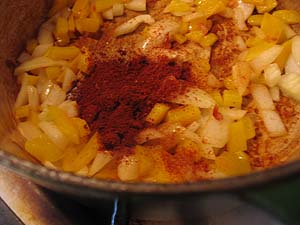 Add half a beer ("middle of the road ale") — drink the rest. Not all at once, while you finish the chili, Rusty! Use the cooking-beer to deglaze the pot. Use the drinking-beer to refresh your parched throat. Then add the salsa, canned tomatoes, tomato paste and chipotle and adobo. Stir. Add the chicken back into the pot and crush the tortilla chips on top. Give it another good stir.
Cover and simmer your chili for about 30 minutes, stirring every so often.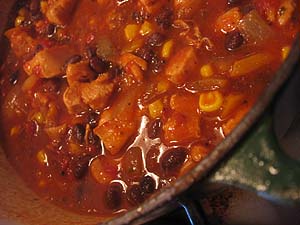 Give it a taste and adjust any seasonings. Add the frozen corn kernels and the beans. Simmer for about 10 more minutes and then grab a spoon! It's done.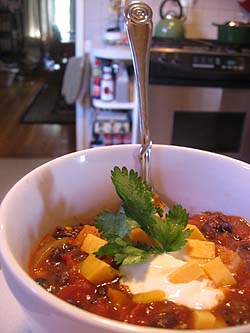 As far as garnishes go, I like cilantro, cheddar cheese and sour cream. But other "possible service options" include avocado, chopped tomato and olives. Quail eggs? Not so much.