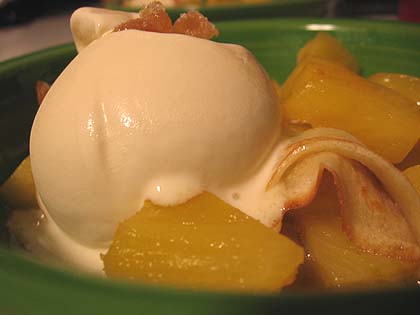 Once Upon a Feast came up with a great theme for his month's Sugar High Friday — Ginger. Ginger is a very fun ingredient, as it can be in spicy, savory dishes or sweet (and a little bit spicy) dishes. It's versatile!
Of course, this is Sugar High Friday, so I went with the sweet option. In addition, ginger is very good for the digestion, which makes it a great choice for a dessert theme.
While looking for a recipe, I came across this one from Gourmet Magazine and immediately knew it was what I would be making. jwa gave me a crepe pan a few years ago and I am always looking for things to cook up in it — mainly crepes. I also, have never made dessert crepes before. I'm usually more of a savory crepe kind of girl. I'm really glad I didn't let that stop me from trying this recipe because it was wonderful!
Oh and using a whole fresh pineapple? So very easy! The original recipe called for canned but as I was walking through the grocery store, I thought What the hell? I strolled through the produce section, while the Maui Gold pineapples mocked me. Ha! I showed them.
Honey-Ginger Pineapple Crepes
For crepes: (Makes 4)
1/2 cup milk (2% or whole)
1 large egg
1/2 cup AP flour
2 tbsp unsalted butter, melted
1 tbsp confectioners sugar
For pineapple sauce:
1 tbsp unsalted butter
1 pineapple or 1 20 oz can of pineapple chunks
1 1/2 tsp minced, peeled, fresh ginger
1/4 cup honey
1/3 cup orange juice
2 tsp crystallized ginger
Vanilla ice cream
Blend all of the crepe ingredients in a blender until smooth. Pour into a container, cover and chill at least 2 hours, to overnight.
Brush a 10-inch nonstick skillet (or crepe pan) with oil and heat over moderately high heat until hot but not smoking. You can also use non-stick spray here. Holding skillet off heat, pour about 1/4 cup batter, immediately swirling and tilting skillet to create a thin, even layer. Return the pan to heat and cook until crepe is golden around edges and dry in center, about 45 seconds.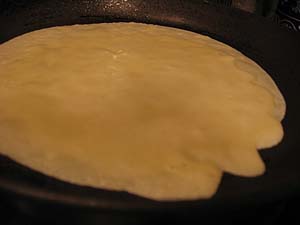 Flip the cre‪pe carefully and cook until golden, about 15 seconds. I actually use a spatula to lift the edge of the crepe up and use my fingers to flip it. Sure, it's hot but it seems to work better for me than just trying to flip with a spatula.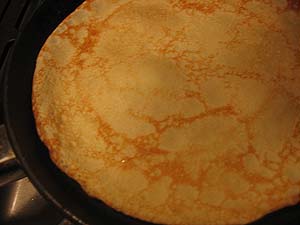 Transfer to a platter and keep warm, covered. Make more crepes in same manner.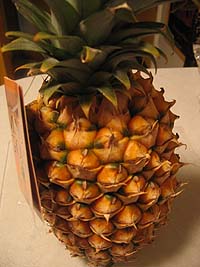 Pineapple
Slice the ends off the pineapple. Stand upright on a cutting board and slice off the outer covering in strips, getting as much of the brown skin off as possible. Turn pineapple on its side and cut into circular slices. Cut each slice in half and cut out the core. Then slice into small chunks. Easy!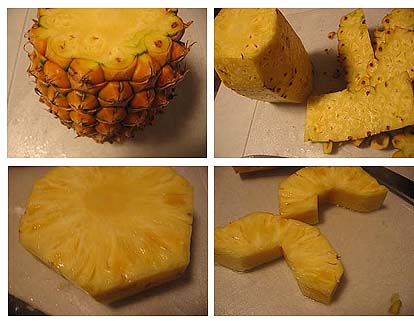 You will have about twice as much pineapple as you need. Use half for this and eat the rest for breakfast in the morning.
Now to make the sauce
Heat the butter in a nonstick skillet or over moderately high heat until foam subsides, then sauté pineapple until golden, about 5 minutes. Transfer pineapple to a bowl with a slotted spoon. Add ginger to skillet and sauté also, stirring frequently for about 30 seconds.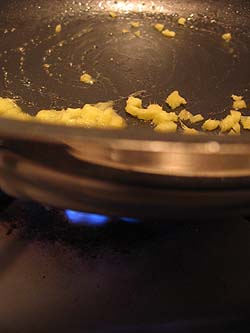 Add the honey and juice and simmer until mixture is syrupy, 3 to 5 minutes. Next, return the pineapple to honey mixture and simmer, stirring, until it's all hot and bubbly.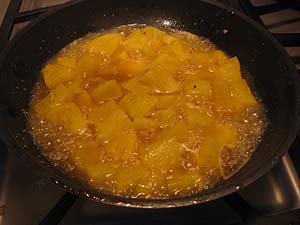 Spoon a bit of the pineapple mixture over half of one crepe, then fold in half. Repeat with remaining crepes.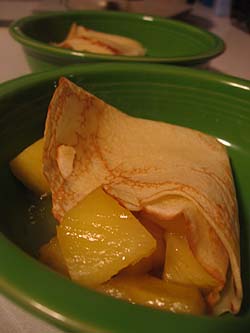 Pour remaining pineapple mixture over folded crepes. Top with vanilla ice cream and a few chopped, crystallized ginger pieces. Thanks again to Ruth at Once Upon a Feast for hosting this event!
Tagged with: shf & sugar high friday