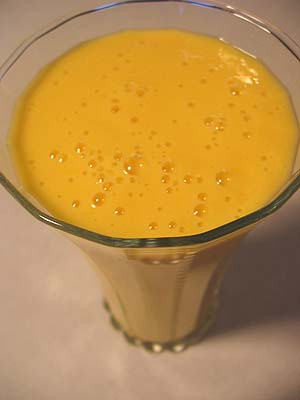 Oregon is weird. Mostly, the summer is cool but there seems to always be a week in May or June where it's unbelievably hot. Oh, yeah, and the week or so in August when it's uh, unbelievably, incredibly hot at 98-105, but let's not get ahead of ourselves here.
Today it was 94 degrees. How the hell does that happen? This is Portland! In May! Anyway, when it is this uncomfortably warm (yeah, 94 is uncomfortably warm to me), the last thing I want to do is eat. I want to just stick my head in the freezer. Oh! While I'm in there, I see frozen fruit. And I have a plan.
Frosty Mango & Orange Dreamsicle Smoothie
2 cups chopped, frozen mango (about half a bag of the Trader Joe's size)
1 banana
2/3 to 1 cup cup orange juice
1/2 cup fat-free vanilla yogurt
1/2 tbsp honey
I like to let the mango chunks defrost just a bit. Ten or so minutes on the counter or 1 minute in the microwave on defrost usually works. It's still mostly frozen, but not hard as an orange rock.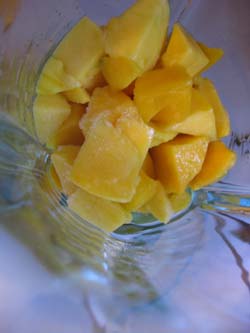 Blend all the ingredients together. If it is too thick, add a bit more orange juice. Try to find a cool spot and drink dinner. Incidentally, a smoothie is the first thing I made with my new blender last week!
***
Bluehour
250 NW 13th Ave
Portland, 97209
(503) 226-3394
Since a smoothie isn't much of a food post, here are some pictures from our Mother's Day brunch with jwa's parents at Bluehour. I liked the food a lot and everyone had a nice time. While at the table I kept seeing these really amazing looking cheeseburgers go by — I think I may need to try one sometime.
My only complaint is that the kitchen seemed a bit slow in getting the food out — hence all the longing stares at the burgers. It seemed like our meal took about 40 minutes to get to the table. Although, I suppose Mother's Day is one of the busiest brunch days for restaurants and they were pretty packed. We still had a very nice time, though, what with the ambiance, the coffee, the mimosas and the bloody Marys and all.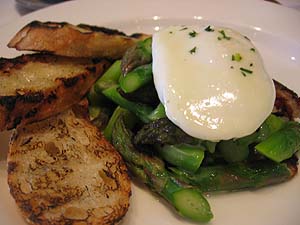 Warm asparagus salad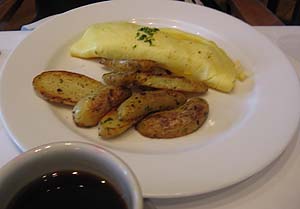 Dungeness crab omelet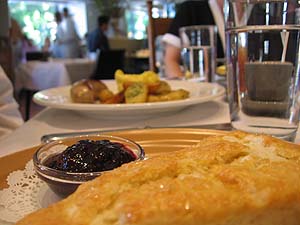 Walnut and cherry scone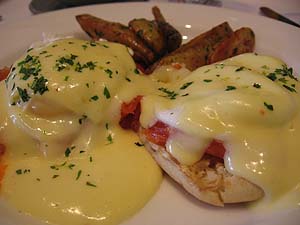 Eggs Norwegian — salmon, poached eggs, English muffins and hollandaise.