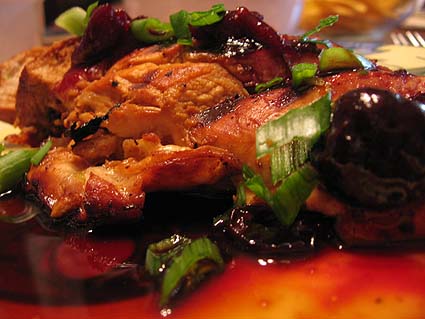 This — this was excellently tasty. I was a little cautious when I read through the recipe, which called for chipotle peppers, cherries, ketchup and assorted spices, but after all, it was in the June/July issue of Eating Well* and…well, they've earned my trust.
This is also a nice recipe for the summer months. You can cook it outside or in a grill pan. Either way, there's minimal indoor heat (no oven) being used. In the hot Summer months, I envision this with a creamy jalapeno potato salad and roasted corn on the cob.
Regardless of the sides or season, it made for a wonderful meal. Go make some now — you won't regret it!
Cherry-Chipotle Grilled Chicken
1 cup fresh or frozen cherries (pitted, if needed)
1/2 cup chicken broth
1/3 cup cherry preserves
1/3 cup ketchup
2 tbsp red wine vinegar
1 1/2 tsp minced chipotle peppers in adobo sauce
1/2 tsp dried thyme
2 lbs boneless, skinless chicken breasts
Garnish: 3-4 green onions, chopped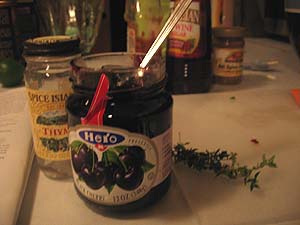 Stir the cherries, broth, preserves, ketchup, vinegar, chipotle and thyme in a bowl. Add the chicken and marinate two hours to overnight.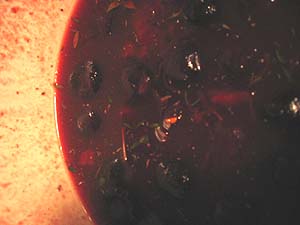 Preheat a grill pan or outdoor grill. Remove the chicken from the marinade and grill until no longer pink inside, 8-10 minutes per side. When I made this recipe, I only used two chicken breasts, as there were only two of us. So, I divided the marinade and used half for the raw chicken and half for the sauce. Mainly, this was because I had way too much marinade for just two chicken breasts.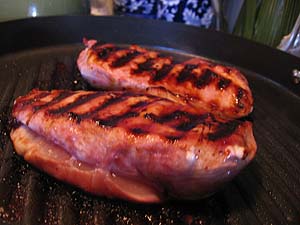 Pour the marinade (what you used for the chicken or unused extra marinade) into a pan and bring to a boil. Bring to a simmer and reduce for about 12-15 minutes. When chicken is done (165 degrees), remove and plate together, covering with foil. Let rest. Slice each breast and fan out onto plates. Pretty.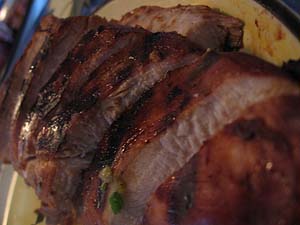 Serve with sauce drizzled on top. Garnish with chopped green onions. Excellent.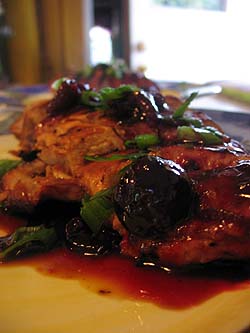 * Someday, I will post my Cooking Light vs. Eating Well rant. I used to love Cooking Light magazine. Now? Meh. It's like 1/4 recipes and 3/4 "lifestyle magazine". Pfffttt. If I wanted that, I would go buy Self or Shape or any number of those kinds of magazine. I want healthy and tasty recipes! Enter Eating Well! Everything Cooking Light used to be (back in the much fabled "day"), but with better images and great recipes. Ha! It's a mini-rant. More to come someday.