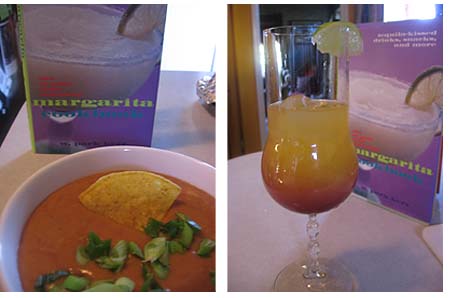 I was very excited about this challenge's theme — Cinco de Mayo, as I love Mexican food. When I cook Mexican food, I tend to make these types of dishes up, rather than follow a cookbook's specific recipe. This challenge had my sorting through my cookbook collection looking for a suitable contender from my large collection of books.
As I mentioned in Friday's post, The El Paso Chile Company Margarita Cookbook is the only Mexican cookbook that I appear to have. So, that is what I used for this month's Weekend Cookbook Challenge. Of course, the cookbook is more Tex-Mex than Mexican but I figured that it was close enough for my needs.
Opening the book up, I discovered a theme — it contained mostly drink recipes. Makes sense. There's a big ol' margarita on the cover and it is called the "Margarita Cookbook" after all. I pondered briefly and decided I could work with that and made myself the Tequila Sunrise from page 50. Then it was time to pick some recipes.
The last few pages of the book are devoted to snacks and a few main dishes. I chose two appetizers for my Cinco de Mayo celebration and starting cooking.
Here's the thing though — all of the recipes in the "Margarita Cookbook" involve tequila. Problem? Not really. So, go grab your bottle and cook along!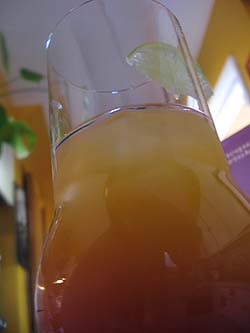 Tequila Sunrise
1/2 cup orange juice
2 ounces tequila
1/2 ounce Chambord liqueur
1 lime wedge
Optional: splash of club soda
Fill a glass 3/4 of the way up with ice. Add the juice and tequila and stir. Slowly our the Chambord down the side and let it settle to the bottom of the glass. Top with club soda if desired and serve with a lime wedge. Ahhhh! Refreshing!
Charred Tomato Salsa Borracho
3-4 large tomatoes
1/3 cup minced white onion
4 cloves garlic, chopped
1/4 cup tequila
Juice of 1 lime
1 jalapeno chile
3/4 tsp salt (or to taste)
1/2 cup cilantro
Char the tomatoes and pepper under the broiler until blackened. If the pepper finishes first, just remove it and place in a plastic baggie to steam. Let the tomatoes cool slightly and core.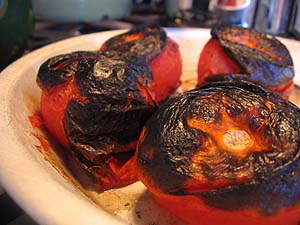 Remove the blackened skin from the steamed pepper and chop, removing the seeds and stem. Add with the tomatoes (do not remove the tomatoes' charred peel) to a food processor, along with all of the other ingredients.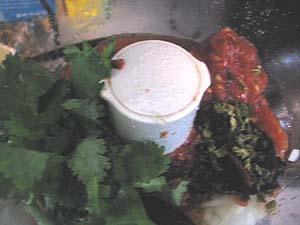 Process until fairly smooth. Serve with chips.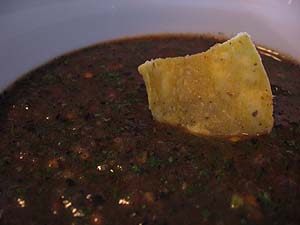 Rounding out my WCC#5, is a "Boilermaker" Bean Dip. Yep, not only is there tequila in this bean dip, but also beer. I made a half recipe of what was in the cookbook. I've listed my smaller, slightly-different-than-the-original version below.
Boilermaker Bean Dip
1 15-oz can of traditional style refried beans
1/4 cup Mexican beer
2 tbsp tequila
1-2 tsp canned chipotle chilies in adobo
1 cup shredded pepper jack cheese
1 cup shredded cheddar cheese
3 green onions, chopped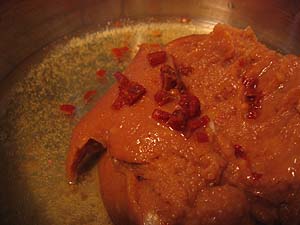 Combine the beans, beer, chipotle and tequila in a sauce pan. Stir over medium heat until bubbly and hot. Add the cheese and mix until melted. Transfer to a serving bowl and add the chopped green onions. Serve with chips and enjoy (along with the salsa and tequila sunrise)!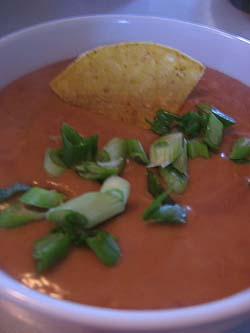 On a related note, I keep my extra chipotle in the freezer. After opening a can, I use what I need and then wrap each pepper and some adobo sauce up in plastic wrap and freeze all my single servings in a big freezer bag. That way, whenever I need a small amount of chipotle (and most recipes just call for one or two peppers) I can just grab what I need.