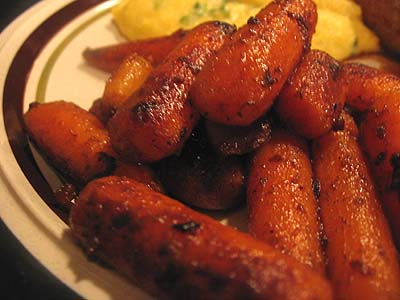 This was a recent side to pork with a maple and balsamic sauce and some creamy polenta. I didn't talk about the carrots in that post because it already had a pork chop recipe and a polenta recipe. Adding carrots just seemed like overkill. Besides, this was they can shine all on their own.
I love braising for brussel sprouts. Figured why not try it with carrots? Why not indeed.
Baby carrots were my choice for this because we had some on hand and because they were the perfect size. If you have regular-sized carrots, just peel them and cut into 3-inch pieces.
Braised Carrots & Garlic
1 tbsp olive oil
1/2 pound baby carrots or regular carrots
4 big cloves garlic, peeled and cut in half
1/2 – 1 cup chicken or vegetable broth
1/4 tsp dried thyme
salt and pepper
Heat a pan over medium-high heat and add olive oil. Sauté the carrots and garlic until golden and a bit caramelized in spots.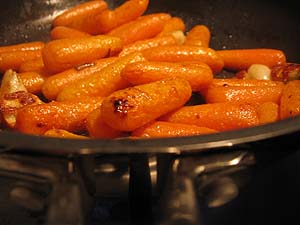 Add broth and thyme and turn heat to low. Liquid should cover carrots about halfway.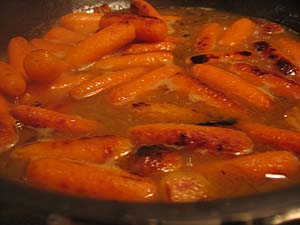 Let simmer for about 20 minutes until liquid is mostly absorbed. Season with salt and pepper and enjoy.
***
Chocolate Ice Cream got bumped until next week…poor chocolate ice cream. Also, coming next week: grilled chicken with a cherry chipotle sauce and Monday — Weekend Cookbook Challenge! Yay!
Hint: The only Mexican cookbook that I have is the El Paso Chile Company Margarita Cookbook. Awesome.