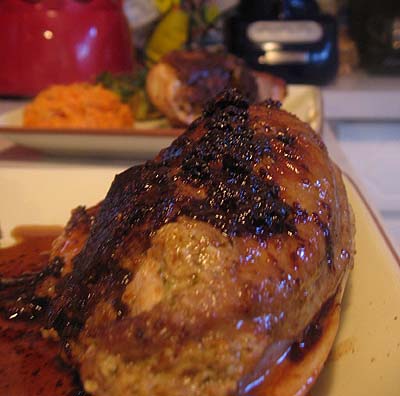 Boneless, skinless chicken breasts are still my most favorite meat cooking ingredient ever, but sometimes it's fun to use breasts with the bones and skin still attached. Crispy, seasoned chicken skin is….well, awesome, quite frankly. In addition, the white meat stays so juicy and moist, I've found, leaving the protective skin intact. Oh, and the cheese helps too.
Recently, I found a recipe that I thought looked interesting that stuffed a pesto under the skin of chicken breasts. I made that pesto (it had cilantro, pistachios and ground corriander), tasted it and …yuck. I'm so glad I tried it first. I just really didn't like it. It would have been awful to ruin perfectly good chicken. As you can see, recipes don't always turn out as planned!
Luckily, I had enough things on hand to improvise this alternative — a simple feta-walnut pesto, which turned out to be quite delicious. This pesto would also be really good tossed with pasta as well.
Chicken Stuffed with Feta and Toasted Walnut Pesto
1/4 cup walnuts
2 ounces feta cheese
2 cloves garlic
1 tsp lemon juice
1 handful fresh parsley, leaves chopped
1/4 cup olive oil
salt & pepper
4 chicken breasts, with skin and ribs intact
1 tbsp olive oil
1/4 cup chicken stock
1/4 cup red wine
salt & pepper
Preheat oven to 400 degrees. Toast walnuts on baking sheet until golden, about 4-5 minutes (watch carefully!). Transfer to processor. Maintain oven temperature. Add feta, garlic, parsley, lemon juice, and 3/4 teaspoon salt to processor. Pulse a few times. Then, with machine running, gradually add 1/4 cup olive oil. Season with pepper.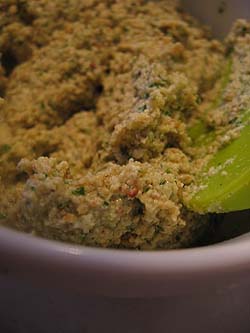 Use your fingers and gently loosen the skin from one side of each chicken breast, forming a little pocket. Spread one tablespoon of the pesto evenly under skin of each breast. Repeat with all breasts. Sprinkle chicken generously with salt and pepper.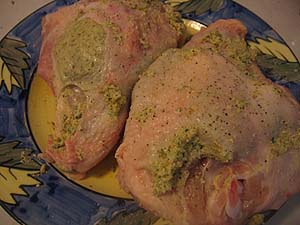 Heat olive oil in heavy large ovenproof skillet over medium-high heat. Add chicken, skin side down. Cook until skin is dark golden, about 5 minutes.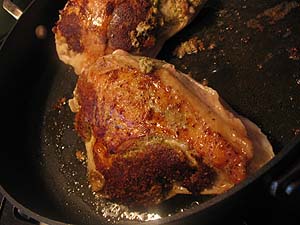 Turn chicken skin-side up and transfer skillet to oven. Roast the chicken until cooked through, about 30-35 minutes (internal temperature should be 165 degrees). Transfer chicken to a plate and cover with foil.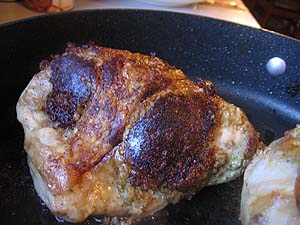 Place the hot skillet on stovetop. Add chicken stock and wine an deglaze pan over medium-high heat. Let boil and reduce until it's a good sauce consistency.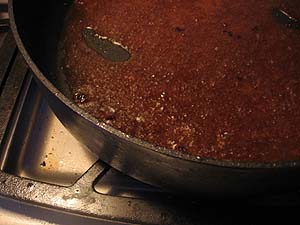 Drizzle the sauce over chicken and serve. We had our stuffed chicken breasts with mashed sweet potatoes and braised brussel sprouts.
Look — the chicken is all juicy!