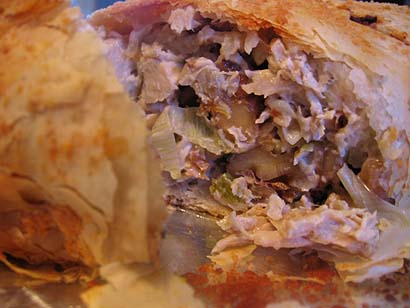 I threw this together the other night for dinner, as I am trying to work my way through the leftover phyllo dough. jwa and I both liked it. The filling is creamy and gorgonzola-y, with a crisp and flaky pastry covering. I also experimented with using olive oil instead of melted butter to brush between the sheets of phyllo — seemed to work just fine.
Only 28 more sheets to go…
Chicken, Apple & Gorgonzola Strudel
6 sheets phyllo dough, stored under a damp towel while assembling
3 tbsp olive oil, plus 1 tsp
2 boneless, skinless chicken breasts (about 2/3 of a pound total), each breast cut in half
1 granny smith apple
1/4 cup walnuts, toasted
2 leeks, white parts cleaned and sliced
1 clove garlic, minced
1/4 cup low fat cream cheese, room temperature
1/4 cup Gorgonzola cheese, crumbled
2 tbsp Parmesan cheese
Preheat oven to 400 degrees. Grate the apple. I find this is easiest by cutting the apple into pieces, off the core. Grate each piece, pressing against the skin, so that everything up to the peel is grated. You'll probably get about a quarter of a cup of grated apple. It'll be pretty wet — don't worry about squeezing that out. Just use it as is.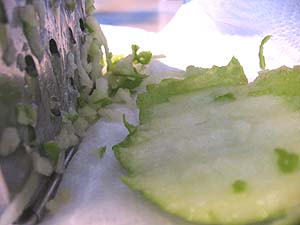 Heat a pan over medium heat and cook leek, garlic and grated apple in the teaspoon of oil, until most of the moisture from the apple has evaporated and leek is soft. Transfer to a bowl and set aside.
Poach the chicken in simmering water until cooked through, about 15-20 minutes. Let cool briefly and then shred. Add to the apple and leeks. Mix in cream cheese, Gorgonzola and walnuts. Add salt and pepper to taste. Mixture should be creamy anf hold together, but not too wet.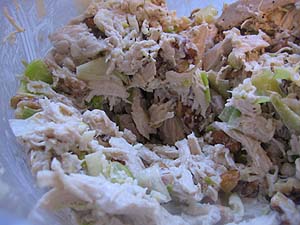 Spray a baking sheet lightly with nonstick spray. Lay a phyllo sheet down and brush with olive oil. Sprinkle with a little Parmesan cheese. Repeat this process with all five remaining sheets. Place chicken filling down the center of the phyllo sheets, leaving atleast a 2-inch border at the short ends.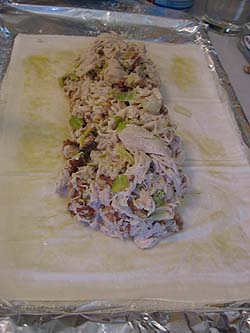 Fold the short ends up, towards the center.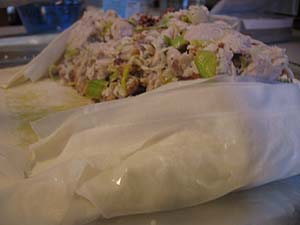 Then, roll one of the longer ends towards the center, so that there's just one end still laying flat. Then, roll the whole thing towards that end, like you a rolling a jelly roll or a burrito. Hey! All those trips to Una Mas…er Pepinos finally pay off — I figured out how to roll this in a nice, neat shape!
Brush top with olive oil and sprinkle lightly with Parmesan. I made three diagonal slits in the top of the roll — mainly to be decorative but I think it also does something. Lets steam out? I dunno. I just think it looks nice.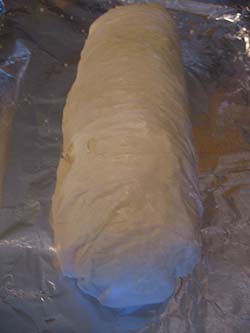 Bake in a 400 degree oven for 25-30 minutes until top is golden.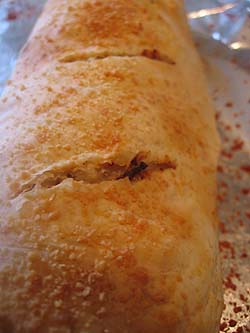 When it comes out, "ohhh" and "ahhh" over it for a few minutes, then slice diagonally, into about six nice sized pieces. Two slices, along with a salad made a mighty tasty dinner!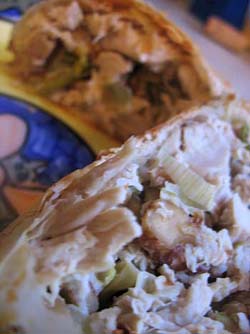 ps: Why oh why do jwa and I both always wait until the last day possible to do taxes? Why? Oh, that's right, we are lazy!