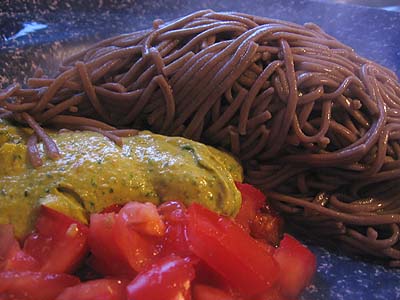 This is from a recent Everyday Food and it was really, really good. We used it for a sauce with soba noodles, grilled shrimp and some chopped tomatoes but I couldn't help but think that it would be a great dip for veggies or a spread on a vegetable or grilled chicken wrap. It's very thick, so as a sauce it works best as a topping or a side. When I tried to mix it with the noodles they both melded together and became…well…cement-like. But — very good tasting cement! So, just stick to using this to top your noodles or rice (instead of trying to combine the sauce) and you'll be absolutely fine.
I also upped the curry powder called for in the original recipe (1 tsp) and I'd be tempted to decrease the brown sugar just a bit. Maybe start with 1/2 tbsp, taste and add the other 1/2 tbsp if you think it's needed.
Cashew Curry:
1 slice of ginger, about 1/4 inch thick
3/4 cup roasted, unsalted cashews
1/3 cup plain low-fat (or fat free) yogurt
1/4 cup packed cilantro leaves
1 tbsp brown sugar
1 tbsp curry powder — I used Maharajah curry powder from Penzey's
Kosher salt to taste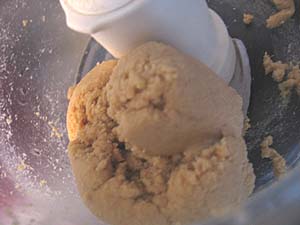 In a food processor, pulse ginger until finely chopped. Add 3/4 cup cashews; process until smooth, 2 to 3 minutes. This will become paste-like. Mine actually turned into a ball after about 2 minutes. Fun!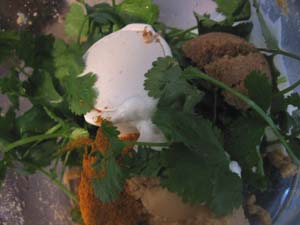 Add yogurt, cilantro, brown sugar, and curry powder. Process until everything is incorporated, 1 to 2 minutes, scraping down sides at least once. Taste and season with salt as needed.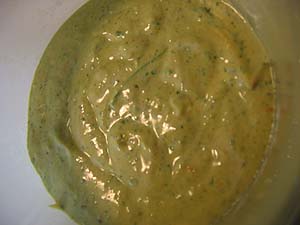 Serve with shrimp, grilled chicken, steamed vegetables, rice, noodles or whatever you feel like! Use as a dip. Make a wrap. Eat it with a spoon — it's fabulous!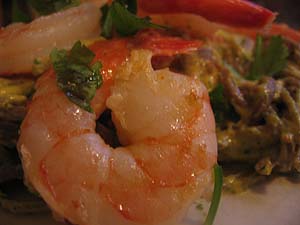 To heat the sauce, I would just warm it in a pan over very low heat. Don't boil or get too hot or the yogurt might curdle. Although, the fat from the nuts would probably help keep it from doing so, but I am no Alton Brown — I am just guesing here. The sauce can be refrigerated, covered, up to 3 days.
***
In other news, Je Mange la Ville is getting a new look. Coming very soon. Woo!