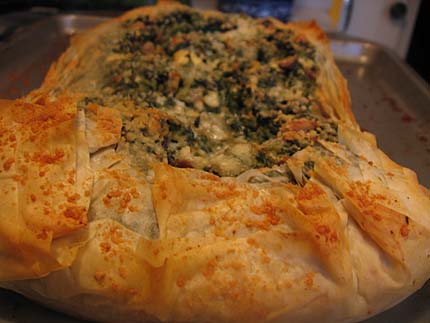 I have decided that one of the very best things about having a blog is having a reason to try cooking new things, like pork, lamb, duck and…baking with phyllo dough! Phyllo is one of those things that I was always scared of using. Dude — it's so easy! I had no idea. Apparently, the secret is to keep it covered with a damp towel while not actively brushing melted butter or piling stuff on it. Now, granted, the first thing I chose to make was pretty simple but hear this, I am no longer afraid of phyllo!
This experiment went well with a chopped vegetable salad, Greek style, and some red wine. The tart recipe is from Gourmet magazine. Give it a try.
Next I want to try and get up the nerve to flambe something. Opa!
Spinach, Feta & Pine Nut Tart
1/2 cup pine nuts
1 medium onion, finely diced
2 tbsp olive oil
two 10-ounce packages frozen chopped spinach, thawed
1/2 tsp salt
2 large eggs
1/2 cup crumbled feta (about 3 ounces)
1 tbsp fine dry bread crumbs
6 17- by 12-inch phyllo sheets
5 tbsp unsalted butter
6 tbsp plus 1/4 cup freshly grated parmesan cheese
Preheat oven to 375 degrees.
In a shallow baking pan toast pine nuts in middle of oven until golden, about 4 minutes, and cool. Keep a fine eye on these as they can get dark really quickly.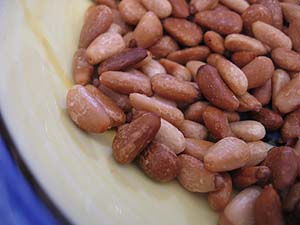 Next, cook diced onion in a large heavy skillet cook in oil, over moderately low heat, stirring, until softened. Squeeze thawed spinach to remove as much liquid as possible and stir with salt into onion. I usually place my spinach in a clean kitchen towel and then squeeze out over the sink.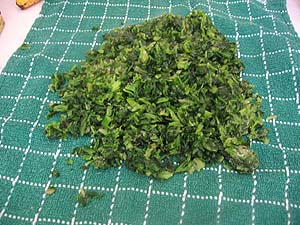 Cook spinach mixture over moderate heat, stirring occasionally, until any liquid is evaporated, 1 to 2 minutes, and cool slightly. In a large bowl whisk eggs until combined and stir in spinach mixture, pine nuts, feta, and bread crumbs until combined well. Filling may be made 1 day ahead and chilled, covered. If you do make the filling ahead of time, let the filling get up to room temperature before proceeding.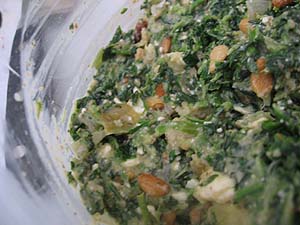 Now, for the phyllo…
Unroll a package of phyllo sheets and lay out on a board. Cover with a damp towel.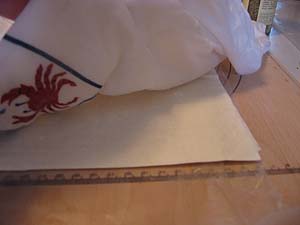 In a small saucepan melt butter and cool slightly. Coat a baking sheet with a little of the melted butter — just brush it on the surface. Lay down one sheet of phyllo on the baking sheet and brush that with butter.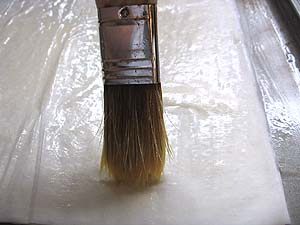 Sprinkle 1 tablespoon parmesan evenly over buttered phyllo and repeat layering with 5 more phyllo sheets, butter, and 5 tablespoons parmesan. Now, I actually forgot to sprinkle my phyllo sheets with parmesan as I stacked them up. But, I was able to gently lift half of each sheet up and then sprinkle with cheese, then lift the other side and repeat.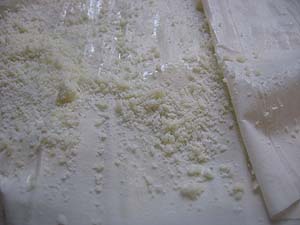 Ideally, you will not forget the cheese the first time around. Arrange the last phyllo sheet on stack and lightly brush with butter. Spoon filling onto phyllo, spreading evenly, leave about a one inch border around the edges. Carefully fold edges of pastry up and over filling a little, leaving center uncovered. Lightly brush top of phyllo with butter. I had a slight sticking problem with the bottom sheet pf phyllo to the baking sheet, but I just very gingerly peeled it up to fold over. I got it all up with just a couple of places were it tore, but after it finished baking, you couldn't tell at all.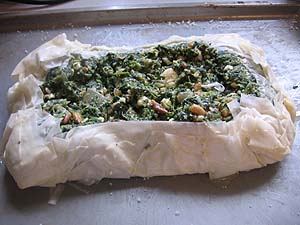 Sprinkle remaining 1/4 cup parmesan over exposed filling and bake tart in middle of oven until golden, 25 to 30 minutes. Serve tart warm or at room temperature.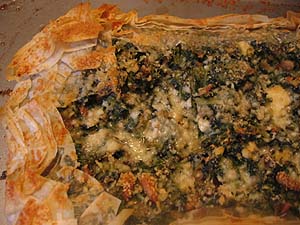 Now, we had this with a small salad that consisted of quartered artichoke hearts, kalamata olives, cherry tomatoes, slices of seeded cucumber, lemon zest and minced garlic. I made a dressing with red wine vinegar, olive oil and dried oregano, plus a little salt and pepper. I'd give quantities but honestly, I just threw it all together in a bowl. It's very easy — just wing it.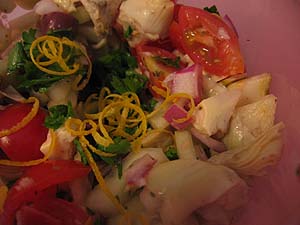 It was all delicious! The baked phyllo crackled when sliced. The cheese on top got all golden and nutty and the filling was very flavorful!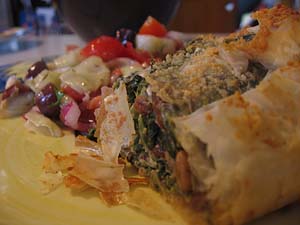 Here is another thing I learned — phyllo dough, once defrosted, will keep in the fridge for 4 weeks. So, now I have 34 sheets of phyllo dough left and 25 days to use them. Any ideas?