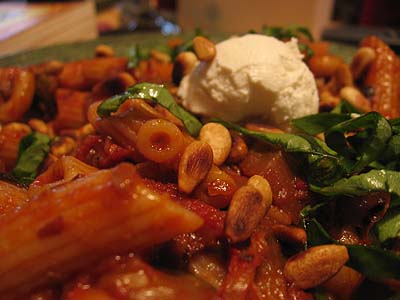 When I experimented with the Crab-Crusted Ling Cod last week, I had extra roasted red pepper sauce left over (bottom of that post). And really, extra roasted red pepper sauce literally screams, "pasta! Use me with pasta!" Really, it does — I heard it.
So, I answered the call. I used the leftover sauce to make yet another sauce with some canned plum tomatoes, an eggplant, a zucchini and some mushrooms.
Penne with Red Pepper, Eggplant & Zucchini
1/2 cup leftover roasted red pepper sauce (or 2 red peppers, roasted, peeled and pureed)
2 tbsp olive oil
1 medium eggplant, peeled and cubed
1 medium zucchini, diced
2 cloves of garlic, minced
salt & pepper to taste
8-10 button mushrooms, sliced
1 28-oz can whole plum tomatoes
1/4 cup red wine
Garnishes:
1/4 cup fresh basil leaves, sliced into thin strips (chiffonadded, if you will)
1/4 cup pine nuts, toasted
1/4 cup goat cheese
Liberally salt eggplant cubes in a colander and let sit for 30 minutes. Rinse well and set aside.
Heat a pan over medium heat. Add olive oil and sauté the mushrooms, zucchini and garlic for about 5 minutes. Add eggplant and let everything cook down for about 30 minutes over medium-low heat. Let the eggplant really break down and get all golden. If you are not using leftover sauce with onion in it, you may want to sauté some onion with everything else too.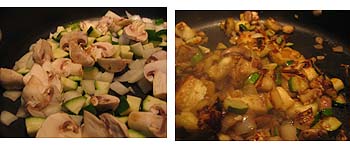 Next, add the canned tomatoes and their sauce, squishing each tomato in your hand before you add it. The red peppers are next. If you don't have leftover sauce just used pureed roasted red peppers. Whichever route you take, add the wine and then let the sauce simmer for about 5 minutes. Taste and adjust seasonings (salt & pepper) as you see fit. This is also where I add a few red pepper flakes just for fun.
Toss the sauce with cooked wheat penne or any other pasta you have on hand. I typically add the pasta into the sauce, rather than the other way around.
Garnish each bowl with the basil, pine nuts and goat cheese. I have a very small ice cream scoop (about the size of a melon baller) and I used that to make little goat cheese scoops for the top of each serving. So cute! I knew that gadget would come in handy one day, because really, who eats little, tiny balls of ice cream? Oh, not I (nor jwa).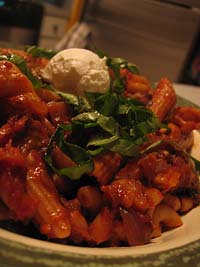 Now get a glass of red wine, some Daily Show on the TV and dig in!