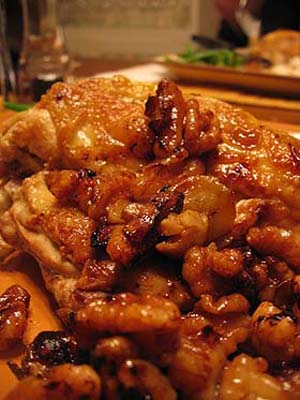 The recipe I chose for this fabulous incarnation of IMBB is from the Rhone-Alps region of France (near Grenoble) and comes from the French Farmhouse Cookbook by Susan Hermann Loomis, which is a cookbook that I enthusiastically recommend. It was also very useful for this event as she says exactly where she got each recipe, so I knew the region of Poulet aux Noix without much sleuthing. Perhaps this is why I ended up making so much food.
Idle hands and all that, I guess…
Anyway, this area of France is walnut growing country, which is reflected in this meal. This leads me to the chicken. Oh my, the chicken. Chicken with walnuts. It was so amazingly good but really very simple to prepare. The walnuts soak up chicken juices and garlic and wine and lemon and almost caramelize with flavor. I suggest a baguette for sopping up all the garlicky-chickeny-lemony juices. I also suggest using more than 12 cloves of garlic — hell, use a whole bulb. You will not be sorry!
And, before I forget, thank you to Cucina Testa Rossa for hosting IMBB23 and for picking such a wonderful theme. I think that this is one of the best (and most fun to plan) meals I have made for any cooking event since I've had my blog.
Poulet aux Noix (Chicken with Walnuts)
2 tbsp olive oil
1 chicken (3-1/2 to 4 pounds), cut into 8 pieces (2 breast pieces, 2 wings with portion of breast attached, 2 legs, 2 thighs), giblets reserved
Sea salt and freshly ground black pepper
2 tbsp freshly squeezed lemon juice
1/2 cup plus 2 tbsp dry white wine (I used Vouvray, which is what it suggested in the cookbook. I was just walking around Cost Plus and happened upon a bottle. I took it as a sign)
12 cloves garlic, (the recipe says unpeeled, but I peeled mine by accident but was very pleased with the results)
1-1/4 cups walnut halves or large pieces
Heat the oil in a large heavy skillet over medium-high heat. When the oil is hot but not smoking, brown the chicken pieces, seasoning them liberally with salt and pepper, until they are golden, about 5 minutes per side. I just used two breast pieces (with skin and bones) and two whole leg pieces, I didn't bother with buying wings. As I bought my chicken already in parts, I had no giblets. I'm kind of sad about that as I can only imagine how tasty those would have been in the pan. I think it may even be worth just throwing caution to the wind and hacking up your own bird.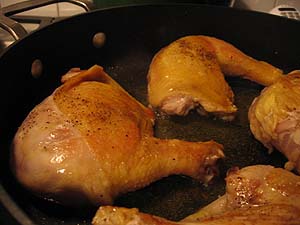 Add the lemon juice, 2 tablespoons of the wine, and the garlic cloves to the skillet. Reduce the heat to medium, cover, and cook until the chicken is nearly cooked through, about 15 minutes. Then stir the walnuts into the skillet, along with the giblets, cover, and continue cooking for about 8 minutes.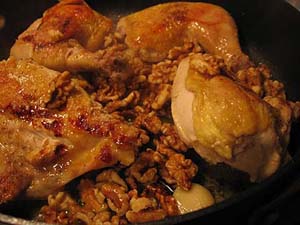 Remove the cover from the skillet and continue cooking, stirring occasionally, until all the pan juices have evaporated and the chicken, walnuts, and garlic are golden, 5 to 8 minutes. My juices didn't really evaporate — the chicken was done in about 8 more minutes so I just removed it and went from there. Be sure to watch the walnuts, for they tend to brown easily. If they are getting too brown at any point in the cooking, remove and reserve them, returning them to the pan just before serving. Mine actually started to get a bit dark so I scooped them all out and set them aside.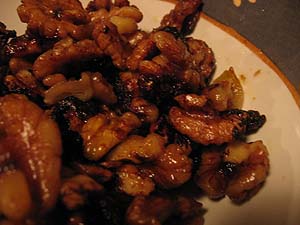 Transfer the chicken, garlic and walnuts to a warmed serving platter and deglaze the skillet with the remaining 1/2 cup white wine, scraping the bottom to loosen any browned bits.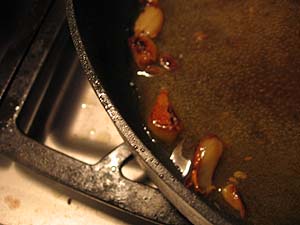 Cook until reduced by half, about 4 minutes. It says to pour the sauce over the chicken to serve, but I actually added the chicken and walnuts back into the pan and served it from that right on the table, where we greedily dished a breast each onto our plates.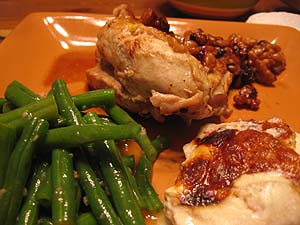 One of the steps for this event was to pair the dish with a regional wine. After some online investigation, I decided to go with a Côtes du Rhônes but I ended up finding this Côtes du Ventoux Rogue, from Orange, France instead. Orange (the OF?) is about a two hour drive away from the Grenoble area, so I figured this was close enough to be regional. Mainly, I really liked the poultry drawing on the bottle — after that won me over, there was no going back to the Côtes du Rhônes idea. I really am a pick-a-bottle-by-the-label kind of girl.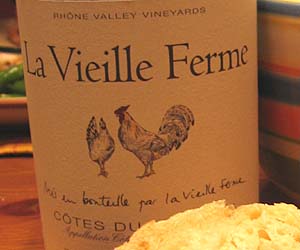 So, you might have noticed more items on the plate than just the poulet aux noix — well, I kind of went crazy. I was just so inspired by this theme that I also made two other regional dishes — warm green beans in walnut oil and Alps-favorite, Gratin Dauphinoise (potatoes). For it is cold there I suppose and the people need their butterfat to keep them warm!
Haricots verts a l'huile de noix (Warm green beans in walnut oil)
(also from the French Farmhouse Cookbook)
1 tbsp red wine vinegar
2 cloves garlic, peeled and minced
sea salt and freshly ground pepper
3 tbsp good quality walnut oil (tore in refrigerator after opening)
1 lb green beans, trimmed and washed
1/2 cup walnut pieces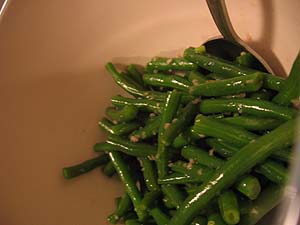 Whisk together vinegar, garlic, salt & pepper. Add the oil in a thin stream, whisking constantly and set aside.
Add the beans to a large pot of boiling, salted water. Cook until crisp tender — about 5 minutes.
Whisk the dressing again and add the hot beans, along with walnut pieces. Toss and serve immediately.
Gratin Dauphinoise
2 cups half and half
1/2 tsp salt
1/4 tsp pepper
2 cloves garlic
5-6 Yukon gold potatoes, peeled or unpeeled (depending on your preference) and sliced thinly
Optional: 1/4 cup grated Gruyere cheese
1 tsp unsalted butter
Preheat oven to 375 degrees. Split one of the garlic cloves and rub it along the inside of the baking dish you'll be using for the potatoes. Then, mince both cloves of garlic. Heat the half and half, salt, pepper and minced garlic until simmering is achieved. Remove from heat and keep warm.
Layer about half of the potato slices in the baking dish, overlapping slightly in concentric circles. Pour half of your warm half and half mixture on top of the potatoes. Then layer the remaining slices, topping with the rest of the half and half to finish. If you are going the non-traditional route like I did, finish with a sprinkle of Gruyere and dot the top with about 1 tsp of butter, broken up into small pieces.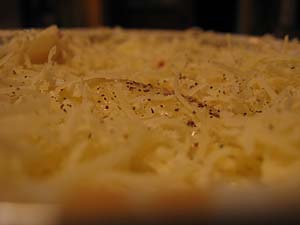 Bake in bottom third of the oven for about 20 minutes or until he half and half mixture starts to bubble up sides. Move baking dish to the top part of the oven and continue baking for about 25 minutes longer or until potatoes are tender and top is golden brown. Let stand for 15 minutes before devouring.
After our journey to the French Alps with this dinner and wine, jwa had to do some work, which was really too bad as I sat on the couch and then went to Caprica — watching the best episode of Battlestar Galactica ever. Ever! But, being sweet, I saved it for him and we watched it together Saturday afternoon. Awwwwww…