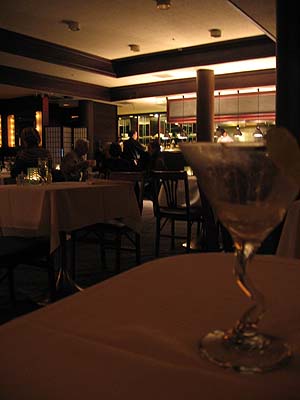 Art Bar
SW Broadway and Main
Portland, OR 97205
503-432-2905
Last weekend we went downtown to Portland Center Stage to see Drunk Puppet Night at the Winningstad Theatre. It was very entertaining and a nice evening out. There were big puppets, little puppets, a whole alien/ufo/puppet/mini-series and an odd yet very humorous performance art piece involving rubber chickens, a hula skirt, a George W. Bush mask, sex toys and a big inflatable globe (I bet you can guess kind of how that went…) Anyway, before all that wackiness ensued — there were the salad rolls.
First off, I love the image with the woman and the martini and the little animated bubbles here. So much fun. While at the Art Bar, I had a couple of cosmopolitans and although I had no little animated bubbles in mine, I enjoyed it.
The menu is small with just a few appetizers: Thai Salad Roll, Garlic Hummus with warm pita and Bruschetta. We split the salad rolls.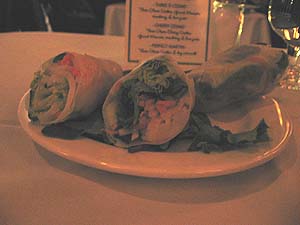 The image above is after we had eaten about two of them — is was quite a full plate, not bad for $7. And they were tasty. There are also some salads on the menu and just a few entrees:
Antipasto Platter
Proscuitto, Cappocollo, Salami, assorted cheeses, greek olives, roasted vegetables, sun dried tomato pesto.
Smoked Salmon Fettuccini
With vodka cream sauce, fresh herbs, shaved Asiago.
Fettuccini Ilissio
Smoked tomatoes, artichoke hearts, mushrooms, peppers and pine nuts tossed with basil infused oil and fresh herbs.
Grilled Prawn & Andouille Sausage Brochettes
Mesclun greens, sweet chili sauce, red pepper coulis.
ArtBar Burger
1/2 pound ground sirloin on ciabatta roll, blue cheese aioli, white balsamic glazed red onions, butter lettuce, tomatoes and crisp fries.
They also have a Happy Hour Menu from 4-6 that has a lot of assorted snacks on it.
At $14, the smoked salmon pasta is the most expensive thing on the menu — that's what I got and I really liked it. It reminded me of this smoked salmon and wasabi cream pasta I used to make when we lived in Sunnyvale. Hmmm, I should look for the recipe, I think it was from Sunset Magazine. Oh, okay, I'm digressing here. jwa got the Fettuccini Ilissio and he seemed to enjoy his meal quite a bit.
The atmosphere is a little dark and candlelit. White tablecloths, mirrors. There's also bar seating out under the rotunda.
Granted the convenience of eating there before the show might be the main reason we gave Art Bar a try, but I really enjoyed it! I'll definitely want to go again the next time we see a play. Maybe even if we're just walking around downtown and I suddenly feel the need for a cosmo — which could certainly happen.
Art Bar get three weird little puppets out of four.