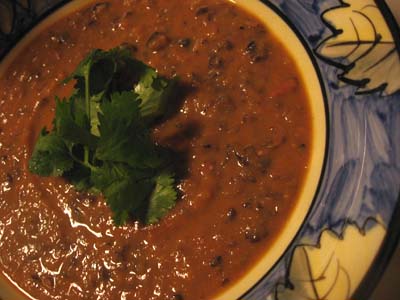 Here you have a soup for rain or snow or what-have-you in the Winter. It's pretty much Winter here until July — that's typically when the flannel sheets come off the bed. As soon as I saw this recipe in Once Upon a Tart, I knew I would have to make it as I so irrationally love the pumpkins (and all Fall/Winter squashes, really).
For this first attempt, I used canned, organic pumpkin but here's what I am thinking — the future is butternut squash.
I thought the pumpkin was a bit overpowering (shock!) but I bet the butternut would be more mellow. Plus, there's something about roasting your own butternut squash that seems a lot easier than going at a whole pumpkin. So, I'd say if you're up for an experiment, get a squash, cut it open, and roast it cut side down in a 400 degree oven until soft (about 30-40 minutes). Let it cool, scoop out the flesh and use that for this soup.
If you use dry black beans this is probably a weekend project, as there is soaking time and bean cooking time. Roasting your own squash and using canned beans (1 1/2 – 2 cans perhaps?) will take it down to under an hour. Using both canned beans and canned pumpkin would make this meal extra-super-mega speedy.
Black Bean & Pumpkin Soup with Cinnamon & Ginger
1 1/2 cups dried black beans, rinsed and soaked (you can soak overnight and strain or bring beans and water to a boil for a quick soak — once the water boils, turn the heat off, cover and soak for an hour. Then, strain the beans and you're ready to go).
6 cups cold, unsalted water
1/2 big yellow onion, diced
2 tbsp olive oil
1 garlic clove, minced
3/4 pound plum tomatoes, diced (that's 6-8)
1 tbsp cumin
1/2 tsp cinnamon
1 tsp ground ginger
1 tsp salt
1/2 tsp freshly ground pepper
4 cups vegetable or chicken stock
1 cup canned pumpkin or fresh roasted & mashed pumpkin (or butternut squash)
1 tbsp red wine vinegar
Drain and rinse the soaked beans and add to a large pot with the 6 cups of water. Bring to a boil and then lower the heat, simmer, uncovered, for about an hour. The beans should be soft but still have a bit of a bite. Drain the beans in a colander and set aside.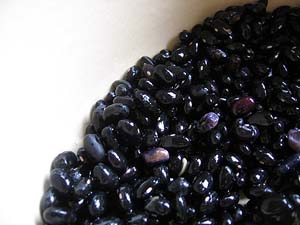 Sauté the onion and garlic in the olive oil in a large soup pot over high heat. Stir frequently so that nothing sticks to the bottom of the pan. That can be annoying. The onion will soften up in about 5-10 minutes. Lower the heat to medium and then cook for about 10 minutes more.
Add the tomatoes, cumin, cinnamon, ginger, salt and pepper. Cook about 5-10 minutes more or until the tomatoes begin to give off their juice.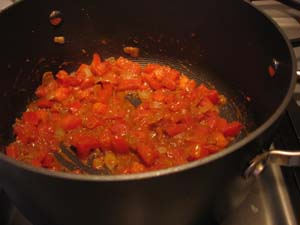 Next, add the stock, pumpkin, vinegar and beans. Bring the soup to a boil, then lower the heat and simmer for about 5 minutes.
Remove the soup from the heat. You can either puree it in batches, in the blender (let it cool a bit first) or carefully, use an immersion blender. Process until it is the texture that you want — a little chunky or smooth. Serve warm, ladled into bowls, with some cilantro leaves for garnish.