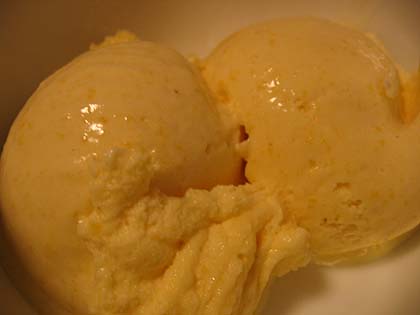 In addition to the tasty dinner jwa made me last Friday, he also bought me a very nice present — an ice cream maker. It's only been on my wish list for about three years, so I was quite ecstatic to finally get one. It's a Cuisinart and it's red and it's oh so pretty!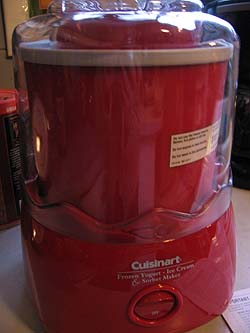 In addition, I also received an ice cream recipe book from my witty wordsmith of a life partner. It was aptly titled, The Ultimate Ice Cream Book. I perused it over the weekend deciding what to try first — pine nut ice cream, lavender ice cream, coffee ice cream, corn ice cream… Okay, no, not the corn ice cream. That just seems kind of weird but the recipe is in the book, so I could make it if I wanted to. Finally I decided on mango ice cream. Why? Well, I had two sitting on the counter that were getting riper by the minute — mango it is then!
I played with the recipe a bit, adding a little vanilla, fresh orange juice and a dash of nutmeg.
Mango Ice Cream:
2 large, ripe mangoes
1 tbsp fresh orange juice (about 1/2 an orange)
1 tbsp fresh lime juice (about 1 lime)
1/4 cup light corn syrup
1/2 tsp vanilla
dash of nutmeg
1/4 tsp salt
3/4 cup sugar
2 large egg yolks
1 tbsp cornstarch
1 cup milk
1 cup heavy cream
Peel the mangoes and cut the flesh from the cheeks. Dice and combine mango chunks, orange & lime juice, vanilla, nutmeg, corn syrup and salt in a food processor. Process until smooth, scraping down bowl as needed. Pour the puree through a strainer. There should be about 1 3/4 cups of mango puree. I didn't measure it — I just assumed this was the case and put my faith in the kitchen witch hanging from the ceiling. Set aside.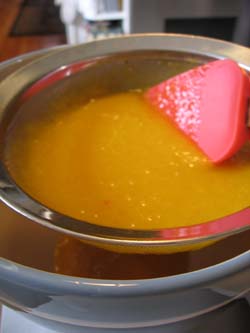 In a medium mixing bowl, beat the sugar into the egg yolks. The directions say this will become thickened and pale. But, as I did this, the yolk/sugar ratio was such that I just got crumbly, pale sugar. shrugs. Seemed to work, though. Anyway, then add the cornstarch and mix in to the crumbles. Set alongside the mango.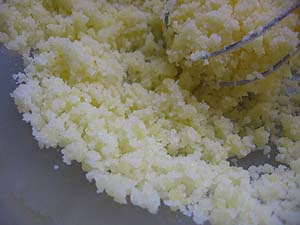 Next (for this is a multi-step process), bring the milk to a simmer in a sauce pan. I used 2% milk instead of full-on, all fat milk. This seemed to work fine, but do as you'd like. Slowly beat the hot milk into the yolk/sugar mixture, whisking constantly. When it is all incorporated, pour the entire mess back into the pot and whisk over low heat. You want the custard to thicken slightly but not boil so that you scramble the eggs.
When thickened a bit, remove from the heat and pour into a clean bowl. Let cool slightly and then add the mango and heavy cream. Blend. Refrigerate until chilled (overnight or a few hours).
Hopefully, you have the ice cream making canister thingie frozen in your freezer like I did. Excellent. The next day when everything is cold and/or frozen, pour the chilled custard into the ice cream maker. Mine was pretty easy to put together as it all just sort of balances on the base and then slightly locks into place.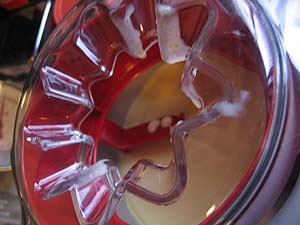 After about 20-30 minutes you will have soft serve consistency ice cream.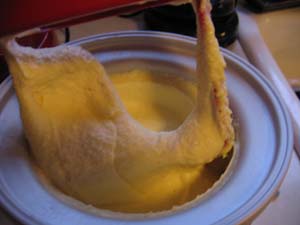 After some Asian Chicken Salad, jwa and I each enjoyed a bowl of my mango concoction. He was tentative at first but it really grew on him. As I had actually licked the spoon and eaten all the ice cream left stuck to the sides of the maker (after dishing it out to be further frozen in the freezer) well, I knew I already liked it a lot.