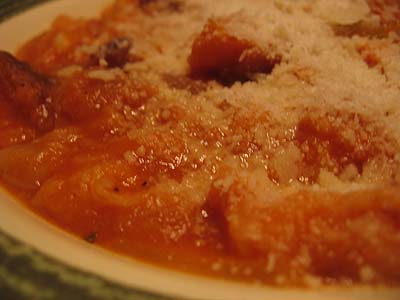 A New Birthday Tradition
For the last two years, we've started the tradition where jwa cooks me dinner for my birthday. Previously, we'd spend a long weekend in Gearhart and eat my birthday dinner at the Pacific Way Cafe but it seems lately work and other things have interfered with that version of my birthday celebration.
But, I am really starting to look forward to having dinner made for me! And he always decides he wants to cook dinner more after making the meal — then he kind of forgets. Hopefully, this year he'll start making dinner once a month or something because he did a really good job with the soup and the chicken!
Last year, he made stuffed shells and this year, he once again looked towards Rachael Ray for inspiration and picked Ribollita and Rosemary Grilled Chicken and Wild Mushroom Sauce (that one is coming tomorrow). Both recipes are from Thirty Minute Meals II. The soup was warm and hearty and perfect for the cold and freezing weather we've been having here in Portland.
It was easy to make the soup while also preparing the chicken. He just followed the recipe through adding the beans and tomato sauce, then let it site while he prepared the chicken dish. When everything else was ready, jwa brought the soup back up to temperature, added the bread and we were good to go!
Ribollita (Bread Soup):
2 tbsp extra-virgin olive oil (plus more for drizzling)
4 large loves of garlic, chopped
1 medium onion, chopped
2 carrots, peeled and diced
2 ribs celery, chopped
1 fresh or dried bay leaf
Salt & pepper to taste
2 cans small white beans (cannelloni can be substituted)
6 cups chicken stock
2 cups tomato sauce
3 cups stale, chewy Italian bead, crusts removed, bread torn into pieces
Garnishes:
1 small white onion, thinly sliced
1 cup Parmigiano Reggiano cheese
Heat a deep, heavy-bottomed pot over moderate heat. Add oil, garlic, onion, carrots, celery and bay leaf to pot. Season with salt and pepper and sauté until veggies begin to soften, 5-7 minutes.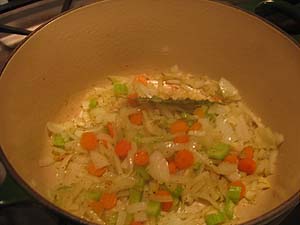 Add beans, stock and tomato sauce. Cover pot and bring soup to a boil over medium-high heat. Remove lid and stir in bread. Continue stirring to incorporate bread as it breaks down.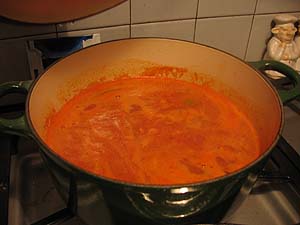 When soup becomes thick and bread is distributed evenly, adjust seasonings and serve soup in shallow bowls.
Top soup with onion and cheese to garnish. Tomorrow, jwa will be guest-blogging about the chicken he made and cooking the meal in general!