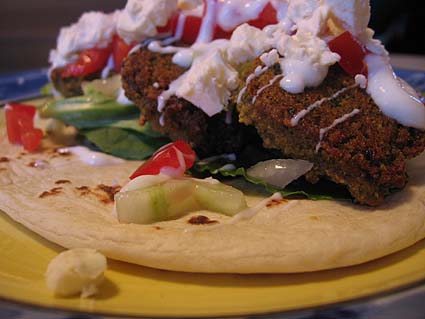 Well, now that I can actually think about falafel (the tasty Middle Eastern chick pea snack) without shuddering or laughing, it sounded like a good pick for dinner. I really like falafel. I used to get it on the Stanford campus for lunch sometimes (at a place by the coffeehouse) and it brings back memories of when I worked there and would walk around campus.
At home, I usually prepare falafel-in-a-box. My new favorite kind is al fez. They're based in England but you can find the falafel mix at Cost Plus stores. Instead of deep frying, I put my little falafel balls on a cookie sheet that I brush generously with olive oil and then bake at 400 degrees for about 10 minutes, flipping them over after five minutes.
My presentation is more Greek than Mideastern but, you know, that's just the way I like it. If you're a purist, omit the feta and yogurt and use tahini sauce.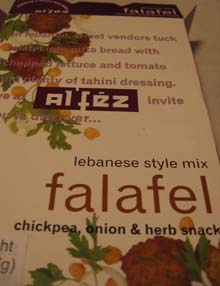 Falafel:
1 box falafel mix, prepared and set aside
4 pieces flat bread or pita bread, warmed in a dry, hot skillet
1 tomato, diced
1/2 cup lettuce leaves, spinach or any mixed greens work well
1 small cucumber, diced
1/3 cup crumbled feta
1/4 small sweet onion, diced finely
1/2 cup yogurt
2 garlic cloves, minced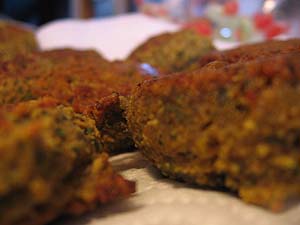 Mix yogurt and garlic Set aside.
Lay greens on top of bread and follow with 2-3 small falafel patties. In a small bowl, toss tomato, cucumber and onion to combine. Spoon tomato mixture over falafel and top with feta crumbles. Drizzle with yogurt and enjoy.
***
I also need to add that I just read about IMBB23 and I am so excited! I already have my dish picked out and everything…