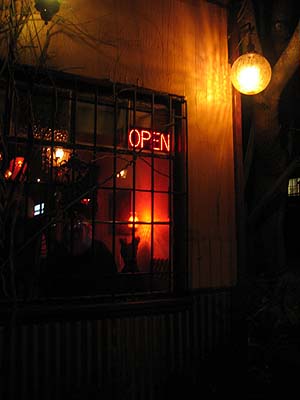 Wild Abandon
2411 SE Belmont
Portland, OR 97214
(503) 232-4458
Traditionally, we walk to Bread and Ink for Valentine's Dinner, have a bottle of wine, food and walk home. That's what we did last year and for the last three years. This year, I was in the mood for a change.
I've been wanting to try Wild Abandon quite some time and Valentine's Day seemed like a good night to do so. Yeah, I know — is a holiday when everyone else is trying to go out to dinner really the best opportunity to try someplace new?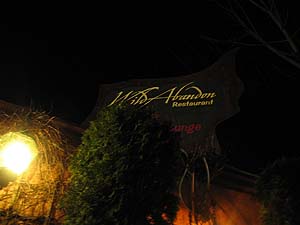 The atmosphere was funky and dark. I'm not sure if they made it extra dark for the holiday or of it's usually that way. I'm not complaining — I'm just saying it was dark but cozy and romantic. Our timing was right on (of course we had a reservation), as we got one of the velvety booths along the wall. Fun!
They had a special menu for Valentine's Day which included a few appetizers (including a goat cheese tart), salads, and some pasta dishes, salmon with red beans and rice, chicken marsala and prime rib.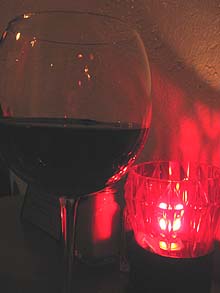 I really, really wanted the goat cheese appetizer but we were good, both starting with a simple, mixed green salad. I got a lemon basil vinaigrette and jwa got the blue cheese. Now, let me say right now that, overall, I was a bit disappointed with the food. But, I loved-loved-loved the lemon basil vinaigrette. That right there is enough of a reason to give Wild Abandon another shot. We also got some bread and hummus with our salads, which was quite nice.
Our dinners consisted of the chicken marsala for jwa and the salmon with red beans and rice for me. Overall, I'm just not sure the salmon went well with the red beans and rice — it was an intriguing idea but I don't think it quite worked. Perhaps if the salmon had been seasoned more or spiced up a bit it would have come together, but as it was, I couldn't help but think I was eating red beans and rice with some salmon someone stuck on top as an afterthought. Alas, I think perhaps one of the pasta dishes would have been the way to go.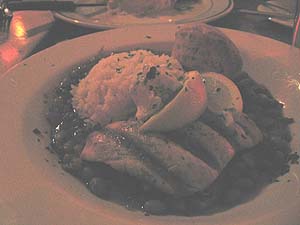 (See, it's very dark)
jwa enjoyed his chicken but thought it was maybe a bit greasy. It came with some mashed potatoes, which he loved, but a butter sauce on the side he thought was way too rich.
The evening ended with creme brulee and sorbet, along with a glass of port that we split.
The service was good. I was a bit worried that they might try to push us through as quickly as possible but that wasn't the case. We had 6:00 reservations, we were seated promptly and didn't leave until about 7:40. So, that, as well as the vinaigrette, makes me want to give Wild Abandon another chance on a different night.
The Recap:
True, I was a bit let down by the food (I had very high expectations) but had a nice meal all the same, as I was eating and talking with someone I love. But, you know, at $98 (with a bottle of wine), the food should have been as enjoyable as the dining companion.
On a slightly related note, Fusion (on Division) seems to be gone. Wah! Does anyone know if they are gone for good? This makes me so very sad. I loved that place. I bring that up because Fusion had all the funkiness and candlelit ambiance of Wild Abandon but with much better food, imho.
For now, Wild Abandon gets 2.5 wine bottles out of 4.