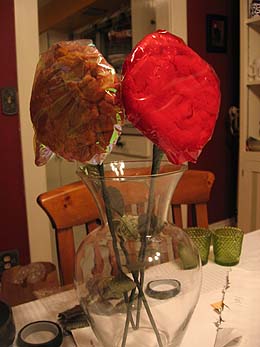 Leftover cookies from the dinner — they are gone now!
So, last Wednesday was the day I made 34 cookies. I followed the basic cookie recipe here, but used 3/4 bittersweet chocolate chips (Ghirardelli 70% bittersweet) and 1/4 white chocolate chips (just for fun).
After baking them I let them cool for a few hours then wrapped them all in plastic wrap and made cookie flowers. These I tied ribbon around and put each person's name on a piece of 2 inch by 3 inch card stock and we used them as place cards. Quite festive!
Cookie Flowers
1 roll of red cellophane
floral tape
fake leaves
floral stakes
cookies
Ahh, this I learned while working at Cookie Creations, in Glen Ellyn, IL. To start, attach leaves to each stick using floral tape. Wind the tape around over the wire to attach each leaf. You don't have to wrap the tape all the way to the top.
Next, cut circles about triple the size of your cookies from the cellophane. Place a cookie on a circle and gather up the cellophane, wrapping and gathering it up an around a stick. Use a 4-5 inch piece of floral tape to secure the cellophane around the stick and attach the cookie to the stem. Repeat for all the cookies.
They look really nice but I've found that hands hurt after a couple dozen or so…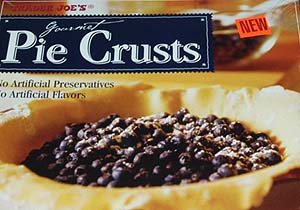 I've decided that my new favorite thing at Trader Joe's is the pre-made pie crust. This stuff is actually very good — I was impressed! I used it to make dark chocolate tarts for the dinner and they were delicious and very nice looking (if I don't say so myself). Of course, I have no photograph to collaborate this — you all will just have to take my word for it.
Easy Dark Chocolate & Orange Tart:
1 cup chilled whipping cream (reserve any remaining whipping cream to whip for a garnish)
12 ounces dark, bittersweet chocolate, chips or finely chopped (I also used Ghirardelli 70% bittersweet chocolate chips for this)
1 tbsp grated orange zest
1 prepared tart crust
Bring 1 cup cream to a simmer in heavy medium saucepan. Remove from heat. Add chocolate and whisk until smooth. Mix in 1 tbsp orange peel. Pour chocolate into cooled crust.
Refrigerate tart until filling is set, about 1 hour. (Can be made 1 day ahead. Cover and keep refrigerated.) When set, remove pan rim from bottom. A trick for this is to get a can of food, set the tart on the can and gently loosen the rim. Slide it down and the tart stays up on the can of food. Slice into wedges.
To serve, I dolloped each piece of tart with whipped cream and a mint spring. I made two of these (16 pieces) and everything except one slice got eaten. I also bought an Old Fashioned Cheesecake from TJ's — this didn't go as fast at the dinner, which made me feel pretty good about the chocolate tarts.
Okay, no more donor diner recaps. Back to regular posts Thursday!