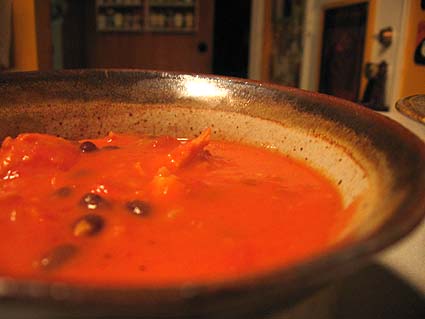 Sometimes, I get home from work and I just want to throw stuff in a pot and have a nice dinner 15 minutes later. Sure, roasting and chopping and flambéing and baking are all fun, but sometimes a girl just needs to open a can or two, stir a little and call it a day. This is a recipe for one of those nights. It's warm and a little spicy and the ginger packs a nice, pleasant kick.
It's also great way to use up leftover turkey — if you are like me, you still have some Thanksgiving turkey leftovers in your freezer! (C'mon, You know you do…) Of course, you could also use chicken, cubed tofu or even shrimp.
Lazy Turkey Ginger Coconut Soup:
1 medium onion, diced
2-inch piece of ginger, peeled and minced
4 garlic cloves, minced
1 tbsp vegetable or peanut oil
1 14-ounce can of coconut milk (lite or regular)
1 14-ounce can of black beans, rinsed and drained
1/2 tsp of lemon grass paste
1 28-ounce can of plum (or regular whole) tomatoes
1 1/2 cups of diced, cooked turkey, chicken or tofu
1-2 tsp chili garlic sauce
1/4 tsp of dried basil
1/2 cup cooked brown rice
Heat the oil in a soup pot. Sauté onion, garlic and ginger until onion is translucent — about 5 minutes. Add tomatoes, including sauce and stir with a wooden spoon. Turn up heat and try to break up the tomatoes with the spoon. When it reaches a boil, reduce heat to a simmer. Next comes the coconut milk, beans, chili garlic sauce, dried basil and the lemon grass paste.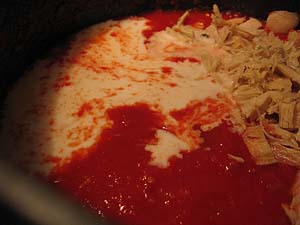 Ah, lemon grass paste. This is very fun stuff! I found a tube of it in the produce section a little while ago and have enjoyed playing with it. Go get some and start squeezing it in stuff and you'll see.
Stir together everything and simmer for a minute or two. Add cooked rice. You could also probably use 1/4 cup dried rice and just let it cook in the soup for 20-30 minutes while simmering. I had cooked rice, so I used that — plus this way, less waiting around for the soup to be done as basically, once it's all combined — it's done!
Ladle into bowls and enjoy.