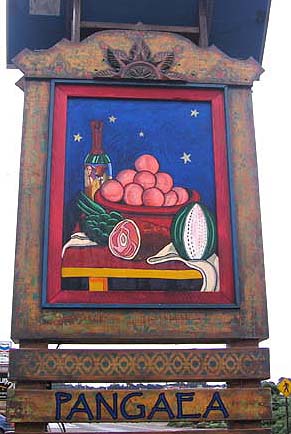 Pangaea
39165 S. Highway 1
Gualala, CA 95445
Reservations: 707-884-9669
As promised — the first of the Northern California restaurant reviews. While staying in Gualala, we went to Pangaea for dinner last Wednesday night. We'd never been there before and I was pretty excited to try it. I had seen a sample menu at our hotel (conveniently right across the street) and well, that was that. We needed to go there for our splurgey-spendy meal.
First thing after stepping in the door, I loved the decor — it was very bright and colorful. Each room was painted a different hue — yellow, blue, red, purple. It made me want to come home and paint different areas of the house different colors. Maps and geography (duh!) seemed to be a theme and there were many paintings decorating the walls.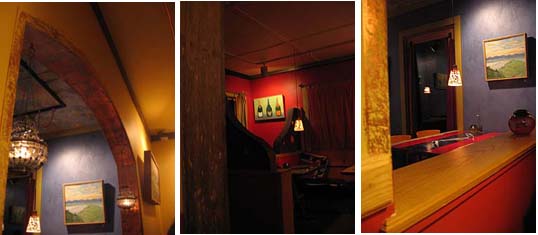 The menu from December 28, 2005 (half-remembered and half pieced together from a rain-spotted photo I took from outside the restaurant the next day) was as follows:
First Courses
Two bitter greens salads, one with olives and croutons, the other with pancetta, beets and blue cheese $8-$9
Butter lettuce salad with fennel, red wine vinaigrette and croutons $9
Braised artichokes, grilled onions, mâche, goat cheese and parsley oil $9
House-cured duck prosciutto, watercress, pickled red onions, blood orange oil and Parmigiano Reggiano $9
House made pappardelle, local mushrooms, spinach and Parmigiano Reggiano $10
Second Courses
Duck Confit, soy, ginger, bok choy, jasmine rice, winter squash and peanuts $21
Cumin lamb kebab, couscous, cauliflower, roasted peppers and pomegranate yogurt $23
Grilled juniper pork loin, fingerling potatoes, Oz Farm apples and Dijon cream $24
Seared wild striped sea bass, local mushrooms, leeks, mashed potatoes and watercress $24
Rosemary flat iron steak, artichokes, fingerling potatoes, oil-cured olives and spinach $24
Where to start
We began the meal by ordering a bottle of Zinfandel and munching on a plate of olives and bread. Then it was time to pick some food. I have been on a duck kick lately and I love blood oranges, so my first course was pretty easy to decide. jwa went for the pasta starter (which he has been known to do). Both dishes were quite pleasing. His was a huge steaming bowl of fresh pasta, while mine was more delicate in size, with a few pieces of duck, a few sprigs of watercress, a small pile of onion and shaved Parmesan strewn about. It was very good, but honestly, I was worried. It seemed…well, a bit small. I was concerned that the main courses, although probably artfully arranged, might be rather diminutive in portion-size for $20+. Yeah…I was wrong about that.
Mmmmm….rosemary
After much going back and forth, I finally decided on the Flat Iron steak, mainly due to my rosemary fetish.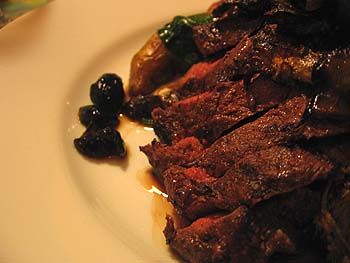 The steak had small pieces of grilled rosemary about the plate and the meat was perfectly medium-rare. It was very tender, with tasty grill marks. In addition, we both got very generous portions — I should not have been at all worried, as I ended up taking about three slices of steak, a potato wedge and some spinach back to the hotel room. This was seriously more meat than I've ever seen on a plate before — which either means I need to get out more or that the portions were H-U-G-E. And the potatoes…ah, they were creamy on the inside and crisp outside and there were these mushrooms that just defy adequate description. Crunchy, creamy, succulent. Oh! So, good!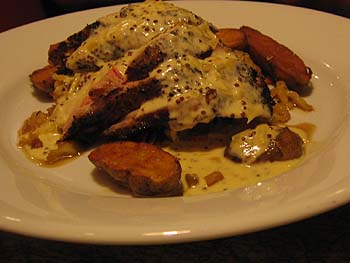 jwa chose the pork loin, which he seemed to like quite a bit. I got a bite of his and it was pretty yummy — especially the sauce. It was creamy and had little mustard seeds in it. If I hadn't been so involved in my rosemary steak, I would have tried to steal some of his meal.
What to do when you're too full to finish your meal…
When it came to be dessert time, at first, I was very sad. They had an orange cinnamon creme brulée on the menu. I ordered it, only to be told a few minutes later that they were out. I cried a little inside and then recovered enough to order the molten chocolate cake with ice cream and caramel sauce.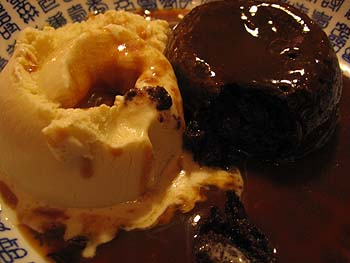 Actually, this was a little funny. The table next to use was ordering desserts and the server remembered to inform the table that the creme brulée was unavailable. There was a collective "Ohhhhh…" People like the creme brulée, I tell you! jwa ordered the grilled apples and ice cream. He ate it all. I 'm guessing it was good — I attempted to try some but he hit my hand with a spoon. No, I'm kidding. Much like the main meal, I was actually way too involved in my chocolate cake to even attempt a sneaky dessert invasion. It was really, really good.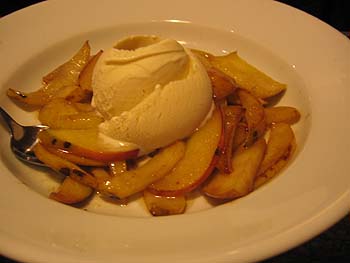 The (New & Shorter) Recap:
All in all, this was a wonderful meal. I'm really glad this restaurant opened up in Gualala, as there previously weren't a lot of choices in town for "fine" dining. The atmosphere is bright, colorful and a little funky. The food was quite delicious, with lots of different flavors and ingredients that went well together and came together creatively on the plate. I want to go back already (okay, not really, mainly because I am never leaving the house again). But one day, I'm sure we'll head back down to California and when we do, they better have the creme brulée when we get there.
Pangaea gets 3.5 wineglasses out of four!