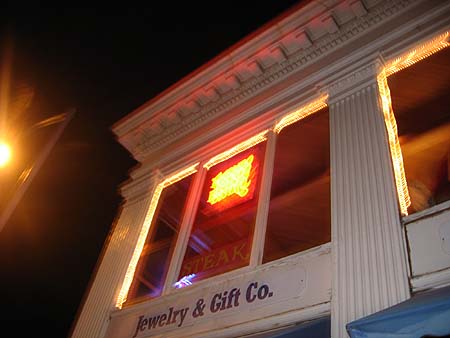 Mendo Bistro
301 North Main St
Fort Bragg, CA
707-964-4974 (Reservations for parties of 6 or more only)

My original plan, when I thought we would be back the Friday before New Year's Eve, was to cook a meal at home, have some wine, then perhaps some champagne and be in bed by 12:15 AM. All but one of those things happened and Mendo Bistro turned into our New Year's Eve Plan B.
The Mendo Bistro is in an old building (The Company Store) in downtown Fort Bragg. It's super cute looking and despite the circumstances, I was excited to eat there for our impromptu New Year's Feast. The windows look out over the street and it's a very nice view, as you can see below.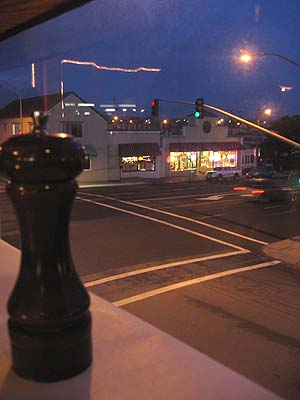 They have a number of appetizers including: an artisan cheese plate, "award winning" crab cakes, mussels with kaffir lime, ginger, garlic and chile flakes (which really sounded interesting to me — except for the mussel part), a bistro salad and a warm spinach salad. They also have a Caesar salad, featuring polenta croutons (I love polenta!) and horseradish dressing. It was all tempting, but jwa and I finally decided to split some crab cakes and we each got a Bistro Salad.
Unfortunately, it was kind of dark in the restaurant, which is a shame, as I set up an artful shot with some cabbage slaw, a lemon wedge and my "award winning" crab cake-scape.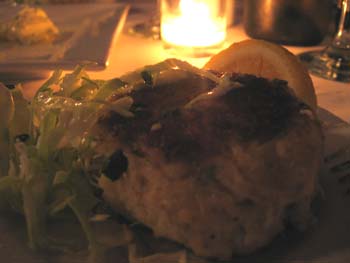 Entrees include pastas, sautéed ling cod with kalamata olive vinaigrette and rock shrimp risotto, seared rare albacore tuna and pumpkin-chile tamale. All of these things sounded quite tasty and were each a contender as I perused the choices.
One very interesting thing that they do at Mendo Bistro is a "Choose Your Ingredient/Cooking/Sauce" kind of thing where you pick one from the following: free range chicken, pork loin, fish of the evening, portobello mushroom, tofu or hanger steak. Then, you specify a cooking process: roasted, grilled, sautéed, fried or braised. Next, comes the sauce: Marsala, barbecue, roasted garlic gravy, Dijon-tarragon cream, lemon/garlic butter, ginger soy Bistro steak sauce.
What a fun idea — plus it's entertaining to come up with odd combinations (deep fried hangar steak with lemon/garlic butter! ) while trying to decide on your entree. I almost got the roasted chicken with roasted garlic gravy but I was swayed by a New Year's special — squab stuffed with black trumpet and hedgehog mushrooms, morel jus and a crispy potato cake. As for jwa, he finally decided on the rigatoni with Italian sausage, capers and roasted peppers. That jwa, he likes the pasta.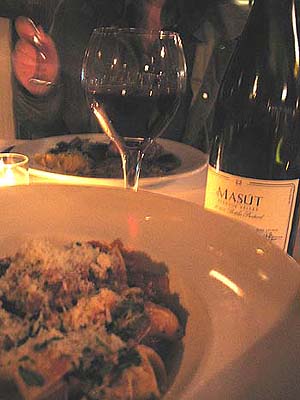 I was pretty happy with my meal choice and jwa seemed to like his too. I think I would have rather stuck to the original plan and made dinner at home but this was a very good and memorable meal. One of my favorite tastes of the night, however, was the dessert: Meyer lemon meringue tart with blood orange sorbet. Mmm!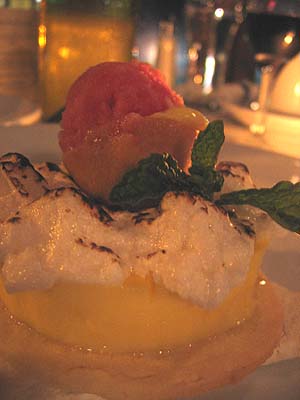 The crust was baked meringue, followed by a a thin, cookie type layer, lemon filling, more meringue on top and a dollop of sorbet, all sitting on a honey-swirled plate. It was both attractive and delicious. I might try and make something like this at home one day, for it was very tasty and a perfect end to the last meal of 2005.
The Recap
I liked our meal quite a bit and really liked the atmosphere. The restaurant space is on the second floor of a large building, with an open, u-shaped floor plan that looks down over the first floor and all the small shops down there. The food was quite good and there was a variety of menu items to choose from. I would definitey like to go back sometime and maybe try the free-range chicken, roasted with the roasted garlic gravy. Ohhh or maybe the pork loin with Dijon-tarragon cream. Hmmm…
Mendo Bistro gets 3 lemons out of four.