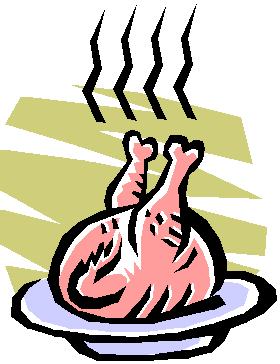 The Plan:
I am starting to finalize a Thanksgiving meal plan. I must say that I'm calmer than I was last Thanksgiving (the first one I had ever cooked) but I am still a bit apprehensive as there are things I want to do differently this year — also, it's a lot of food and planning to be responsible for! Okay, so, I am tweeking out just a bit.
The other day I sat down and started making the menu list: Turkey, stuffing, gravy, goat cheese mashed potatoes with fresh rosemary, cranberry & citrus relish (& cranberry from a can — hey, it's a tradition!), roasted delicata squash with fried sage leaves, roasted turnips, garlic, & shallots and individual green bean casseroles — the Martha Stewart version that I made last year. Rounding out the evening is pumpkin pie with whipped cream. You may have noticed, I like the side dishes — it's very hard for me to practice restraint here. But that is okay, for I am a fan of leftovers.
I think I will have to stretch this pre-Thanksgiving post into two days or else it would be H-U-G-E.
First — The Turkey:
To begin with, I ordered my turkey last Friday from Wild Oats. A 10-12 pound one now has my name on it. I pick it up next Saturday, where it will defrost in fridge (the one in the garage) until Wednesday at midnight. From there, I will follow the America's Test Kitchen's directions and brine it in 2 gallons of water and 2 cups of kosher salt for 12 hours.
Last year, I went all fancy and used this brine recipe from Wolfgang Puck. I liked it quite a bit, but this year I wanted to try the simple salt+water combination, as I'm going to be rubbing butter, roasted garlic and sage up under the skin of the turkey and I didn't want to clash too many flavors. So, Wednesday night at midnight (or very early Thursday morning, however you want to look at it) the turkey will find itself in a food safe plastic storage container from Storables, in the garage fridge. After the 12-hour brine, it will be roasted, per my mom's notes, as she swears that the way my grandfather used to do it, the meat was falling off the bone. I am excited to try these cooking instructions, as last year my bird seemed a little dry — the white meat anyway. Oh, and before you brine, remove the giblets, the big neck piece and perhaps the tail piece for the gravy! Store all of these in the fridge until you are ready to start the gravy.
The Stuffing:
The stuffing will be Pepperidge Farms, doctored up with more spices, fresh sage, granny smith apple chunks, onion, celery, chicken stock and an egg. I could make stuffing from scratch, I suppose, but I would just be using dried bread and adding all of the same ingredients anyway. I figure it's easier to just use the herbed bagged stuffing and start with seasoned bread, then add all the extra spices and vegetables that I would have to add anyway, if I used my own dry bread. Does that make sense? This will be made before the turkey goes into the oven and then stuffed into the bird right before it gets roasted.
Yes, we stuff. As my mom has pointed out, no one in the family has died yet. Just make sure you stuff right before cooking, you heat the stuffing up in the microwave so that it is very hot before you stuff, and that the cavity temp has reached 165 degrees (the breast 165 and leg 175) before you call the turkey done.
America's Test Kitchen's Giblet Pan Gravy:
The best gravy ever. Seriously.
1 tbsp vegetable oil
Reserved turkey giblets, neck and tail piece
1 medium onion, including skin, chopped
1 1/2 quarts chicken or turkey stock (low sodium)
2 cups water
2 fresh thyme sprigs
8 parsley stems
3 tbsp butter
1/4 cup AP flour
1 cup dry white wine
Salt & Pepper
This is the best gravy I have ever tasted. It's done in steps, so it's not as time consuming as it may seem at first. It starts in the morning, then gets refrigerated until later in the day, an hour or so before eating. I typically start this first thing in the morning, right after the coffee starts flowing.
Heat the oil in a soup pot over medium heat. Add the giblets, neck and tail and sauté until golden and fragrant — about 5 minutes. Add the onion. Continue to sauté until softened, about 3-4 minutes longer. Reduce heat to low, cover and cook until the turkey and onion release their juices, about 20 minutes.
Add the stock, thyme and parsley. Bring to a boil and then reduce heat to a simmer. Skim any scum that may rise to surface, until the broth is rich and flavorful — about 30 minutes longer. Strain the broth (you should have about 5 cups) and reserve the turkey pieces. When cool enough to handle, shred the neck meat, remove grizzle from the gizzard (say that five times fast!) and dice the gizzard and heart. Refrigerate the giblets and broth separately in covered containers until ready to use.
Later, while turkey is roasting and about an hour from being done, return the broth to a simmer. Heat butter in a large sauce pan or stock pot over medium low heat. Whisk in the flour. Cook slowly, stirring constantly, until nutty brown and fragrant — about 10-15 minutes. Whisk all but 1 cup of broth into the roux. Bring to a boil, then reduce for a simmer for about 30 minutes.
After the turkey comes out of the oven:
Spoon out and discard as much fat as possible from roasting pan. Place roasting pan over two burners. Add wine to the roasting pan, scraping up any brown bits with a wooden spoon and boiling until reduced by half, about 5 minutes. Add remaining 1 cup of stock, stir and then strain all of the pan juices (+wine and 1 cup of stock) into the simmering gravy. Stir shredded neck meat and reserved giblets into gravy and return to a boil. Adjust seasoning (salt & pepper) and serve with turkey.
The Mashed Potatoes
For the mashed potatoes I use Russet potatoes, peeled, cubed and boiled until tender. I drain and return them to the pot (over medium heat) to get rid of any remaining water. Then I mash the potatoes with a small container of goat cheese, butter, about a tablespoon of fresh rosemary leaves, garlic, chicken stock, salt and lots of fresh, cracked pepper. If I am feeling especially decadent this year, I will use half & half instead of the stock. Whee!
Roasted Delicata Squash & Sage Leaves:
This is my new favorite kind of squash. It's almost nutty in flavor and I think it'll be small enough to roast quickly while the turkey rests. Slice in half, remove seeds and rub with olive oil and sprinkle on the salt and pepper. Place cut side down on a baking sheet and roast for about 30 minutes at 425 until soft and caramelized. Serve cut side up. Mmm! Accompanying the squash will be fried sage leaves — I also made these to go with a butternut squash risotto not too long ago. These are so easy and so good. Heat butter in a skillet and add fresh sage leaves. Fry until they are slightly crispy, but not very dark in color (1-2 minutes each side). Remove and let sit on paper towels, salt. I think I am going to make a bunch of these and put them in a big bowl on the side.
Helpful Thanksgiving links:
Food Network's Thanksgiving Planning Countdown and Turkey Calculator
Some good tips for what to do a week ahead to 15 minutes ahead of the meal and a cooking time calculator.
Cook's Illustrated Turkey Help
Hints, recipes, tricks and what not to do — that manner of thing. In the same vein, The Cook's Illustrated Complete Book of Chicken is a great resource. Yes, it says chicken but it actually covers all poultry — turkey, hen, duck, and more.
The Splendid Table is doing a live, Thanksgiving morning show on 11/24, titled Turkey Confidential. Check your local station for the exact time as the date gets closer.
Butterball Holiday Guide
More hints, tricks, recipes, etc…
***
Tomorrow: The Sides, Part II. The cranberry relish, green bean casserole, roasted veggies and finally, the pie!