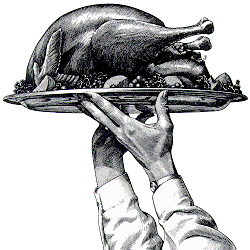 So, here it is Day 2 of the massive Thanksgiving Plan post. Yesterday was all about the turkey, stuffing, gravy and squash. Today it's the cranberry relish, green bean casserole, roasted root vegetables and, god yes, the pie.
The Cranberries:
As I mentioned before, I recently made a cranberry-orange relish to go over grilled chicken breasts. It's a Martha Stewart recipe and wow, was it good. I plan on making it again for Thanksgiving (along with traditional cranberry from a can). The cranberry-orange relish recipe can be found at the above post and it's well worth making for Thanksgiving or any other occasion. One of the things I really like about it, is that it can be made a day ahead of time. So, Wednesday night, I will be sectioning oranges. Yay!
Green Bean Casserole:
No, wait, come back! It's not the yucky kind with cream of mushroom soup! Really! It's a good kind with a béchamel sauce, wild mushrooms, fresh green beans and parmesan cheese. Perhaps I will go crazy and add a little gruyere. Here again, we have Martha Stewart to thank. I made this last year but instead of one big casserole, I made individual casseroles in one-cup ramekins. This too can be made a day ahead. Last year, I got everything together and in the ramekins and then refrigerated the casseroles until the turkey came out of the oven. Then, I popped them into a 400 degree oven for about 20 minutes. I plan on doing the same thing this year.
3 tbsp unsalted butter
1/2 medium onion, diced
1/2 red bell pepper, seeded and diced
1/2 pound mixed mushrooms, stems trimmed, quartered (I used shitake and button)
1 tsp kosher salt
1/4 tsp freshly ground pepper
3/4 pound green beans, trimmed and cut into 2-inch pieces
3 tbsp all-purpose flour
1 cup milk
Pinch of cayenne pepper
Pinch of grated nutmeg
3/4 cup grated parmesan
2 tbsp breadcrumbs
2 tbsp canola oil
2 shallots, cut crosswise into 1/4-inch rings
4 individual ramekins
In a large skillet over medium heat, melt 1 tablespoon butter. Add onion, and sauté until it begins to soften, about 4 minutes. Add bell pepper and mushrooms, and cook until softened and most of the liquid has evaporated, about 8 minutes. Season with 1 teaspoon salt and 1/4 teaspoon pepper. Set aside to cool.
Prepare an ice bath: Fill a large bowl with ice and water; set aside. Bring a saucepan of water to a boil. Add beans, and cook until bright green and just tender, 4 to 5 minutes. Drain, and plunge into ice bath to stop cooking. When cooled, toss drained beans with mushroom mixture; set aside.
Melt the remaining 2 tablespoons butter in a medium saucepan over medium-low heat. Add 2 tbsp of the flour and whisk constantly until mixture begins to turn golden, about 2 minutes. Pour in milk, and continue whisking until mixture has thickened, about 3 minutes. Stir in cayenne, nutmeg, salt and pepper. Remove from heat, and let cool to room temperature, stirring occasionally. Pour over beans, and toss to combine.
Spray ramekins with non-stick cooking spray. Spread half the green-bean mixture over the bottom. Sprinkle on half the grated Parmesan, and spread with the remaining green beans. Combine the remaining Parmesan and the breadcrumbs, and sprinkle over casserole. Cover with foil, and refrigerate until just before serving.
Heat oil in a medium skillet over medium-high heat. Toss shallot rings with the one tablespoon flour. Fry the shallots in batches, turning frequently, until golden brown. Transfer to paper towels to drain. Place in an airtight container, and set aside until ready to serve.
After turkey comes out of oven, heat casseroles in a 400 degree for about 20 minutes, until bubbly. Sprinkle the fried shallots over top, and serve immediately.
Roasted Root Vegetables:
Since I am all about the sides, my plan is to have some peeled turnip chunks, maybe some carrots, shallots and whole garlic cloves roasting in the oven for about an hour, alongside the turkey. I was going to put them in the bottom of the turkey roasting pan, but I don't want to them to get over-cooked and over-saturated with turkey fat. So, my new plan is to roast them in a separate dish for about the last hour of the turkey cooking time, but to baste turkey juices over them. To start them off I will toss them with a little olive oil and kosher salt. If they're not carmelized enough by the time the turkey is done, I'll just leave them in the oven while I crank the heat for the green bean casseroles.
Finally…the Pie:
Last year, I made a pie that I found on foodnetwork.com. I liked it but it didn't seem quite as sweet as I wanted it to be — although, I did like the crust. So, I'm going to make that crust but try a different filling recipe. Sneaky! And, I am planning on making the pie crust dough Tuesday night and then baking the crust and the pie Wednesday, to make my life a whole lot easier on Thursday.
Crust:
2 cups all-purpose flour
1 tbsp sugar
1/4 tsp salt
1 cup unsalted butter, cut into cubes
2 egg yolks
3 tbsp milk
Filling:
3/4 cup brown sugar
1 tsp tbsp ground cinnamon
1 tsp ground ginger
1/2 tsp ground nutmeg
1/4 tsp cloves
1/4 tsp ground allspice
1 tsp vanilla extract
1 tsp maple syrup
2 eggs
1 (15.4 oz) can pumpkin puree
1 (12 oz.) can evaporated milk
1 nine-inch pie pan
Heavy whipping cream for garnish
Make the Pie Dough: In a standing mixer fitted with the paddle attachment, combine the flour, sugar, and salt and mix to combine. Add the butter and continue mixing until the mixture holds together when you clump it, and there are pecan-sized lumps of butter still visible.
Meanwhile, whisk together the yolks and milk in small bowl.
Add the yolk mixture to the flour mixture and mix until a dough forms. Transfer the dough to a sheet of plastic wrap, wrap well and store in the refrigerator for several hours. (The dough will keep for several days in the fridge and several weeks in the freezer.)
On a lightly floured work surface, divid edough in half and roll out into a 11 to 12-inch circle about 1/8 inch thick. Line the pan with the dough and crimp the edges. Chill the pie shell for about 30 minutes.
Preheat the oven to 350 degrees F.
Line the pie shell with aluminum foil and fill with dried beans. Bake the shell until golden brown, about 45 minutes. Remove the foil and beans. Cool.
Make the filling: Mix sugar and spices together in a bowl. Whisk in syrup, eggs, pumpkin and milk. Pour filling into pie shell. Bake at 350 degrees until the filling is set, about 45 to 60 minutes.
A good thing to know, courtesy of Alton Brown, is that "custard" sets at 160-180 degrees. If in doubt, use your trusty meat thermometer and see what it says to know for sure if the pie is "set". I did this last year and I'm sure I will this year too.
If you're not making the pie a day ahead, let it cool to room temp before serving. Then, whip up some whipping cream with a little sugar and perhaps a bit of rum. Top with the whipped cream before serving.
Whew! After eating all of this next Thursday (and cooking it!), I plan on laying around and watching a dvd or something when dinner is finally done. That's going to be a lot of work — hey, posting it was a lot of work!
Thanksgivings Past
I remember a number of years when I was growing up, that we'd take the train (or fly) to my grandfather's house in Fargo, ND. He cooked the whole meal (well, my mom would help too, especially with the gravy). We'd eat so much food at Thanksgiving. Then everyone would lay about on the floor and watch TV. One year, Escape from New York was on and no one had the energy to turn the channel. But, always, no matter what was on TV, around 8pm my Aunt and Grandfather would start sneaking back into the kitchen for rolls and turkey meat pieces. Good times, people.