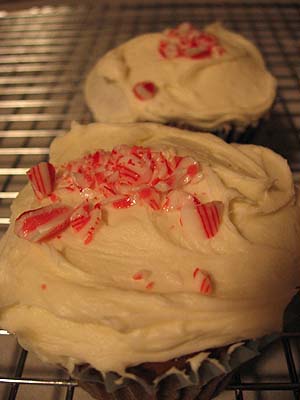 A Tasty, Cupcake Treat
I know we haven't even passed Thanksgiving yet, but this is a fun non-pumpkin recipe I came across in the book, Cupcakes from the Cake Mix Doctor, by Anne Byrn. I know I've mentioned before that I don't do a lot of baking, therefore, using items like cake mixes doesn't really bother me much (although I recoil in horror at a jar of minced garlic). In truth, I like to attempt to bake cakes and pies and all that but really, I'm not above using a cake mix at all.
Okay, so I was also lured into this recipe by the frosting and was just too lazy to make cupcakes from scratch just to use the frosting. There, I said it. And these are very, very good — frosting and all!
A Funny Thing Happened on the Way to the Oven…
In the book, this recipe is called "Red Velvet Cupcakes with White Chocolate Peppermint Cream Cheese Frosting." Here's what happened — I got food coloring at the store, one of those four-packs with red, yellow, green and blue. Then, I realized (only seconds before I was going to add it), that I needed a whole ounce of the red food coloring for these cupcakes. I only had about .3 ounces of each color — so, no red velvet cupcakes. But, if you have enough red food coloring, hey, use it!
Also, if you want to try this recipe with a more traditional baking-from-scratch approach, this recipe looked intriguing: Red Velvet Cupcakes. But, whatever you do, use this frosting on something! Also, I'm not too sure what pudding mix does in the recipe (makes it extra moist?) but I used it and it all seemed to work well.
Holiday Chocolate Cupcakes with White Chocolate-Peppermint Frosting
1 package (18.25 ounces) plain German chocolate cake mix
1 package (3.4 ounces) vanilla instant pudding mix
1 cup sour cream
1/2 cup water
1/2 cup vegetable oil
3 large eggs
3/4 cup semisweet chocolate chips — I used Ghirardelli 60% Cocoa Bittersweet Chocolate chips, which are fast becoming my favorite chocolate chip ever
24 paper liners for cupcake pans (2 1/2 -inch size) & one or more muffin tins
Preheat the oven to 350 degrees. Line 24 cupcake cups with paper liners. Set the pan(s) aside. I had just one 12-cup muffin tin so, I just did this in two batches.
Place the cake mix, pudding mix, sour cream, water, oil and eggs in a large mixing bowl. Blend with an electric mixer on low speed for 30 seconds. Stop the machine and scrape down the sides of the bowl with a rubber spatula.
Increase the mixer speed to medium and beat two minutes more, scraping down the sides again if needed. The batter should look thick and well combined. Fold in the chocolate chips.
Spoon batter into each lined cupcake cup, filling it three quarters of the way full. Place the pan(s) in the oven. Bake the cupcakes until they spring back when lightly pressed with your finger. This will take anywhere from 20 minutes to 30 minutes. I checked mine at 20 and they did not seem done (the original recipe calls for 18-20 minutes). After 30 minutes they seems perfect. A toothpick came out clean and they sprung back. Remove the pans from the oven and place them on wire racks to cool for 5 minutes.
Run a dinner knife around the edges of the cupcake liners, lift the cupcakes up from the bottoms of the cups using the end of the knife, and pick them out of the cups carefully with your fingertips. Place them on a wire rack to cool for at least 15 minutes before frosting.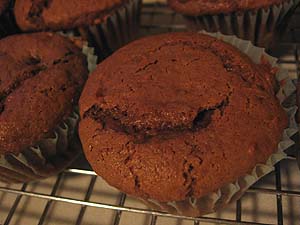 White Chocolate Peppermint Cream Cheese Frosting:
6 oz white chocolate chips
4 oz (half an 8-ounce package) reduced-fat cream cheese, at room temperature
4 tbsp butter, at room temperature
1 tsp peppermint extract
2 to 2 1/2 cups confectioners' sugar, sifted
Garnish: Two candy canes, placed in a zip lock bag and broken up with a rolling pin
Place the white chocolate chips in a small glass bowl in the microwave oven on high power for one minute. Remove the bowl from the oven and stir with a wooden spoon or rubber spatula until it is smooth. You can also use a double broiler for this, but for me, the microwave actually worked fine. Set the chocolate aside to cool.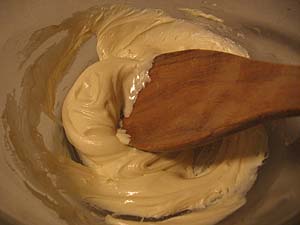 Place the cream cheese and butter in a large mixing bowl. Beat with an electric mixer on low speed until well combined, 30 seconds. Stop the machine. Add the melted white chocolate and blend on low speed until just combined, 30 seconds.
Add the peppermint extract and two cups of the confectioners' sugar and blend on low until the sugar is incorporated, 30 seconds more. Increase the mixer speed to medium and beat until the frosting is fluffy, one minute more, adding up to 1/2 cup more sugar if needed to make a spreadable consistency.
Place a heaping tablespoon of frosting on each cupcake and swirl to spread with a short metal spatula or a spoon, taking care to cover the tops completely. Sprinkle tops with crushed candy canes if desired.
We let the frosting set on the cupcakes for about 20 minutes, on the counter top, uncovered. If it's a hot day, you would probably want to let them be in the fridge for a few minutes to let the frosting firm up just a bit. Oh, these were so good! We ate five throughout the evening, kept four at home, and the rest are going into work with jwa today.
Store the cupcakes, in a cake saver or under a glass dome, at room temperature for up to three days or in the refrigerator for up to one week. Or freeze them, wrapped in aluminum foil or in a cake saver, for up to six months. Thaw the cupcakes overnight in the refrigerator before serving.