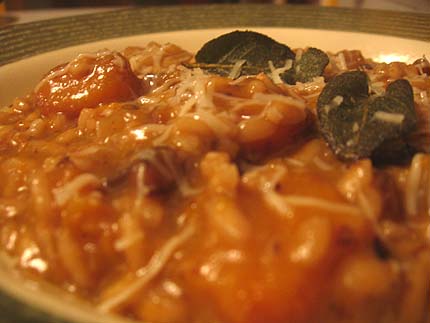 I think I've mentioned before how much I love risotto. Because I do…I really, really do. I think at one point I even dreamed of opening a risotto stand — serving nothing but a few different kinds of risotto for take out (and perhaps a couple of tables for dining in) and being a risotto nazi.
::Sighs wistfully::
Anyway, we had this risotto the night we carved pumpkins, the weekend before Halloween. It was so, so good and I found an awesome trick I'm going to use on Thanksgiving — I fried some sage leaves in butter and then salted them for the top of the risotto. On my god — were these tasty. Crunchy. Salty. Sagey. I think I'm going to fry up a bowl's worth and have them on the table at Thanksgiving as a snackable garnish!
It's also worth noting that a person, if properly motivated, can make almost any kind of risotto. I just always use one cup of risotto rice to about a 3 1/2 – 4 cup broth ratio, with a 1/2 cup of wine or beer and add any kind of veggies, meat or whatever that I think might be tasty. So there, go crazy.
Butternut Squash Risotto with Fried Sage Leaves:
1 small butternut squash, peeled and cubed — or– a bag of peeled and cubed butternut squash — or– you could probably just roast a squash cut in half and use the scooped out roasted squash flesh, granted with that option, no squash cubes but the flavor would be the same
1 cup arborio rice (or other Italian risotto rice)
1/2 cup red wine
2 tbsp olive oil, divided
2 cloves of garlic, minced
3 1/2 cups simmering chicken stock
1 small onion, diced
1 tsp dried, ground sage
1/2 cup grated Parmesan cheese
8-10 sage leaves, washed, patted dry and left whole
1 tbsp unsalted butter
salt & ground pepper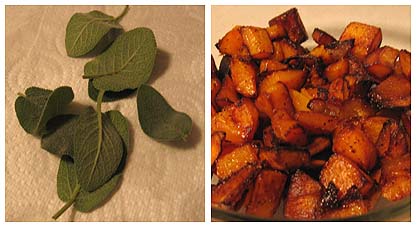 Preheat oven to 425. Toss butternut squash cubes with 1 tbsp of the Olive oil. Because I am lazy!lazy! and fear I would cut my hand off if I tried to peel and cube a raw butternut squash, I just buy the bagged, cubed squash at Trader Joe's. Sprinkle the oiled up cubes with a little salt and turn out onto a baking sheet. Roast in the oven about 30 minutes until soft and caramelized a bit on the edges. Seat aside when done.
Heat butter in a small pan. When it's melted and foamy, add the sage leaves. Cook a couple of minutes on each side. You don't really want to brown the leaves, just crisp them up. When done, remove and let drain on a paper towel. Sprinkle with a little kosher salt.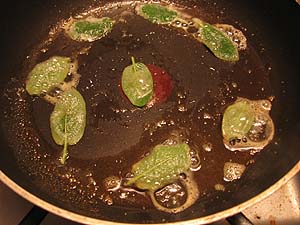 Heat stock in a pot and let simmer. In another heavy pot, heat up olive oil and add onion and garlic. Cook until softened, about 3-4 minutes. Add rice and stir to coat.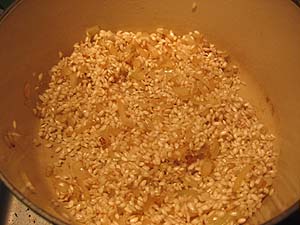 Then add the wine. Stir until wine is mostly absorbed. Then add dried sage and about 1/2 cup of the stock. Stir until absorbed. I tend to maybe let the risotto sit for a couple of minutes without stirring, but that's about it. Otherwise, it's pretty much constant stirring. It's worth it though!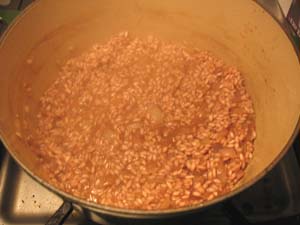 Keep adding the stock and stirring until you have only about one cup of stock left. This time add the squash. Add the next portion of stock and stir until absorbed. The risotto should be pretty creamy by now and will darken with the caramelized squash. On the final addition of stock, add the cheese, salt and pepper. Stir and taste. Adjust seasonings.
Serve with a few fried sage leaves on top and more grated Parmesan. Mmmm!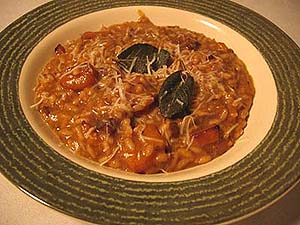 Next week: Thanksgiving menu ideas, buckwheat crepes with ham and swiss, red velvet cupcakes with white chocolate-peppermint frosting and more!