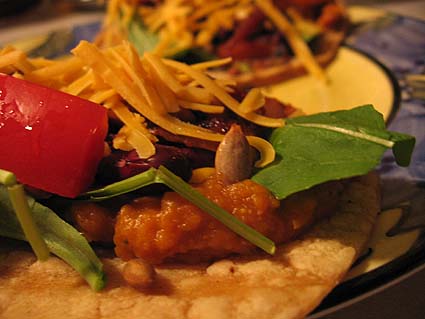 Today, at Slashfood it's Pumpkin Day. Excellent. I love pumpkins and, well, the whole squash family, honestly. I think it's part of my overall obsession with Fall.
Anyway, for this event I decided to combine my strong feelings for all of things pumpkin with my fondness for Mexican food and make tacos. This worked out well, as we generally have veggie tacos with refried beans holding all the vegetables in place. In this version, pureed, spiced-up pumpkin fills that role. I went ahead and used some canned, organic pumpkin from Wild Oats for this dish. If you have the time, by all means, roast a pumpkin and use that, but also know that you don't have to if that's not convenient.
I was also looking to make something with pumpkin that was savory rather than sweet. I think pumpkin (as well as butternut, acorn and other squash) too often gets pigeon-holed with just nutmeg and sugar. Bring on the garlic and peppers, I say!
Pumpkin Tacos:
1 can pureed pumpkin (or about 1 .5 cups roasted and pureed pumpkin)
1 tbsp + 1tsp cumin
1 tbsp + 1 tsp chili powder
1 tsp salt + a pinch
1 tsp orange zest
1/2 to 1 whole roasted, peeled, seeded & diced jalapeno
3 tbsp chopped cilantro
1 tsp olive oil
1 small onion, sliced
1 red or orange bell pepper, julienned
1 cup arugula leaves
1 can red kidney beans, rinsed
1/4 cup corn (frozen works well)
1/2 cup cheddar cheese, grated
1 medium tomato, diced
8 corn tortillas, heated in a dry pan over med-high heat to blister a bit and kept warm in aluminum foil
Garnish: 1/2 cup roasted pumpkin seeds
Sauté the onion and bell pepper in the olive oil, with a pinch of salt. Add 1 tsp of the cumin and chili powder. Let cook until golden. Heat pumpkin puree up in a pan with remaining cumin, chili powder, orange zest, jalapeno and salt. Taste. Adjust seasonings to your liking. When veggies look a bit caramelized remove from pan and set aside. Use that pan to heat up red beans and corn. Right before assembling, stir cilantro into the pumpkin.
Assemblage:
Double up tortillas (to make 4 tacos) and spoon some pumpkin down the middle. Top with arugula, veggies, beans and corn, tomato and then cheese. Just a little of each — you want to be able to actually pick up the taco! Sprinkle with roasted pumpkin seeds. Mmm!
You'll probably have leftover taco-making ingredients but, if you're like me, you'll find a way to put them to good use in other snacks and assorted tasties!
***
Je Mange la Ville has a new look! I am very excited. I (and when I say "I", I mean "jwa") played around with everything this weekend and then showed me how to change all the style sheets and assorted what-nots. I took some shots of cut rosemary from the front yard and changed some of the colors and now I am happy with the look. My intent is to change the title image and colors every few months or so. We'll see if that happens.