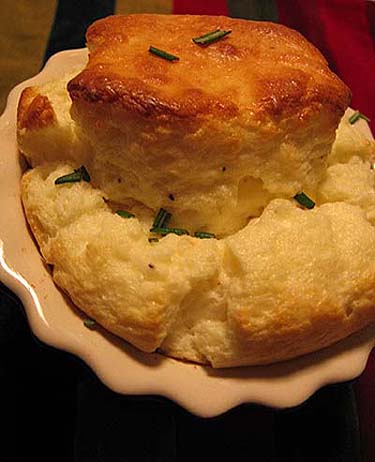 First of all, thanks to Kitchen Chick for such a challenging pick for IMBB#20! I had never made a soufflé before a couple of weeks ago. That one was uh, broken or something. I think I filled the dish too high, as it kind of exploded out over the edge, looking a bit like Sideshow Bob's hair. Plus, it didn't seem done down inside. I'm not quite sure what happened but I did something very wrong.
Actually, I think I went into that first try a little cocky and that certainly didn't help. Thinking, soufflé…schmoufflé! What's the big deal? No problem for me! Except, oh — there was a problem. So, ahem, let's just forget about that whole soufflé beta test, shall we? Excellent.
Second Time's the Charm:
This time, I picked a recipe for individual soufflés, hoping that would help with my cooking doneness. In addition, I also approached it with a little humilty. This recipe was in the Oregonian a year or so ago, which in turn, they say was adapted from Fine Living Magazine. I clipped it out when it first appeared and thought, "I should try that sometime," and then filed it away in a drawer. This seemed like a perfect occasion to dig it out.
As there are only two of us, I halved the recipe and used one cup ramekins and I was able to fill four of them. Below, I have given the full recipe but per my experience, it halves easily. I also added about a tablespoon of Port wine to the sautéed veggies for more flavor. I coated the buttered ramekins with Parmesan cheese — like I'm going to pass up an extra opportunity for more cheese? Uh, no. Conversely, I used half and half instead of heavy cream, because, we just had that cream-heavy chocolate tart for Sugar High Friday! In addition, I substituted cremini mushrooms for the chanterelles, as that's what I had on hand. Hmmmm, I think that's it for additions and substitutions.
Goat Cheese Soufflé With Red Peppers and Chanterelles:
Unsalted butter to grease souffle dishes, plus 3 tablespoons (divided)
Parmesan cheese
11/4 cups whipping cream (or half and half)
1 3-inch sprig of rosemary
2 tablespoons extra-virgin olive oil
2 medium red bell peppers, cored, seeded and finely chopped
1 medium shallot, finely chopped
1 cup finely chopped fresh chanterelle mushrooms or other fresh wild mushrooms (about 2 ounces)
2 tbsp port wine
Kosher salt and freshly ground black pepper
3 tablespoons all-purpose flour
4 egg yolks
1 cup fresh, soft goat cheese
6 egg whites
Heat the oven to 400 degrees. Butter six 9- to 10-ounce soufflé dishes.
In a small saucepan, heat the cream with the rosemary sprig over medium heat just until it boils. Remove from the heat and let steep for 10 minutes. Discard the rosemary sprig.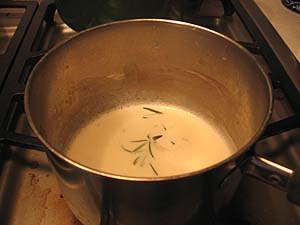 Heat the olive oil in a 10- to 12-inch skillet over medium heat. Add the red peppers and shallot. Sauté, stirring occasionally, until the vegetables begin to soften, about 6 minutes. Add the mushrooms and continue to sauté, stirring frequently, until everything is tender, 2 to 3 minutes. Add the Port and let it cook until absorbed.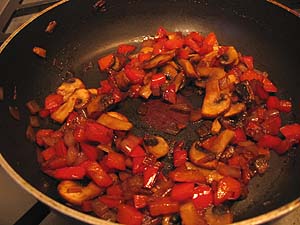 Season with salt and pepper; remove from the heat. Distribute the cooked vegetables evenly among the buttered dishes, covering the bottom of each dish.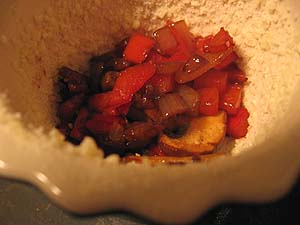 Melt the 3 tablespoons butter in a medium saucepan over medium-low heat. When foamy, stir in the flour and cook over low heat, stirring constantly, for 2 to 3 minutes. Whisk in the heated cream. Add 11/2 teaspoons salt (or to taste) and several grinds of pepper. Increase the heat to medium and whisk until the mixture bubbles and thickens. Remove from the heat. Temper the yolks by mixing a bit of the cream mixture in, then whisking the yolks into the cream. Stir in the cheese (the mixture needn't be completely smooth).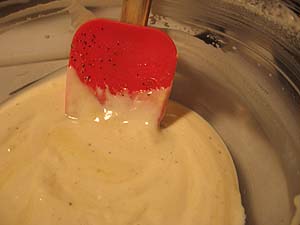 With a mixer, beat the egg whites in a large bowl with a pinch of salt on high speed until medium-stiff peaks form; they should still be slightly droopy.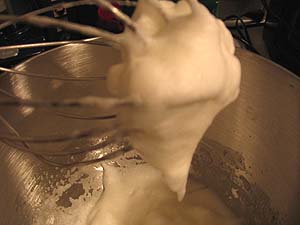 Stir a small amount of the beaten egg whites into the cheese mixture to lighten it and then gently fold the cheese mixture into the remaining egg whites with a rubber spatula (it's fine to leave a few clumps of egg white). Divide the mixture evenly among the buttered dishes, covering the vegetables.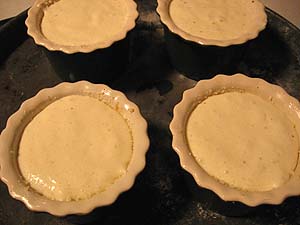 Lower the oven temperature to 375 degrees. Put the soufflés on a rimmed baking sheet and bake until golden and just slightly wobbly in the center, about 20 minutes. I garnished with a little chopped rosemary. Serve immediately.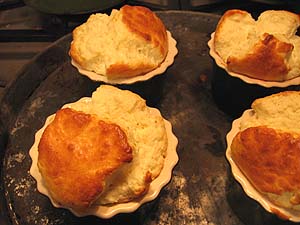 These were pretty good — I'm really glad I gave soufflé-making another try! These ones still had a bit of the Sideshow Bobitis (I guess I was expecting everything to rise up as one big piece, not puff up in different sections), but they were light, fluffy and done inside. And quite tasty! Thank you Kitchen Chick and IMBB#20.