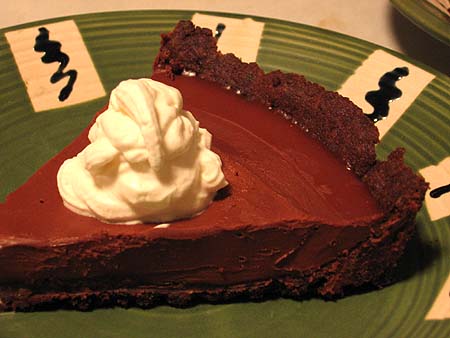 Be sure to check out all the amazing responses to SHF#13: The Dark Side in the wrap up.
I took a while figuring out what I was going to make for SHF#13: The Dark Side, (hosted by Kelli at Lovescool). I don't do a lot of baking and to be honest, I haven't made a lot of tasty things with dark chocolate before. (That will change!) I started my idea search at Epicurious and began perusing. What I ended up doing, was mixing and matching a crust from one tart, with a filling from another (that used lemon instead of orange) to create a dark, rich and creamy concoction — something I call: Double Chocolate & Orange Tart with Amaretto Whipped Cream. Mmmm!
Crust Ingredients:
1/2 cup (1 stick) unsalted butter, room temperature
1/2 cup sugar
1/4 tsp ground cinnamon
1/4 tsp salt
6 tbsp good quality, unsweetened cocoa powder (I used Droste)
3/4 cup all purpose flour
Filling Ingredients:
1 cup chilled whipping cream (I bought a pint and used the leftover cream for the whipped cream garnish)
12 ounces dark, bittersweet (not unsweetened) chocolate, finely chopped (I used Scharffen Berger 70% bittersweet chocolate)
1 tbsp grated orange zest
Garnish:
Leftover whipping cream
2 tbsp Amaretto
1 tbsp sugar
1 tsp orange zest
Making the Crust:
Using electric mixer, beat butter, sugar, cinnamon, and salt in large bowl until smooth.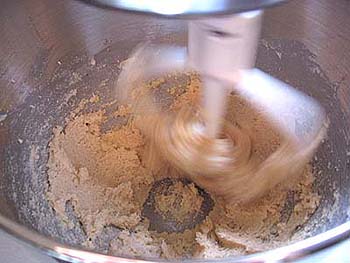 Beat in cocoa powder. Add flour and beat until dough comes together in moist clumps.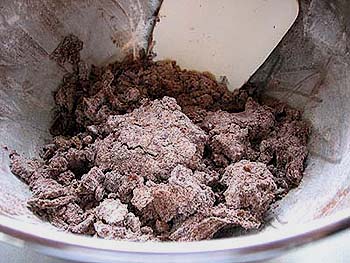 Now, here is where the original crust recipe and I parted ways. It said to:
Gather dough into ball; flatten into disk. Wrap in plastic and chill until firm, at least 1 hour and up to 1 day. Roll out dough between sheets of waxed paper to 11-inch round. Peel off top sheet of paper. Invert dough over 9-inch-diameter tart pan with removable bottom; peel off paper. Gently press dough into pan.
I tried to do this. Have you ever tried to roll out a crumbly, dry rock? If you have, you know what my experience was like. It was impossible to roll. So, I let it sit out for about a half hour to get a bit softer, then I just pressed the crust dough into the tart pan (the kind with the removable bottom). This approach seemed to work fine. I then chilled the crust for about a half an hour to make up the half hour I had to let it sit around and soften up.
I would recommend doing it this way from the beginning. After mixing all the ingredients and the crust comes together, press it right into the pan, then refrigerate for an hour. Just skip the whole attempting-to-roll-out-a-chocolate-rock step and save yourself the frustration.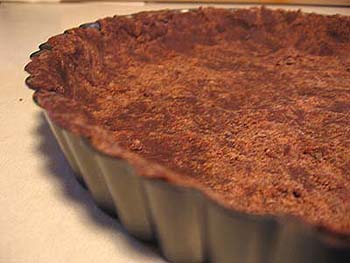 Bake the crust at 375 degrees for about 14 minutes, until the sides start to look a little dry and the bottom looks bubbly. Cool completely.
Filling:
Finely chop the dark chocolate. I just used a knife and shaved it into small pieces.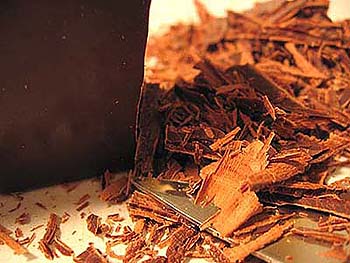 Next, bring 1 cup cream to simmer in heavy medium saucepan. Remove from heat. Add chocolate and whisk until smooth. Mix in 1 tbsp orange peel. Pour chocolate into cooled crust.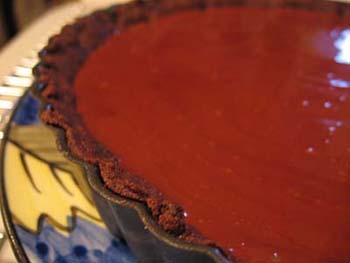 Refrigerate tart until filling is set, about 1 hour. (Can be made 1 day ahead. Cover and keep refrigerated.) When set, remove pan rim from bottom. A trick for this is to get a can of food, set the tart on the can and gently loosen the rim. Slide it down and the tart stays up on the can of food. Slice into wedges and serve.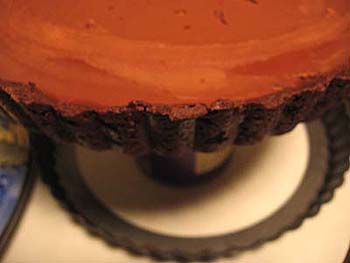 For Optional Whipped Cream topping:
This I threw together out of what I had on hand, as there was whipping cream leftover just crying out to be whipped. I started that going in the mixer, then thought to myself, "huh, almonds go well with orange and chocolate…ohhhhh, I know, Amaretto!" So, combine the cream, Amaretto, sugar and orange zest in a mixing bowl. You could also use Frangelico — that would be good too, I bet. Whip until soft peaks form. This can be done with an electric mixer or a whisk. Spoon whipped cream on top of tart wedges. Garnish with extra orange twists, if desired.
This was really, really good. Amazingly good. I'm kind of embarrassed to say that two people (and uh, I was one of the guilty parties involved) devoured this whole tart in about two and a half days. Yay for dark chocolate! And, thank you Kelli, for picking such a great theme for SHF#13!
Tagged with: SHF 13