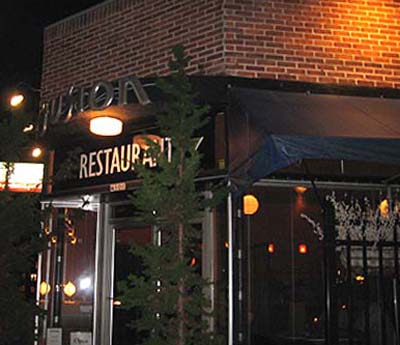 Fusion
4100 SE Division St.
Portland, OR 97202
(503) 233-6950
A Celebratory Dinner:
We recently went out for a celebratory dinner. I got a new job (yay!) and if that was not enough, my old company pretty much laid everyone off, starting with my department (Content Development) — on my last day there. Now, I don't normally have bad luck but that is a crazy kind of lucky luck that typically doesn't follow me around either. The occasion clearly called for a bottle of wine and tasty food!
We've been to Fusion a couple of times and I've really liked it each time. In fact, we're going to take my mom there when she's in town next month. I love the atmosphere. It's comfortable, dark (but not too dark) and a little quirky, all with a varied menu. Oh, and there's the housewares, glasses, and lamps for sale. Eating and shopping — what's not to love?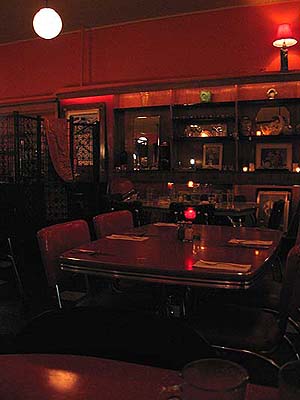 Meal Choices:
We started the meal with a bottle of Tyee Pinot Noir and split some prawns in garlicky, lemony butter. This dish also came with bread to dip up all the buttery goodness after the shrimp were gone. Other small plates include yucca fries (very good), salmon cakes (haven't had) and a few others. You could probably make a meal out of just cocktails and appetizers!
After our shrimp, it was on to the main entrees. It's weird, normally when we go out, I see one or two things on the menu that I want and then I have a tough time deciding between the two. At Fusion, there were at least four items I couldn't decide between: seared scallops on spinach with spaetzel, a lamb and wine stew, salmon with a cucumber bell pepper slaw and chicken marsala. There was also a chicken curry and an Asian prawn dish. Oh, and an ahi tuna special. Needless to say, my choice took awhile — I wanted to try them all! Finally, I went with the salmon and jwa went back and forth between a seared tuna special and the hamburger. In one of his trademark last minute switch decisions, he ended up going with something completely different — the lamb stew.
The salmon was very good, with a spicy crust on the bottom — the cool, crispy cucumbers and peppers provided a great contrast in textures and taste. jwa really liked his stew as well. In the end, our delicious meal was capped off with Spanish coffees and the chocolate hazelnut tart. Mmmm!
To Recap:
Atmosphere: Dark, candle-lit and a little bit funky. Twelve or so scatted tables about the room with a bar near the door. Shelves line the back wall, packed with antiques, vases, cups, saucers and other interesting knick-knacks for sale.
Food: Everything we've ever had here has been very good. Nice presentation, good use of spices, a lot of choices on the menu and a full bar. Excellent.
Service: Very friendly and attentive all of the times we've been there. Getting there around 7:30 pm on a Thursday, we were able to be seated right away. We stayed until a little after 9:15 (they close at 9:00) and we never felt rushed. When we left, there were still a couple of tables occupied, one sipping coffee and eating desserts, the other just finishing up their entrees.
Overall: Fusion is one of those places I wish we remembered to go to more often, because I really enjoy a meal there. I love the funky atmosphere, as well as the food and I like looking at all of the stuff for sale.
Fusion gets 3.5 candles out of four.