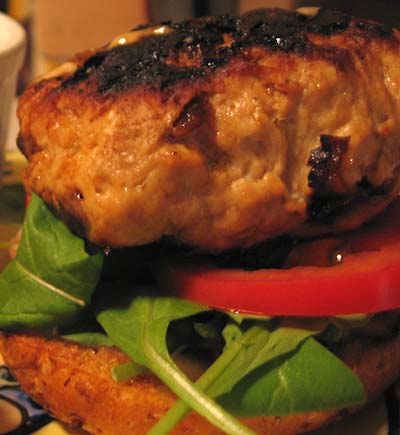 These were very decadent and tasty. I recently came across a recipe on Food Network's Web site that stuffed turkey burgers with blue cheese. "Huh, now that's an interesting idea," I thought. "Except, I'm not really crazy about blue cheese. Whatever should I do?" Thankfully, there are eight million other kinds of cheeses to pick from — whew! So, instead of blue cheese, I used Port Salut.
In addition, I added all kinds of yummy things to the burgers — caramelized onion, fresh thyme and sun-dried tomatoes are mixed with ground turkey. Then they're stuffed with a cube of the cheese and grilled (in my beloved grill pan). Finally, they're served on a seven-grain bun with kalamata olive mayonnaise, arugula and a tomato slice. See, turkey burgers don't have to be boring!
Note: I used about a pound of turkey meat but since there are just two of us, I went ahead and made four burgers, but froze two without stuffing them with cheese.
Port Salut Stuffed Turkey Burgers with Kalamata Olive Mayonnaise:
1 lb ground turkey
1 small white onion
1 tsp olive oil
1 tsp fresh thyme
1 tbsp chopped sun-dried tomatoes (use either tomatoes packed in oil or reconstitute dried ones in some boiling water first)
4 1/2 inch by 1/2 inch cubes of Port Salut cheese (any creamy or crumbly cheese would probably work well — Gorgonzola, blue, goat, feta, etc…)
olive oil & balsamic vinegar
salt & pepper
1/4 cup mayonnaise
1 tbsp chopped kalamata olives (or a mixed olive tapanade)
4 hamburger buns
Fresh arugula or other lettuce
1 tomato, sliced
Gadget: a meat thermometer is very handy here
Sauté onion in the olive oil over medium heat until dark in color, add fresh thyme and remove from heat. Set aside and let cool.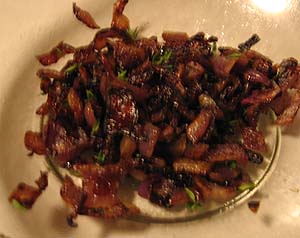 Meanwhile, mix kalamata olives together with mayonnaise. Set aside. Mix oil and vinegar together in a small bowl. Yeah, set that aside.
Add sun-dried tomatoes to onion mixture, then add turkey. Mix and combine into four burgers. Using your finger make an indentation in each patty. Insert cheese cube and push turkey around to cover so that each cube is hidden inside the burger.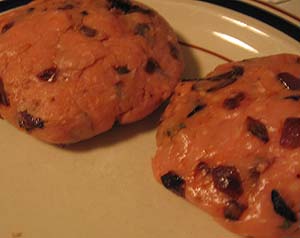 Brush each burger with the oil and vinegar on one side. Then salt and pepper. Place oil and salt side down in a pre-heated grill pan. My burgers were very thick and probably took about eight to nine minutes per side — (I'm sure the cheese slowed them down a bit too). Before turning over on the second side, brush with the oil and vinegar and sprinkle with salt and pepper. Use a meat thermometer to make sure you're around 160 – 165 degrees. When done, remove from the pan and let rest for a couple of minutes, covering with foil while you get the bun and fixin's together.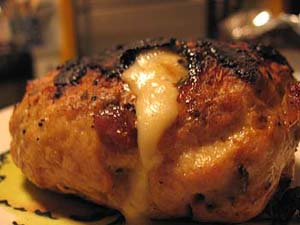 Layer the kalamata mayonnaise, arugula and tomato on the bun.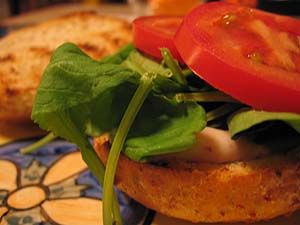 Add a burger and eat. Mmm!