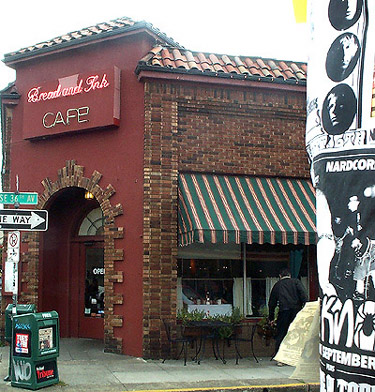 Bread & Ink Cafe
3610 SE Hawthorne Blvd
Portland, OR 97214-5144
(503) 239-4756
Recently, my friend Patty came down from Camas to spend the morning shopping on Hawthorne. Whenever we do these excursions, we typically find someplace to have breakfast or lunch, depending on the time of day. On this occasion, I suggested Bread & Ink, a restaurant that jwa and I head out to quite frequently.
A Saturday morning, around 10:00-ish
When we arrived, they were busy, but we got seated right away as there were a couple of tables open. Coffee came quickly and we gave our orders. It's funny, occasionally I will get a special they have on the board but my old standby seems to be the Smoked Trout Scramble. Eggs, cheese, smoked trout, pepper bacon and red onions with a generous dollop of horseradish sour cream — yum! Patty ended up getting the same thing and liked hers as well. Oh, and I can not say enough about the catsup that they have…I really love it on the breakfast potatoes!
Speaking of which, I am a big fan of the aforementioned herbed breakfast potatoes. And that being said, my favorite item, I think, is the bread. I love Bread & Ink bread — this applies to the baguettes and the bagels and well, whatever other kind I am forgetting about. For a while, you could get their Bread at Zupan's, but I'm not sure this is still the case. I should go check that out soon.
The breakfast menu itself contains a lot of scramble dishes, black bean cakes, sometimes salmon cakes, pancakes, assorted egg dishes and Yiddish favorites like bagels with lox, onions and eggs. They offer mimosas and now that they have a full bar, I'm guessing bloody marys as well. I usually stick the scrambles and have always left quite happy with my choice and this last time was no exception.
To Recap:
Atmosphere:
Bright and open. Big flower arrangements on the front counter. Two mid-sized seating areas. White walls with interesting, changing art work. I think it's comfy and inviting.
Food: Brunches are really good. The potatoes are well seasoned and usually, a bit crispy. Amazing catsup and very tasty bread products. One other thing that struck me about this last visit is that the food was very, very hot (heat-wise). Not that it's usually not, but when it got to our table it had obviously not sat around for even a second. That was very nice. They also serve lunch and dinner, both of which we've had before and enjoyed. Oh, and incidentally, the lavender lemon drop I had there a while ago at a dinner was really, really good!
Service:
We had prompt and pleasant service. We even asked another passing server to ask our server to bring us our bread pre-meal and miraculously it arrived a couple of minutes later. No problems at all. I know service is sometimes an issue at Bread & Ink for some people, but honestly, we've never had bad service there over the last five years we've been going. Once, there was a mis-communication about an after dinner espresso, but that's about it — nothing major. Perhaps we have just been lucky, but that's been our experience.
Overall: I like Bread & Ink a lot. It's comfortable. It's in the neighborhood (for us). We walk there, have a nice meal and walk home. We've had a dinner there two Valentine's Days in a row — both of which were good. We've taken visiting family and out of town guests there. All in all, it's probably one of our favorite places to go for a casual meal out. So, give it a chance if you haven't yet and maybe if you've had a so-so experience, give it another try.
Bread & Ink gets three baguettes out of four.