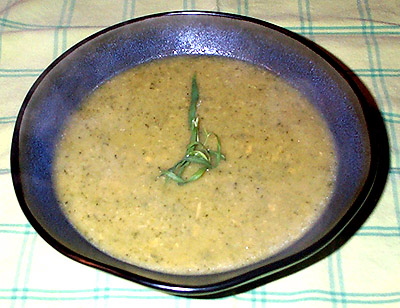 Hmmm, I think this may turn out to be the week of soups. Is that a bad thing? Hope not. So, this here is a recipe I came across in an Eating Well Magazine that I sort of forgot about for a while. I happened to pull that magazine out recently and almost immediately went out to get some zucchinis and tarragon. It has a short prep time and cooks in under 15 minutes — see, like me, you really have no excuse not to try this soup.
It was very fresh tasting and the tarragon was a great compliment to the zucchini — even jwa liked this soup and he had always told me he didn't even like zucchini. See, what I have been doing is putting zucchini in food over the years and not telling him! Sneaky! Now he likes zucchini. But, that is another story, I suppose.
Herbed Zucchini Soup:
3 cups chicken stock
3 medium zucchini, cut into 1-inch pieces
1 tbsp fresh tarragon or 1 tsp dried
1 cup shredded cheddar cheese
1/4 tsp salt (or more to taste)
1/4 tsp freshly ground pepper (or more to taste)
Place stock, zucchini and tarragon in a pan and bring to boil over high heat. Reduce to a simmer and cook, uncovered, until zucchini is tender — around 7 – 10 minutes. Puree in a blender, in batches, until smooth. Return the soup to the pan and heat over medium-high, slowly stirring in cheese until it is incorporated. Season with salt and pepper and serve. Delicious.
You could also easily use vegetable broth if you wanted this to be vegetarian or skip the cheese for a vegan version.
***
Completely unrelated but worth mentioning:
We saw Underneath the Lintel at Portland Center Stage yesterday and we both enjoyed it quite a bit. It's a one-man show and very entertaining. Funny and uh deep and stuff. It's about a librarian who tries to track down the patron who returned a travel book over a hundred years overdue. Stories and myth and history ensues, along with the almighty due date stamp. If you're looking for something cultural to do this month, you should check it out in the Winningstad Theatre.
***
Unrelated thing #2:
Serenity — a continuation of sorts, for the short-lived TV series Firefly. Go see the film now! Very shiny. Except, damn it, Joss, you bastard. You know what I am talking about. Yeah, that! Grrrrrr.