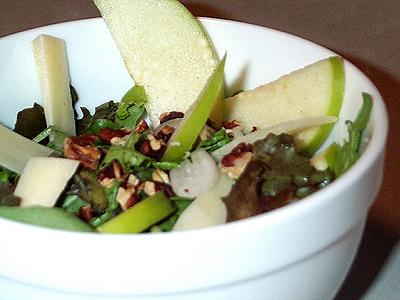 My favorite Fall salad is a combination of whatever lettuce I am in the mood for (mixed greens or baby spinach work great), sliced apples or pears, toasted walnuts, sweet onion slices and parmesan. I use a simple balsamic-dijon vinaigrette to top it all off. It's especially good to have on the side with a tasty pasta meal or if you ate something, uh, less than ideal at lunch, you can make a huge version of this salad and make up for it with a healthy, lighter dinner!
It also makes a nice impression on Thanksgiving, as I learned last year, if you want to have a salad as part of your meal on that occasion.
Apple, Parmesan & Walnut Salad:
1 bag pre-washed mixed greens or baby spinach
1 apple or pear, sliced — squeeze a little fresh lemon juice on the fruit slices to keep them from browning
1/4 to 1/2 cup shaved parmesan cheese
1/4 to 1/2 sweet onion, sliced
1/4 cup walnut pieces (this also works well with candied walnuts — see below)
2 tablespoons extra virgin olive oil
1 tablespoon balsamic vinegar (I prefer a 2:1 rato between oil and vinegar, but feel free to adjust this to your tastes)
1/2 tsp dijon mustard
salt & pepper
Pre heat the oven to 350 degrees. Arrange the walnuts on a baking sheet and toast about 5 minutes. Typically, when you can smell them, they've toasted enough. Set aside.
Wash and dry lettuce and arrange in a big bowl. Add the apple through the onion. Make the dressing by combining the vinegar & mustard, then whisk in the olive oil. Salt & pepper to taste. Toss with the salad and sprinkle on the toasted walnuts.
—
Here is a fairly easy way to make candied walnuts. Watch them very carefully in the oven — they go from golden and caramelized to burnt and unusable very, very quickly!
Sara Moulton's Recipe for Easy Candied Walnuts:
1/4 cup powdered sugar
1/8 teaspoon cayenne pepper
1/8 teaspoon salt
4 ounces walnuts (about one heaping cup; don't use pieces)
Preheat the oven to 350 degrees F.
In a medium sized bowl, mix together the sugar, cayenne and salt.
Bring a small saucepan of water to boil. Add the walnuts and blanch them for 3 minutes. Drain well and then immediately roll the walnuts in the sugar mixture until thoroughly coated. The sugar will melt slightly. Transfer the walnuts to a baking sheet or pan and bake, stirring occasionally, until they are a deep golden brown, about 10 minutes. Watch carefully because the sugar can burn easily. Let cool completely before serving.