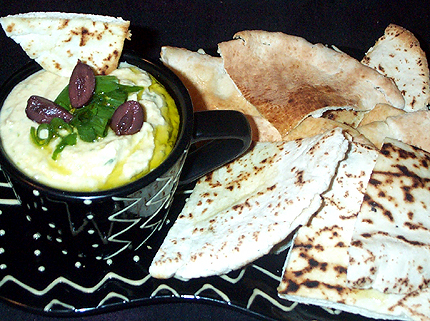 My introduction to hummus came while I was in college at the University of Minnesota. There was a deli — The Mediterranean Deli, to be exact — conveniently located by my dorm and I came to love the hummus there. Creamy, garlicky and really different from any kind of dip I'd ever had before. My friend Terri and I would walk over to the Cedar-Riverside neighborhood, go get some hummus, go to the liquor store and then hit the video store and we'd be all set for a movie night.
Since first discovering the yumminess of hummus in Minneapolis, I've added baba ghanouj, tabouli and other exotic snacks to my palate but hummus remains my favorite. It's hard to match my memory of The Mediterranean Deli hummus, but I manage to make a fairly tasty version.
Aside from its all-around snackability, another reason I am a big hummus fan is because it can be made in all kinds of different varieties: black olive hummus, roasted red pepper hummus, feta hummus, spinach hummus — the list could go on and on. Below, is one such variation, lightened up a bit and with some crunchy green onions in the supporting role. It incorporates a trick from a hummus recipe in Mediterranean Light by Martha Rose Shulman — mainly cutting down on the olive oil and tahini and adding a little plain non-fat yogurt in addition. Sure, it's not traditional but it works fairly well in lightening up the texture and lessening the fat content a bit. Give it a try — it's really good!
Green Onion Hummus
1 can chick peas (garbanzo beans)
3 tbsp tahini
3 tbsp olive oil
Juice of 1 lemon
2 large cloves of garlic
1/4 to 1/2 cup plain, nonfat yogurt
1/2 to 1 tsp salt to taste
3 – 4 green onions, roughly chopped
Garnish: Diced green onion & kalamata olives
Puree the drained chickpeas, tahini, 2 tablespoons of the olive oil, lemon juice, green onions, half of the yogurt and garlic in a food processor. Add more yogurt if you want it creamier. Taste and season with the salt. Here is where I might add more lemon juice or garlic if I feel the need. When it's perfect, transfer to a bowl. Drizzle the remaining olive oil over the hummus and garnish with chopped green onions and sliced kalamata olives. Serve with warm pita bread triangles.