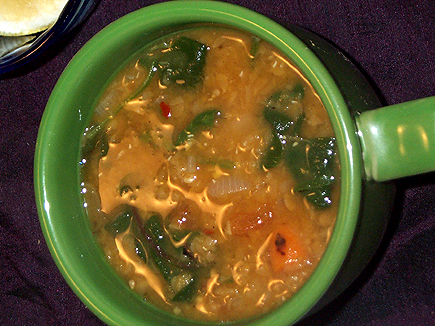 Behold — my entry for IMBB #19: I Can't Believe I Ate Vegan!, hosted at Becks & Posh. So, I didn't really set off to fool anyone — jwa knew he was getting a vegan dinner and quite honestly, yeah, we could believe it was vegan. ::laugh:: But that's not a bad thing! We liked it and I can see making it again.
While trying to decide what recipe to use, I went back and forth between making a dessert and making a main dish. I finally opted for this soup because it did sound really good and I was hoping to find a new dish to make regularly this Fall & Winter. In my vegan research, I rediscovered this site, The Vegan Chef, a great resource for getting vegan recipe ideas. I've actually used this resource once before to get a recipe for dinner guests that were actually of the vegan persuasion.
But for this IMBB event, I reverted back to my old standby for vegetarian recipes, The Best 125 Meatless Main Dishes. The recipe I chose was flagged as vegan and here it is:
Spicy Greens & Red Lentil Soup with Cinnamon
1 tsp olive oil
1 cup dried, red lentils
1/2 tsp ground cinnamon
1/2 tsp ground cumin
6 cups vegetable stock
3 cloves garlic, minced
1/4 tsp dried chili flakes
1/8 tsp salt
1 medium carrot, diced
1 medium onion, diced
1 1/2 pounds spicy greens (I used a mix of arugula and spinach — if you can find some mustard greens, those would work great too)
1 tsp low-sodium soy sauce
1/2 cup dry white wine
1 medium tomato, diced
lemon wedges
Sort the lentils — there may be tiny little non-lentils or pebbles in with the bunch. Place in a bowl and add cool water, stir with your fingers and pour out the starchy water. Repeat a few times.
Add the onions and carrots to a large stock pot with the olive oil. Sauté until soft and slightly golden in color.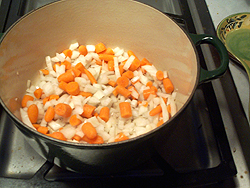 Meanwhile, place drained lentils in another pan (I know — two pans — sorry!) and stir over medium heat until they are fairly dry. Sprinkle the cinnamon and cumin on the lentils and continue to roast for about five minutes. The lentils and spices will smell really good!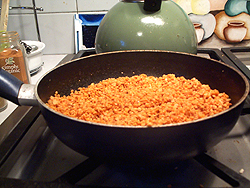 Carefully add water, garlic, chili flakes and salt to the carrots & onions, then add the roasted lentils and spices. Bring to a boil over high heat, then reduce to medium-low and simmer for 20 minutes.
Wash greens and tear leaves into bite-sized pieces.
After the 20 minutes of simmering is up, stir in soy sauce, wine and tomato. Pile washed greens on top of soup and cover with a lid, cooking five more minutes. After cooking time stir wilted greens into soup and serve very hot with the lemon wedges.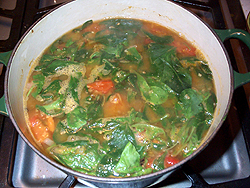 PS: Happy Belated Birthday, Christy!!