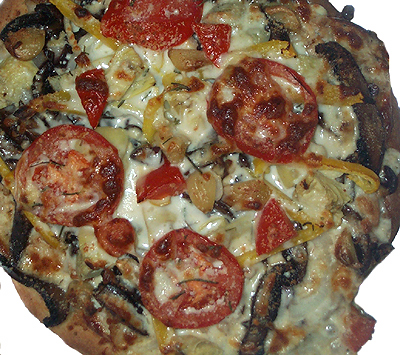 A Huge Grilled Chicken & Rosemary Pizza w/ a Garlicky White Sauce & Every Single Vegetable We Had in the House
Along with Slashfood, I'm a big fan of pizza. We try to make our own every so often and usually a couple times a month or so, we'll get pizza from Trader Joe's and doctor it up a bit with more cheese, veggies and what-not. My current choices for that treatment are: the cornmeal crust ones (not frozen) and the frozen Italian varieties — the goat cheese and the gorgonzola/pear being my two current favorites.
Delivery/take-out/dine-in is also good. We're fortunate to live close to a number of different places: Oasis Cafe, Rovente, Vincente's and Apizza Scholls.
But, alas, this post is mainly about the pizza we made Saturday night. A monster of a rustically-shaped pie with a rosemary-garlic white sauce, mozzarella, grilled chicken, kalamata olives, onion, yellow bell pepper, roasted garlic cloves, portobello mushrooms and tomato slices.
Garlic-Rosemary White Sauce:
The first thing I did was make the sauce — and I made way too much of it. I am thinking there will be a pasta bake dinner later in the week.
2 tbsp butter
2 tbsp flour
1 1/2 cups milk
1 tbsp chopped rosemary
3 cloves garlic
1/4 cup parmesan cheese
pinch of red pepper flakes
salt & pepper
(Optional): 1 tbsp sundried tomato tapenade
Make a roux with the butter and flour. After the flour has had a chance to cook a bit with the butter (1 minute or so), whisk in the milk. Bring back to a boil and let it thicken. If it's too thick, you can add a bit more milk. Next, add the rosemary, garlic, pepper flakes and cheese. Taste. Add salt, pepper and adjust any other seasonings. I added about a tablespoon of sundried tomato tapenade to the sauce because we had some in the fridge and I like rummaging around for last minute ingredients — it is my way. Set sauce aside.
Pizza dough — we cheated and bought dough at Trader Joe's
Toppings:
mozzarella
parmesan
grilled chicken pieces
sliced onion
sautéed portobello mushroom slices (I added a splash of wine towards the end of cooking and some fresh thyme)
tomato
roasted garlic cloves
kalamata olives
bell pepper
artichoke hearts, quartered
Prepare the crust. We pre-baked ours for about 10 minutes as we knew we were going to be making an ingredient-laden, top-heavy pizza. Speaking of which, I know there is a pizza school of thought that thinks 1-2 toppings is all a pizza needs and I totally respect that. Sometimes that approach yields great results and is really good — and sometimes, you just want to construct a pizza that'll hit the roof of the oven.
This was one of those times.
To start, jwa spread some garlic olive oil down on the pan and we baked the crust on that — rendering a nice crunchy, crispy bottom. After it came out of the oven from its pre-bake, we started with a thin layer of the white sauce and didn't look back. The mozzarella followed, then the chicken, bell peppers, portobellas, onion, olives, artichoke hearts, tomato slices, roasted garlic cloves, a sprinkling of parmesean and finally, a bit more chopped rosemary. Whew!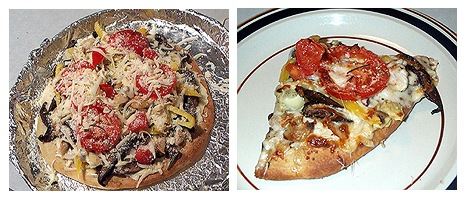 Into the oven it went at 450 degrees, until it was all bubbly and the cheese had started to get golden on top. While it baked, two super cold Blue Heron Ales were uncapped and waiting, Broadcast News went into the dvd player and an excellent pizza dinner was had by all.
After this delicious but somewhat huge and heavy pizza, it's nice that tomorrow's post is I can't believe I ate vegan for IMBB#19! For that, I made very sensible & healthy red lentil soup with cinnamon and spicy greens.