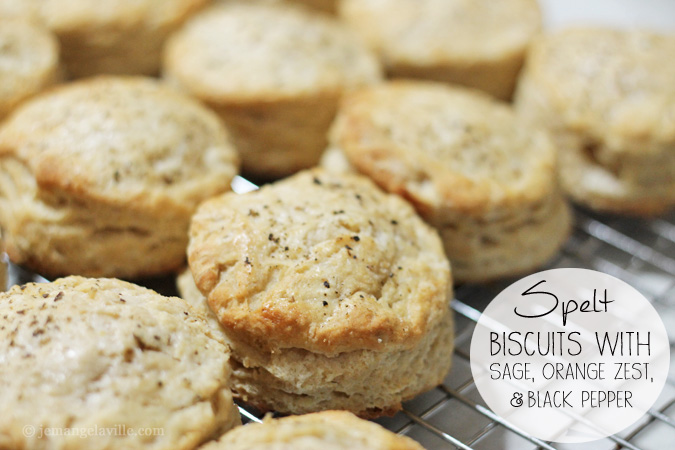 I have a new favorite baking product – and it is Spelt Flour. I'm not quite sure what it is about it, but everything I've baked with it just has a velvety, rich, full flavor that I am in love with. When using, I'll typically replace one half of the white flour in a recipe with the spelt flour. I have been experimenting with it for awhile now in pie/tart crusts, scones, cookies and now…biscuits!
For this recipe, instead of using half spelt flour and half regular flour, I used light spelt flour mixed with just a little unbleached, white flour. Light spelt flour has most of the bran and germ removed, so the end result won't be as heavy as using regular spelt flour. I wanted these biscuits to be on the fluffier side, so I decided to go this route.
The result was a flakey, flavorful biscuit! It may seem like there's a lot going on here (there is — sage, orange zest, black pepper) but it works.
Make a batch now to freeze for Thanksgiving or just use them for weekday breakfasts with orange marmalade or a veggie sausage patty and some goat cheese slathered in between.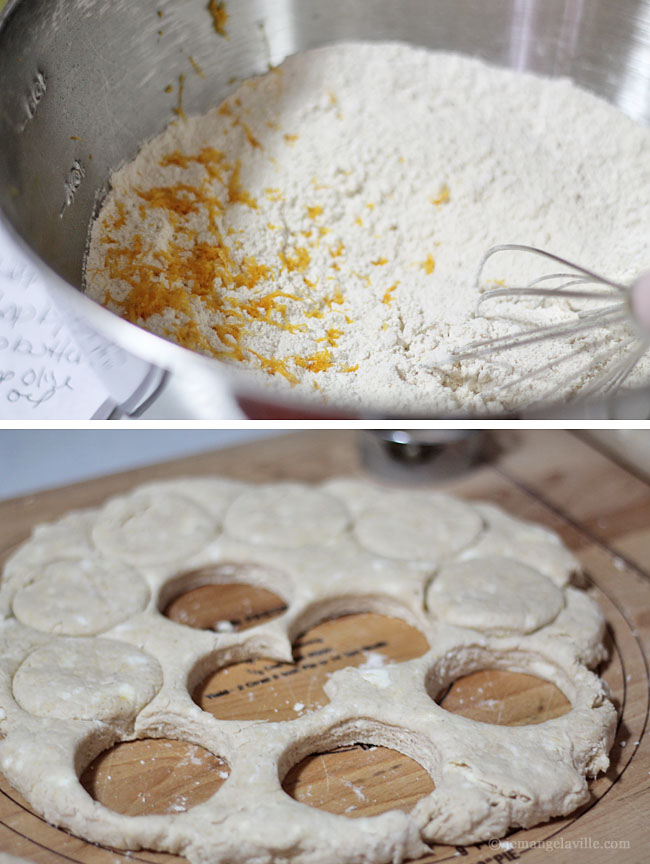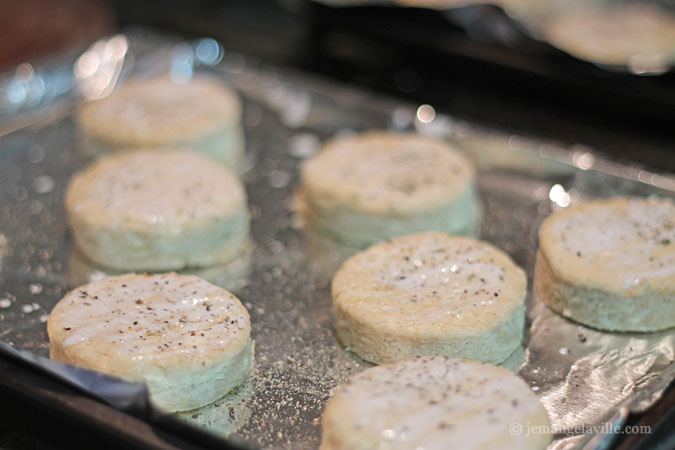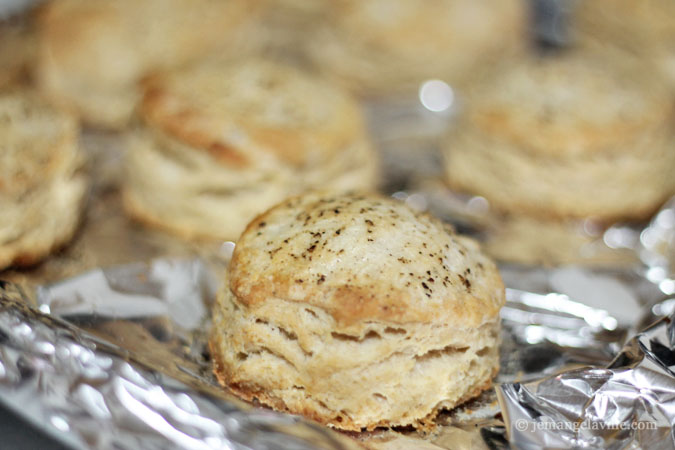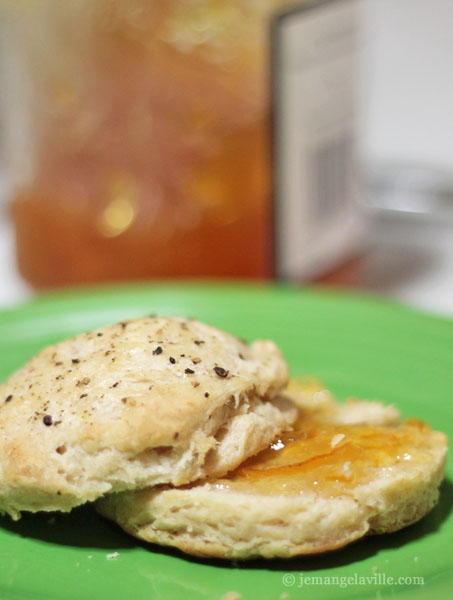 Spelt Biscuits with Sage, Orange Zest, and Black Pepper
Makes 16-18 biscuits; recipe can be halved.
4 cups Light Spelt Flour *
1 cup AP Unbleached Flour
2 Tbsp Baking Powder
1 tsp Kosher Salt
1/2 tsp dried Rubbed Sage
1 tsp Orange Zest
12 tbsp Unsalted Butter
2 Tbsp Honey
2 Tbsp Olive Oil
1-2/3 cup Low-fat Buttermilk (well shaken), plus more for brushing biscuits
freshly ground Black Pepper
Preheat oven to 375 degrees F. Whisk together spelt flour, AP flour, baking powder, salt, sage and orange zest. Cut in butter with a pastry blender or use a food processor for this part. If you used a processor, transfer flour/butter mixture to a large bowl. In a microwave safe measuring cup, warm the honey for 15-20 seconds (this will make it much easier to mix). Add buttermilk and olive oil to the honey and combine thoroughly.
Make a well in the center of the flour mixture and add the liquid. Stir and combine just until the dough comes together, adding a bit more buttermilk if needed. Turn out onto a lightly floured board and pat down into a circular type mass. Thickness should be about one inch. Use a 3-inch biscuit cutter to cut biscuits. You can gather up, re-pat down, and cut out scraps as well.
Place biscuits on parchment-covered baking sheets. Brush tops of biscuits with buttermilk and sprinkle with freshly ground pepper. Bake for about 15 minutes, until tops are golden. Serve warm or let cool completely, wrap in aluminum foil, and freeze for up to 2 months. Re-warm in a 300 degree oven (wrapped in the foil) for about 15-20 minutes.
* If you have Spelt Flour (not Light), and want to make these, I would try using 2-1/2 cups Spelt Flour and 2-1/2 cups Unbleached AP Flour. It won't be the same, but I bet those biscuits would be pretty good.